Morning sickness is one of the most miserable aspects of pregnancy. But there's an upside.
Researchers have found that pregnant women who suffer from morning sickness (which should really be called all-day sickness) are less likely to miscarry or have a premature birth, and their babies have fewer birth defects and may even score higher on IQ tests.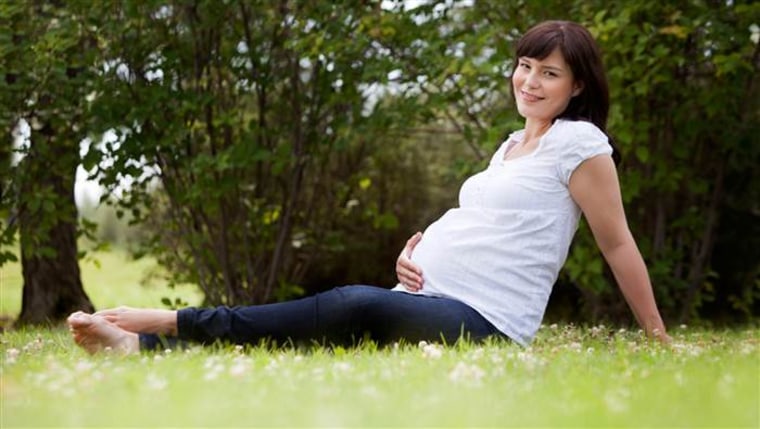 That doesn't mean women who don't have morning sickness should worry; odds are their babies will turn out to be healthy little smarties too. But for those who spent much of their pregnancy retching or queasily scarfing down saltines, the new research is a welcome message.
RELATED: How one dad helped his daughter wear her superhero costume with pride
"Life can be miserable when you have severe morning sickness," said lead author Dr. Gideon Koren, a pediatrician at The Hospital for Sick Children in Toronto and the founder of its Motherisk Program.
"Some of the women have such severe morning sickness that they even consider termination of a wanted pregnancy, so the ability to tell them there is light at the end of the tunnel, if scientifically correct, is a big tool for us."
The findings, based on a systematic review of 10 different studies involving hundreds of thousands of pregnancies, were published in the August issue of the journal Reproductive Toxicology.
RELATED: Watch little girl adorably talk boy troubles: 'I don't want to break his heart'
Up to 85 percent of pregnant women experience morning sickness. Doctors believe rapidly rising levels of the hormone human chorionic gonadotropin, which is released by the placenta, cause the symptoms, according to the National Institutes of Health.
It appears that morning sickness is essentially the "price" of growing a healthy baby, Koren told TODAY Parents. The higher levels of hormones mean a better outcome for the fetus and decrease some of the risks during pregnancy, Koren said.
Morning sickness usually hits hardest in the first trimester and can range from mild all the way to extreme. Some women, including Britain's Duchess Kate, suffer hyperemesis gravidarum, or such severe, persistent nausea and vomiting during pregnancy that it often causes weight loss. Koren's research didn't look at hyperemesis gravidarum, just "normal" morning sickness.
RELATED: Is your little one sick? These home remedies will quiet your child's cough in no time
Shell Roush, a mom of three boys under 10 who lives in Jacksonville, North Carolina, still remembers the morning sickness from her first pregnancy.
"While I didn't throw up a lot, a feeling of queasiness could render me really weak. I had a comfortable reading chair that I ended up having to sit in some mornings, instead of walking around," Roush, who writes The Soccer Moms blog, said.
"Smells could especially set me off… with my second (pregnancy), I'd throw up almost as soon as I woke up in the morning and then I'd be fine for the rest of the day."
Koren's review included a study that found a three-to-ten-fold increase in risk of miscarriage in women not experiencing morning sickness. Another found 6.4 percent of women with pregnancy nausea had preterm births, compared to 9.5 percent of women without any symptoms. In a smaller study, 45 children whose mothers suffered from morning sickness scored higher on IQ tests than those whose mothers had a nausea-free pregnancy.
The protective effects of morning sickness seemed to be more prominent in women with moderate to severe symptoms, the analysis found.
That doesn't necessarily mean women who don't have morning sickness should worry, Koren said, or that morning sickness guarantees a healthy pregnancy.
"I don't think it should go as a routine reassurance: You have morning sickness (so) your baby will be healthier," Koren said.
"We use it more when a woman is really suffering… to empower women who are struggling."
He noted there are safe medications to treat morning sickness, such as Diclegis, which was approvedby the U.S. Food and Drug Administration last year.