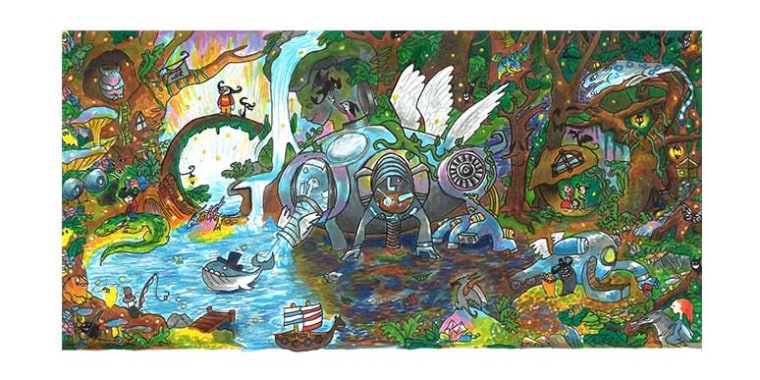 Without water, we couldn't live. This was what 11-year-old Audrey Zhang says was the inspiration for her winning entry in 2014's Doodle 4 Google, an annual contest that invites kids to redesign Google's homepage logo based on a theme. You'll see it Monday, when the search engine will have a very special animated version of Zhang's work on display on its homepage. 

Considering this year's theme, "If I Could Invent One Thing to Make the World a Better Place…" Zhang, a fifth-grader at Island Trees Memorial Middle School in Long Island, N.Y., thought of the substance that covers 71 percent of the planet and is essential to all life. Her image, titled "Back to Mother Nature," is created with colored markers and pencils, and depicts a futuristic device set in a lush jungle of whimsical creatures. 
"To make the world a better place, I invented a transformative water purifier," Zhang wrote of her entry. "It takes in dirty and polluted water from rivers, lakes, and even oceans, then massively transforms the water into clean, safe and sanitary water, when humans and animals drink this water, they will live a healthier life."
Zhang, who was a New York state winner in last year's Doodle 4 Google contest, beat out more than 100,000 United States entrants, in grades kindergarten through 12th, to become champion of the annual competition, now in its seventh year. 
For her winning work, Zhang will receive a $30,000 college scholarship, and her school gets a $50,000 Google for Education grant to go toward a computer and technology program. In honor of her theme, Google will also donate $20,000 to a clean water charity for Bangladesh. 
Zhang is the competition's first winner to work with Google doodle artists to animate her creation.  
Visit the Google 4 Doodle gallery to see more art from the finalists, and learn more about the competition. 
Helen A.S. Popkin is deputy editor of technology and science for NBC News. Popkin manages the technology and science sections for NBCNews.com and TODAY.com. Join her on Twitter and Facebook, won't you?