As the days grow shorter, winter creeps in and COVID continues to affect the holiday season, we love finding hope and joy.
These happy and heartwarming stories will remind you that love really is all around.
A prince reunited with his television family...
The cast of the '90s hit television series "Fresh Prince of Bel-Air" reunited this week, and it was an emotional experience for some of its stars.
"It caught me off guard," said Karyn Parsons, who played sister Hilary Banks in the NBC sitcom. "It was really emotional, and beautiful, and very, you know, sad, 'cause of James (Avery) not being there."
The reunion includes a moving tribute to Avery, who played family patriarch Philip Banks and died in 2013.
The Fresh Prince himself, Will Smith, took the opportunity to make a nostalgic TikTok video with Joseph Marcell, who played his butler Geoffrey on the show. The two recreated a silly still shot from the series with Simple Plan's "I'm Just a Kid" as the soundtrack.
... and a queen celebrated a milestone in her marriage
Perhaps the only two people on the planet not binge watching the fourth season of "The Crown" this week were Queen Elizabeth II, 94 and Prince Philip, 99, who know a little something about crowns. The royal couple celebrated their 73rd wedding anniversary with a new portrait of them reading an anniversary card given to them by great-grandchildren Prince George, Princess Charlotte, and Prince Louis.
Meanwhile, this couple is just at the beginning of their own marriage. So far, we'd say it is going pretty well, judging by the groom's reaction to seeing his bride coming down the aisle.
Never miss a parenting story with the TODAY Parents newsletter. Sign up here!
A group of college students is teaching teens how to cope during the pandemic...
Through the nonprofit Peer Health Exchange, the students are teaching kids at under-resourced high schools with mental health and self-care skills.
During the coronavirus outbreak, the college students have helped Boston high school freshmen cope with the isolation of attending school remotely.
... and this teacher is showing how words can make an impact
This fall has not been easy for teachers or students across the country, but teacher Donovan Taylor Hall posted two videos on TikTok recently showing how a few words can affect his young charges.
"You are doing such an awesome job in class," Hall tells his student in one video. "You're sharing. You're being open. You're being honest. You're encouraging other people."
"I'm so proud of you, and I'm so honored that you're putting so much work into my class," Hall said.
A commenter, @Bethania, responded to the video, "I'm in college and definitely cried watching this. It's been such a hard term and these words were not even meant for me but they were so encouraging, thank you."
"Thank you for doing this," commented @HelloCupcake16. "As a parent, this is sometimes bigger than anything *I* could say to my kid. Thank you."
Hall's second video shows the impact his student's words have on him.
"I can count on you as like a friend and like a teacher that I never had, and I thank you for this because it makes me feel that I'm appreciated in the school, and it also makes me feel like I can always count on you if I need anything," the student says as Hall wipes away tears.
A savvy little boy started a garden that funded a new home for his family...
In March, California first-grader Aaron Moreno, 8, moved into a shed with his out-of-work mother and two siblings in East Los Angeles.
With no internet or table, Aaron struggled to complete his homework. The family showered outside and used the bathroom at a nearby restaurant. They slept in unbearably hot conditions.
When his mother off-handedly suggested he start his own business so he could afford snacks from the local food truck, Aaron took her words to heart. He used his mother's $12 to invest in succulents, sold them for a $4 profit, and kept going. Now, he has several hundred dollars of his own money saved in the bank.
With the help of 22,000 Instagram followers and $37,000 in donations to a GoFundMe for Aaron's Garden, Aaron's family was able to move into a one-bedroom apartment earlier this month.
...and this little girl's birthday wish brought her daddy home
This little girl prayed her daddy would come home from his military service for her fifth birthday... and sometimes, dreams do come true.
President Obama surprised some young fans to talk music...
Young YouTube stars and twins Fred and Tim Williams, 22, found fame last summer when a video of them listening to Phil Collins's "In the Air Tonight" for the first time went viral and reminded everyone how truly epic that drum break is.
But this week, they leveled up: While listening to Bob Dylan's "The Times They Are A-Changin'" after seeing it on President Barack Obama's companion playlist to his new memoir, "A Promised Land," the twins were surprised to find Obama himself on their screen.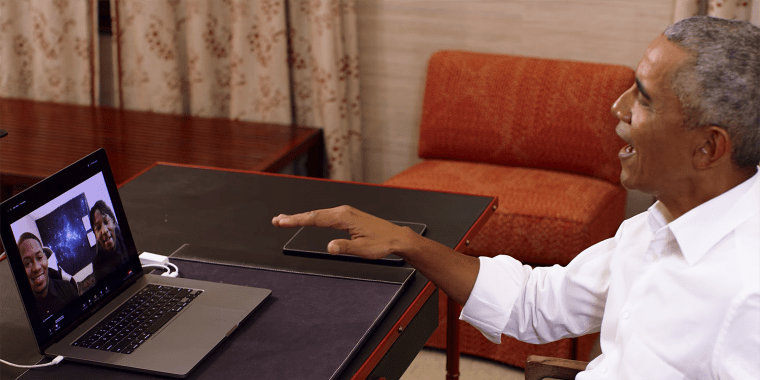 The former president talked to the young social media stars about Dylan's music, the state of the country, and their work.
"The country's so divided right now and on the internet a lot of times everybody's just mad, and (what) you guys are doing — which is being open to new ideas, new experiences and reaching out to different traditions — that's America at its best," he said.
... and singer Thomas Rhett serenaded one of his biggest (little) fans
Rhett sang an original song to youngest daughter Lennon Love with lyrics familiar to any parent of toddlers.
"Will you make it through the night or wake up at midnight and cry?" Rhett sings. "Girl, I know you're teethin', but I hope you're sleepin' in 'til 6 a.m."
Speaking of young music fans...
This little one has some downright epic air guitar skills. The facial expressions really sell it!
And we have to agree with Isabelle Willson's adorable baby boy: There really is nothing a little Harry Styles can't fix.
Hope your weekend rocks!