Big [expletive] news! Adam Mansbach, the author of the 2011 New York Times bestseller "Go the F--- to Sleep" is back with another brutally honest book for parents. It's called "F---, Now There Are Two of You," and you need it in your home library (just not on the shelves the kids can reach).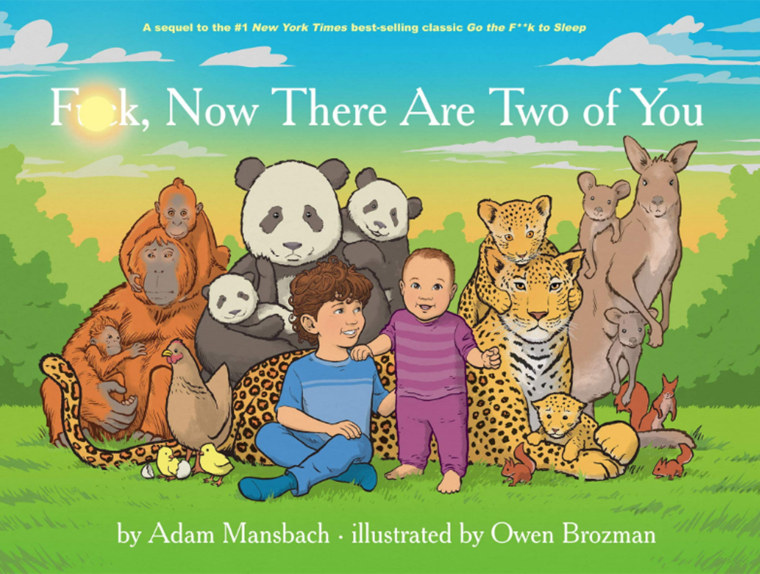 The adult bedtime story, which will be released on Oct. 1, tackles what it's like to transition from one to two kids. Hint: Exhausting.
Verses include: "No, I can't play right now, kiddo. The babe spent the whole night awake. I know you feel sad and neglected But cut me some slack, for f---'s sake."
Owen Brozman's illustrations show relatable scenes like a dad attempting to grocery shop while his baby screams and bottles fall out of their diaper bag. There's a living room that looks like it was hit by an earthquake.


Mansbach is now a father of three, with two under the age of 2. He knows the struggle is real.
"So, 'F---, Now There Are Two of You,' is very much my reality," he explained in a press release, noting that "somehow, two is a million more kids than one."
Seinfeld creator Larry David will narrate the audio book from Dreamscape. "Go the F--- to Sleep" was recorded by Samuel L. Jackson, while Bryan Cranston voiced Mansbach's 2014 "You Have to F---ing Eat."
Mansbach doesn't plan on expanding his family again. As he joked in his author's statement, "I'll probably leave a few copies at the doctor's office when I go in for my vasectomy."
Related video: