/ Source: TODAY Contributor
Calum Neff is sharing his lifelong passion for running with his young daughter in record-breaking fashion.
Neff won the Katy Half Marathon in Katy, Texas, on Saturday while pushing his 11-month-old daughter in a stroller in 1 hour, 11 minutes, 27 seconds, besting the Guinness World Records time for fastest half-marathon run by a man while pushing a pram by more than two minutes.
The victory was a thrill for Neff, who never looked back at any close competition as he pushed his 20-pound daughter, Holland, in her 22-pound sport stroller, for 13.1 miles.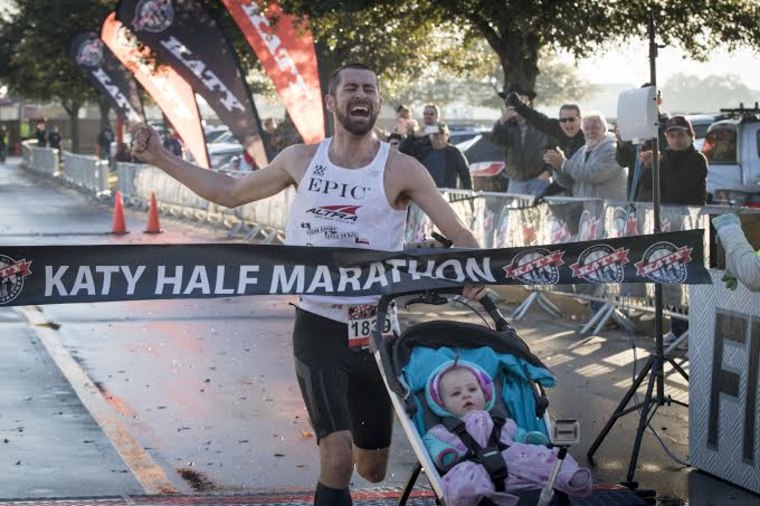 "It was just a truly epic day to share with my youngest daughter," said Neff, 31, an operations manager for an oil field services company. "It shows that anything is really possible and being a dad and working doesn't mean you have to give up on other dreams and hobbies."
Neff, who ran his first race at age 4, documented the race with video and witnesses, and plans to submit his documentation to Guinness in an attempt to become the record-holder. The record was last set in 2013, with a time of 1 hour, 13 minutes, 50 seconds.
"We've been on cloud nine," Neff said. "It's really special to share that with Holland."
It was such a special father-daughter moment that when the medal was being placed around his neck, he grabbed it to crown Holland the winner, slipping it around her neck instead.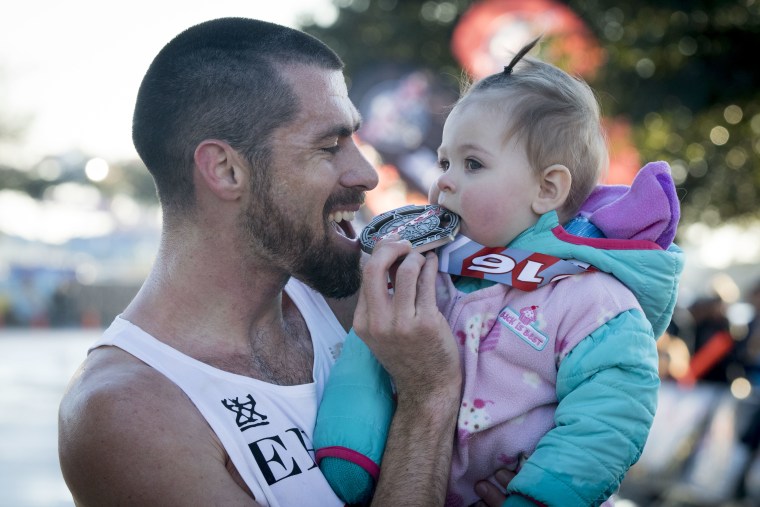 "I wanted that to be hers," he said. "It was fun for me to put that around her neck."
The race day began with a thunderstorm that cleared up quickly, and the two saw a beautiful sunrise as the early morning race began. Bundled up to face the mid-50s temperatures, they were off and running, and Holland waved and cooed as the crowd cheered them and let out plenty of "Awwwwws."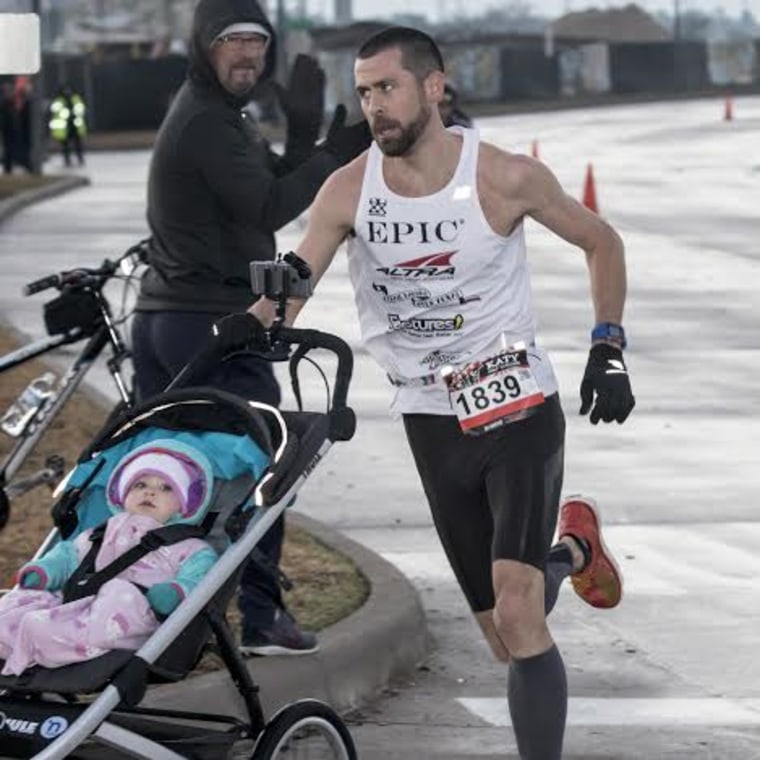 "For almost the entire race, she was waving and clapping and talking and babbling away," Neff said. "She was stealing all the hearts along the way, that's for sure."
"There was so much support on the course," he added. "Everyone was cheering and a lot of people knew who were and that we were going after the record."
Holland got a little irritable toward the end, and Neff worked hard to maintain his steady sub-5:30 per mile pace.
"She fussed a little around mile 11 but I knew I only had 10 minutes left so we just kept pushing through and I wanted to get it done faster for her," he said, adding that he rubbed her head and gave her a glove to play with.
His wife, Julie, their 3-year-old daughter, Alessandra, and other relatives were cheering at the finish line. "It was awesome," said Julie Neff. "There was so much energy. I was shaking, I was so excited."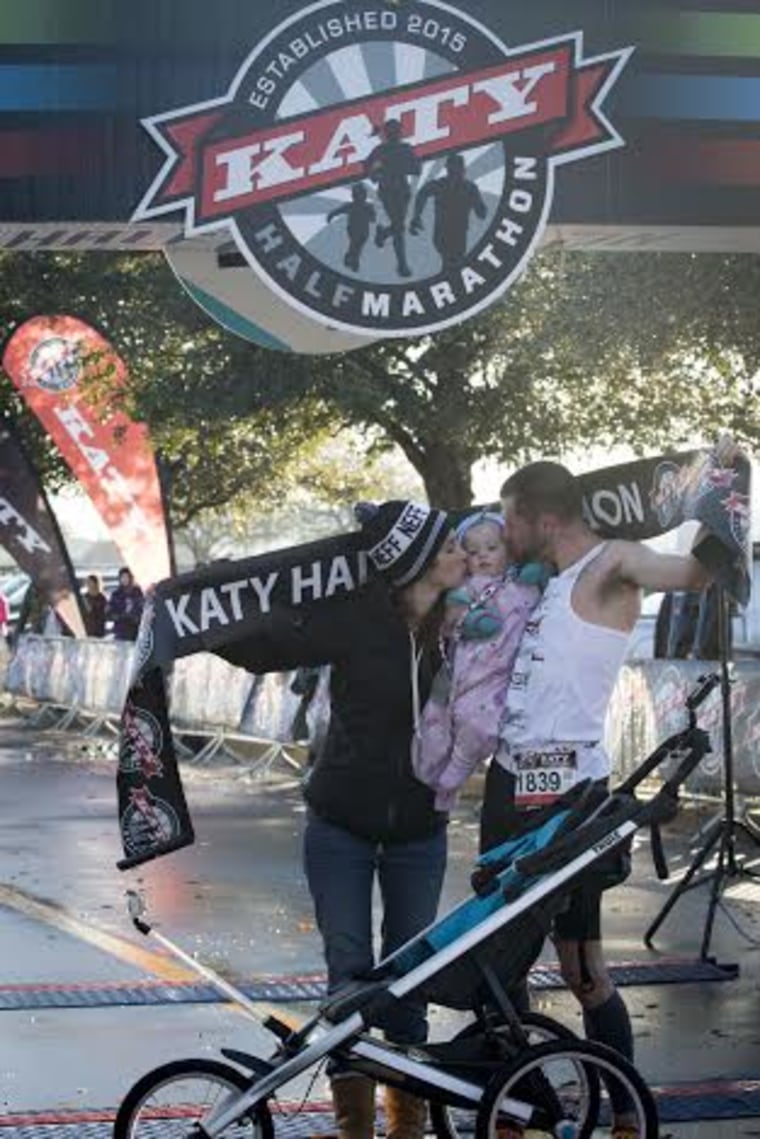 Neff, who works full-time and runs most days, competes in long distance events like ultra-marathons and does mountain running as well. He trains mostly without a stroller, but takes his daughters out for stroller runs on weekends, planning routes that take them to a park or a track.
"It's important to get them out into the outdoors," said Neff, who lives outside of Houston in Katy. "In Houston, it's a concrete jungle but we still try to see as much green space and wildlife as we can."
Julie Neff says her husband is a fun dad who drops everything to wrestle with his girls when he gets home from work. She supports her husband's running, even though it takes him away from home.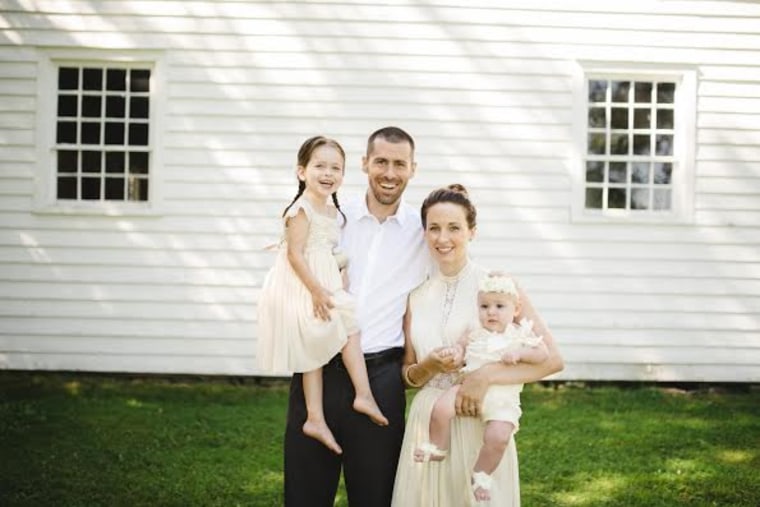 "For me, it's kind of worth it," she said. "It's not so much whether or not he wins or gets a world record, it's the process of his running that is really amazing to me. It's important for me to see the girls watch him go after all of his goals and dreams."
Calum Neff says being a father inspires him, and he hopes to be a role model for his daughters and families everywhere.
"Especially with technology," he said, "it's so easy to stick kids in front of a tablet, but getting outside — it doesn't matter what pace you run — it's just getting kids outside and enjoying those moments."
That what he's doing now, although he says it's up to his daughters whether to follow in his fleet footsteps.
"It doesn't matter if my girls don't become runners," he said. "It's just something I wanted to share with them."
TODAY.com contributor Lisa A. Flam is a news and lifestyles reporter in New York. Follow her on Twitter: @lisaflam