Shortly after her 5-year-old son Elliott started kindergarten, Mandy Lipham noticed him coming home frustrated and dejected. He soon lost his enthusiasm for school.
So she tried asking him questions about his favorite activity from preschool, outdoor recess, but that did anything but cheer him up.
"He kept getting frustrated. 'No, no, no. We only go on Fridays,'" she recalls him saying.
That's when Lipham got frustrated herself. The Lakeland, Florida, mom started an online petition to force her school district to give kids a break — in the form of mandatory daily recess.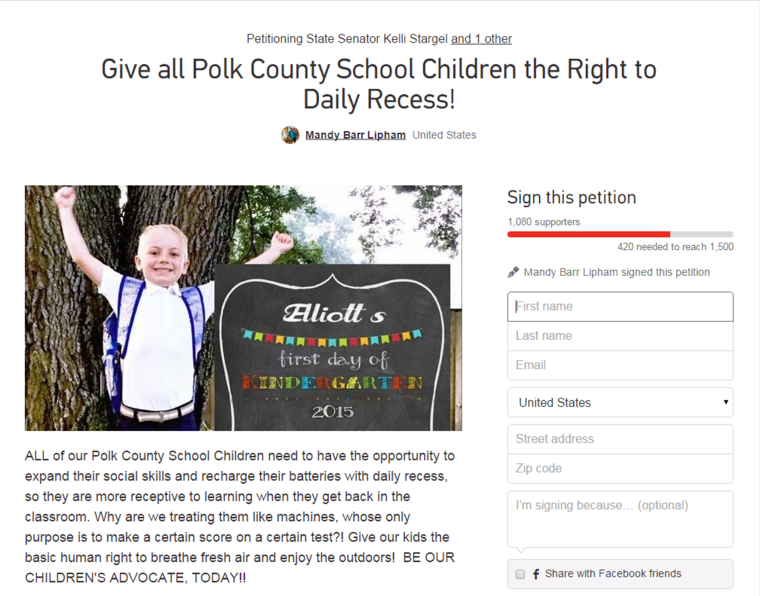 "It's ridiculous," she says. "It's a seven-hour school day and these kindergartners, these kids, they just need a chance to recharge their batteries."
Her online petition appeals to a state senator and a member of the Polk County School board to ensure kids get recess daily.
RELATED: Female student protests high school's dress code 'punishment pants'
"Why are we treating them like machines, whose only purpose is to make a certain score on a certain test?!" she asks in the Change.org petition. "Give our kids the basic human right to breathe fresh air and enjoy the outdoors!"
Parents and teachers across the country are decrying an increasing drop in time allotted to recess and other physical activities, as schools increasingly devote more classroom minutes to subjects like language arts and math.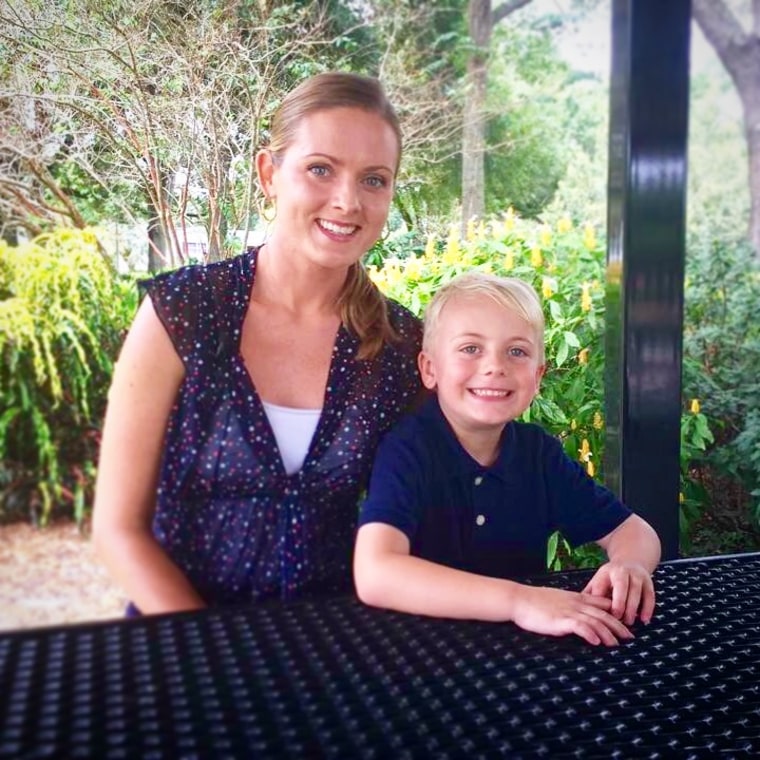 Earlier this month, recess was among the key issues in a strike by Seattle public school teachers, who wanted the district to require at least 30 minutes a day.
RELATED: Washington school tries, fails to ban tag at recess
And this week, outside of Atlanta, the Clayton County School Board argued over the need to require daily recess time as part of the district's wellness policy. The board will take up the measure again on Monday.
The American Academy of Pediatrics has said recess is crucial in the development of children.
"It affords a time to rest, play, imagine, think, move, and socialize," the organization said in a 2013 report.
The mid-day break helps children develop important social skills, and they were found to be mentally sharper and more attentive after recess, the AAP found.
In response to Lipham's petition, Polk County schools spokesman Jason Geary told Tampa's WFLA-TV that the amount of time devoted to recess depends upon the individual campus.
"There are only so many hours in a day, and some administrators have reduced recess in order to provide more instructional time," Geary said in a statement.
Geary pointed out the state requires elementary students have a minimum of 150 minutes of physical education each week.
"Some schools have more. In addition, we provide our teachers with professional development in ways to integrate physical activity and exercise in their lessons to keep students active throughout the day," he said.
"We encourage our teachers to use these instructional strategies that incorporate play as a form of learning."
Lipham says her son makes a clear distinction between recess and physical education class.
"In P.E., he basically stands in line and does exercises with other kids. It's not really play at all. He just follows directions," she says.
She now takes her son to a nearby park to play and work off some energy after school.
She has the time to do that because she's a stay-at-home mom, but says she worries about other parents who work don't have that luxury.
Elliott "still complains about school, but not as bad as he used to," she adds.
She also noticed that the school recently increased the amount of times it holds P.E. classes for students from three to five.
"I guess it's a start," she says.
Follow TODAY.com writer Eun Kyung Kim on Twitter.