/ Source: TODAY Contributor
Like many children her age, 7-year-old Anaya Ellick loves reading, drawing, and writing. She spends hours drawing and working on her handwriting. All that practice paid off — she won a national penmanship award, a remarkable honor for a first grader just getting the hang of writing. What's even more remarkable? Anaya was born without hands.
"Genuinely, it is the neatest handwriting in her whole class," Tracy Cox, principal of Greenbrier Christian Academy in Chesapeake, Va., where Anaya attends, tells TODAY Parents.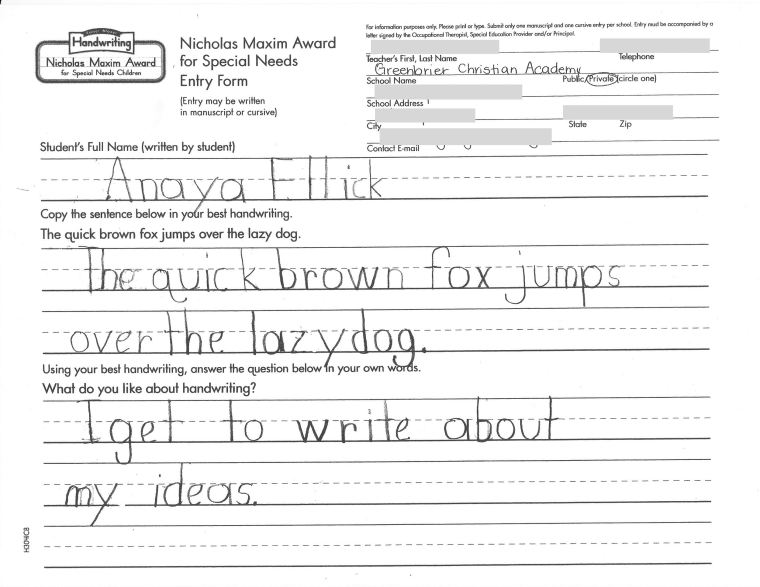 Anaya competed against 50 other K-8 children to win the Nicholas Maxim Special Award for Excellence in Penmanship. While the teachers at her school weren't surprised that Anaya won the award, the girl experienced a little shock. When mom, Bianca Middleton, told her daughter that she won the prize, Anaya kept saying "For real? Are you serious?"
But that doubt soon led to excitement. While Middleton felt overjoyed that her daughter's handwriting won recognition, she wasn't truly surprised. Since Anaya was born, she was a fighter. When Middleton swaddled her infant daughter, she struggled to get out and move. As Anaya grew, she realized she was different than other kids, but she set her mind on doing exactly what other children did. When prosthetists tried to give her a modified fork with a strap to hold it on her arm, the girl refused to use it, insisting on using a fork like everyone else. Anaya simply grasps it between her forearms to eat.
"Anaya has been so positive and confident," Middleton says. "Anaya has never been down on herself."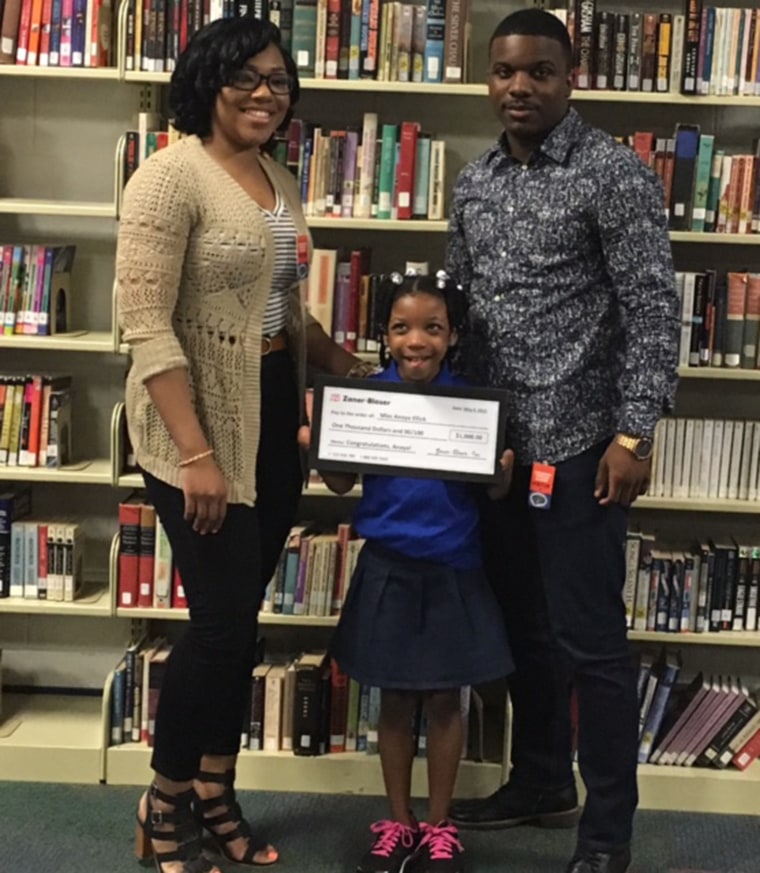 Middleton and Anaya's father, Gary Ellick, knew their daughter would be different when a prenatal sonograms detected a lack of hands. The baby just did not have them and doctors still don't know why.
"I was shocked, of course. I didn't expect it," she says. "I was a little disappointed. I was sad. So many different emotions but her father and my mother ... were really big supports for me."
And that continued as Anaya grew. Her grandmother, Michelle Middleton, works as a special education teacher. When Anaya turned 3, Michelle Middleton started working with her, teaching her how to hold pencils, crayons, pens, and markers to draw and write. Anaya's writing style is a modified a bit; she grasps the pencil between her forearm and stands over the paper to get the proper angle.
"She writes stories and draws … just like every other student," says Greenbrier superintendent Ron White. "We have seen very little that she could not do."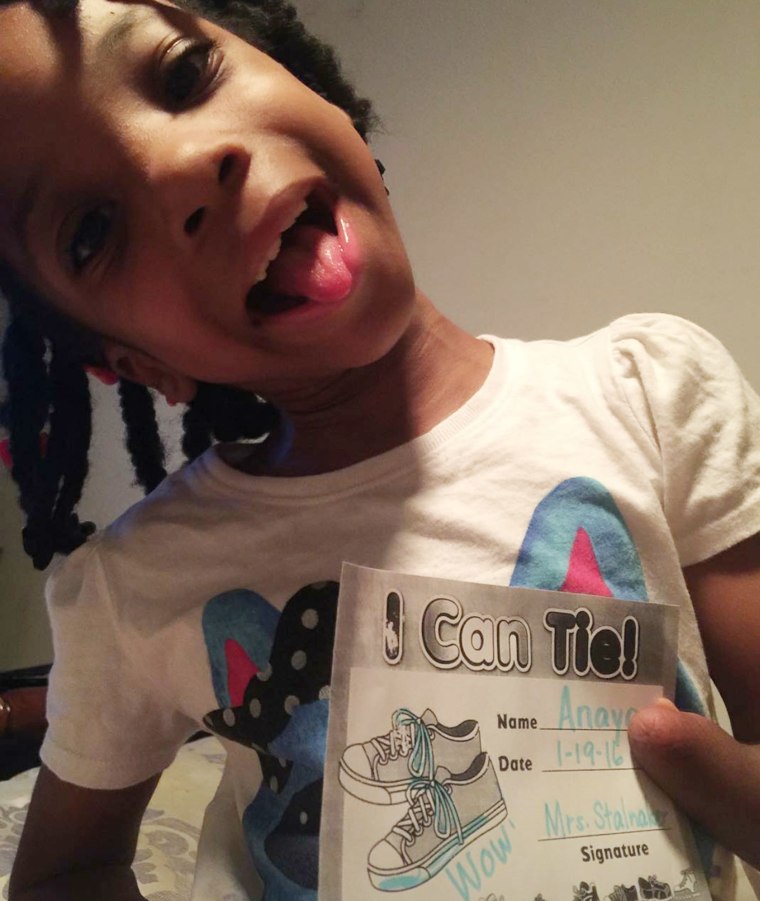 Middleton agrees. As a mom she sometimes struggles to watch Anaya attempt a new task; Middleton wants to help so much. But she knows that her daughter wants to do everything on her own. She taught herself to tie her shoes. She insists on dressing herself. At the playground, she climbs up ropes, scurries across the monkey bars, and swings as high as she can. Once in a while Middleton has to remind Anaya it's OK to ask for help. But as much as she tries guiding her daughter, Middleton finds that she's the one who learns.
"Anaya has been my teacher from the very beginning," she says. "I look at her like 'Wow, God blessed me with this little girl. I am honored.'"