She made it!
The priceless reaction of a 10-year-old Louisiana girl learning she just made the cheerleading squad has become infectious.
A video of Lacey Parker finding out she made the team has been viewed by more than 3.7 million people after the girl's mom posted it on her Facebook page.
The clip shows Lacey, who has Down syndrome, looking at an iPad to comb through a roster of numbers belonging to cheerleading candidates who made the final cut. When she spots her own number, she looks up and quietly says: "I made it."
A half second later, once the realization sinks in, she repeats it again.
"I made it!" she says excitedly. She begins jumping up and down and pumping her arms into the air, a glimpse of the cheer routines in her near future.
Lacey has dreamed of becoming a cheerleader ever since watching her two older sisters cheer their way through school, said her mother, Renee Parker.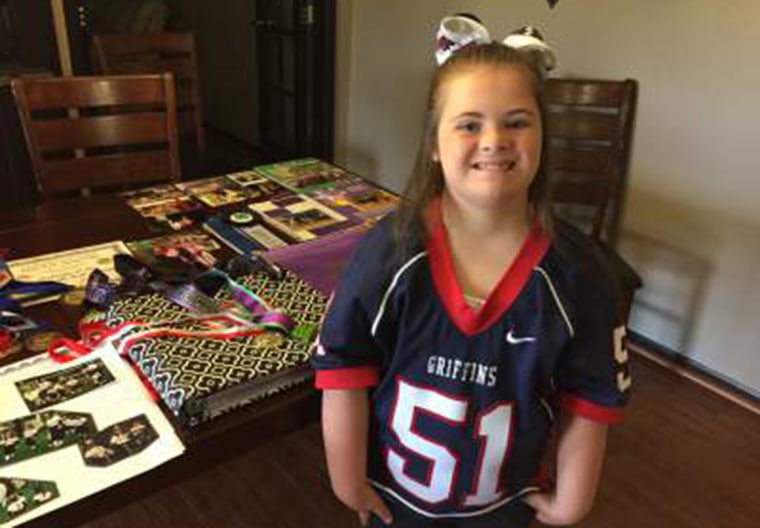 Doctors originally didn't expect Lacey to survive 10 days. Yet, 10 years later, she continues to thrive and live out her dreams.
"Down syndrome is a label, it's not who she is," Parker told NBC affiliate, KSLA. "She's an amazing little girl who strives to do whatever she wants to do."
Parker posted the video on her Facebook page last Friday, May 1, so her sister in Texas, as well as family friends, could watch Lacey's reaction. A few hours later, more than 4,000 people had watched it.
"It's amazing that one little girl has touched so many people by achieving her dream," she told KSLA.
Follow TODAY.com writer Eun Kyung Kim on Twitter.