Until the summer she was 7, Ella Tryon had never been admitted to a hospital. But after being diagnosed with a severe food allergy, the Ohio girl found herself unable to leave her hospital room at University Hospital Rainbow Babies and Children's Hospital due to her need for a feeding tube.
So Ella sent her mom, Jackie Tryon, to the hospital playroom in search of crayons.
"When I was in the hospital, I wanted to color a rainbow," Ella told TODAY Parents. "And, when I found out I couldn't, I wanted to help."
According to Ella's mom, Jackie Tryon, the hospital's playroom did not keep a large supply of crayons due to cross-contanimation concerns.
"She loves to color, but the crayons were broken and thrown in a drawer," said Tryon. "Not all the colors were there, and I told her the next time we had to come to the hospital, we would bring a few boxes with us to donate them."
Tryon says her daughter loved the idea, asking if they could ask fellow church members and her mom's Facebook connections to donate crayons as well. Within three weeks, Ella had collected 1,000 boxes of crayons.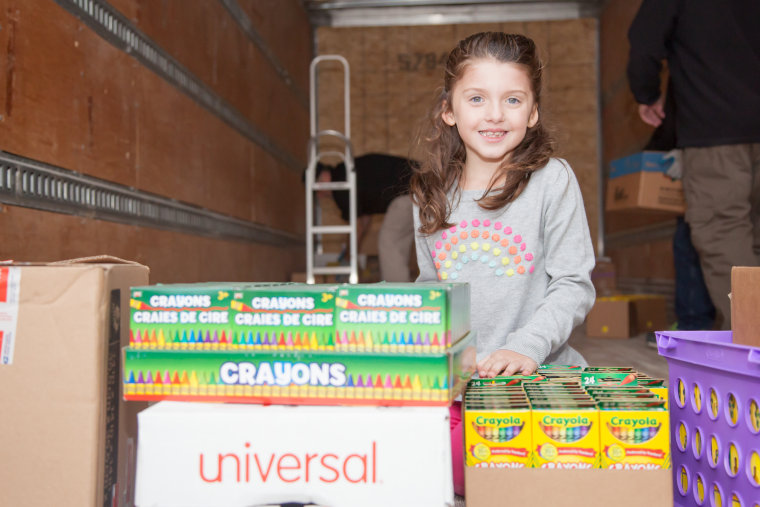 "She wanted every child who was admitted to have their own box of crayons that they could keep forever," said Tryon. "After we collected 1,000 boxes, she changed her goal to 5,000 boxes. Then, she said she wanted to collect 10,000 boxes by Christmas."
That was in 2016. To date, Ella has helped to collect nearly 30,000 boxes of crayons for children in pediatric hospitals across the country. Ella's foundation, Help Me Color a Rainbow, is now a non-profit organization and updates supporters on Instagram as well as Facebook.
"My favorite part is traveling to the hospitals," Ella, now 8, told TODAY Parents. "The coolest part is probably seeing the kids smile and making them happy. I'm thankful for everyone that has helped me so far."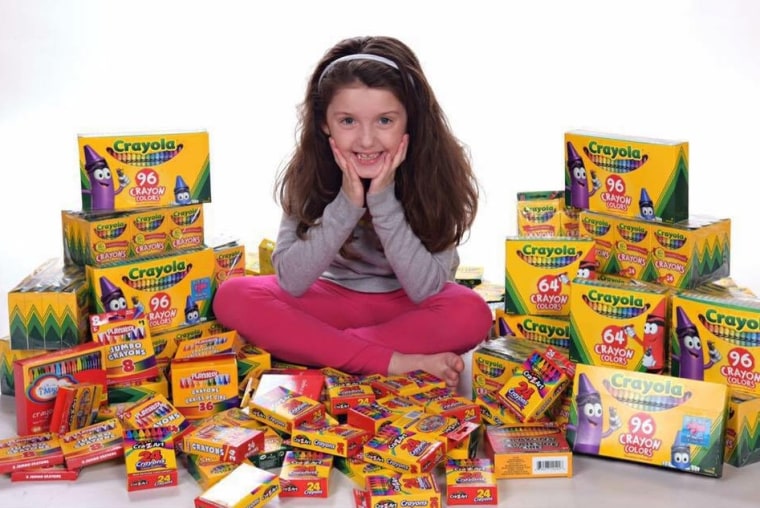 Patti DePompei is president of UH Rainbow, and says the hospital is tremendously grateful to Ella and her supporters for their generosity.
"Ella's selfless act is an example to all of us about how unconditional giving can create such a great impact," said DePompei. "We can't thank Ella and the community enough for their continuous generosity that helps us deliver the most positive hospital experience to our patients and families."
And Ella isn't stopping. Her non-profit organization accepts both crayon donations and monetary contributions to help with Ella's goals.
"She has definitely restored my faith in humanity," said Tryon. "My husband, Chris, and I are both in law enforcement, and it is so refreshing to see just how many kind people there still are, because in our world, there aren't."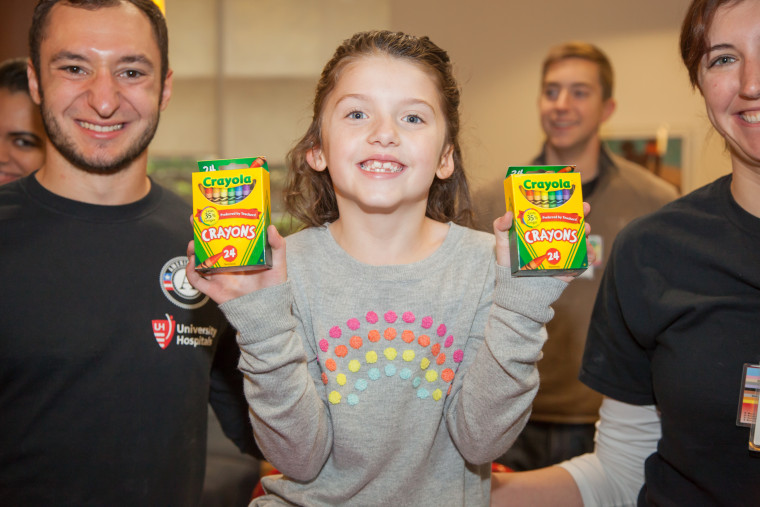 Tryon says the experience has also been beneficial in teaching her daughter about gratitude. Whenever a donation with a return address is received, Tryon has Ella mail a "thank you" card complete with a drawing of a rainbow.
"People think that kids can't make a difference," said Tryon. "But she did — she made over 13,000 differences."
This story was originally published on November 7, 2016.
Contributions to Help Me Color A Rainbow can be mailed to: Color Me A Rainbow, C/O Ella Tryon, PO Box 1124, Chardon, OH 44024