/ Source: TODAY Contributor
When Gina Gallagher sent her daughter Katie to their local kindergarten in Marlborough, Massachusetts, she didn't expect to receive a note from her daughter's teacher the very first week with bad news.
"Her teacher wrote, 'She's really lost... she's not with the other kids at all. I would like to have her tested,'" Gallagher told TODAY Parents.
The tests eventually led to a diagnosis of Asperger's Syndrome — now simply known as high-functioning autism — when Katie was 7 years old. Though her future then seemed bleak and their family's journey has been challenging, Katie will graduate from college with her Bachelor's degree this February — a feat Gallagher and her daughter hope will encourage and inspire other parents of special needs children.
A few weeks ago, Gallagher posted about Katie's accomplishment in the Facebook community she helps coordinate based on the book she wrote with her sister, Patricia Terrasi, Shut Up About Your Perfect Kid! The group has over 900,000 members.
Like many children on the autism spectrum, Katie had always been a little "quirky," her mom said, but it was not until elementary school that those quirks began to stand out. "In my eyes, Katie was as perfect as they came," she said. But Katie had tics, like a tendency to flap her hands, and she struggled to engage with other children, often playing parallel to them instead of actually interacting in social situations.
"She was uncoordinated, and if you walked into the classroom and the kids had projects hanging on the wall, I knew which one was Katie's immediately, because it looked like it had been cut out by Jaws — she had such poor motor skills," Gallagher said. "She was never invited to birthday parties, and she started to show signs of learning issues."
Katie felt the differences too. "Third grade was awful," she told TODAY Parents. "I realized I couldn't do things others could do, and kids started to notice my flapping more. I got made fun of for it a lot. I didn't have many friends."
Still, Katie's diagnosis of Asperger's Syndrome threw her parents for a loop. "We had never heard of it 15 years ago," said Gallagher. "I read every book I could lay my hands on, and once I saw that it was autism and realized it was never going away, I was so depressed."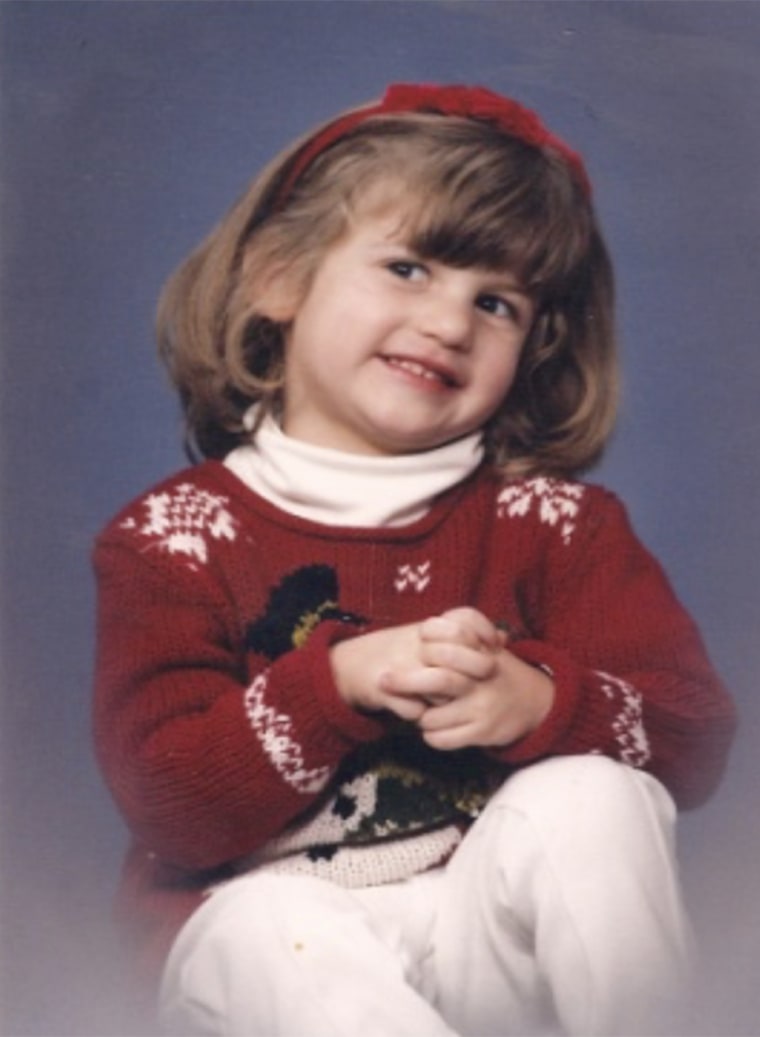 Gallagher admits she fell into what she calls the "trap that parents can fall into," believing each expert and doctor as they told her all the things that Katie couldn't do: "They said she would never leave home, never finish high school, never drive a car, never go away to college, never get married," she said.
"My father told me, 'Just enjoy her; she's such a joy,'" said Gallagher, "but I couldn't see it because all I saw were parents talking about their 'perfect' kids everywhere around me while I was taking my daughter to counseling or doctors or social groups.
"It was a mourning process for me," she said. "All I did was worry about the future."
Never miss a parenting story with the TODAY Parents newsletter! Sign up here.
But with the help of a scholarship to Willow Hill School, a private school for children who need extra support, Katie flourished in middle and high school despite all the dire predictions of her doctors when she was young.
"It became not about what she can't do but about what she can do," said Gallagher. At Willow Hill, Katie made new friends, had a few boyfriends, played sports, and became active in the theater program.
"I saw her come out of her shell and blossom," said Gallagher. "When she started to do well, everything was affected; everything got better. My marriage was better, my parents were less worried, our whole household felt the relief."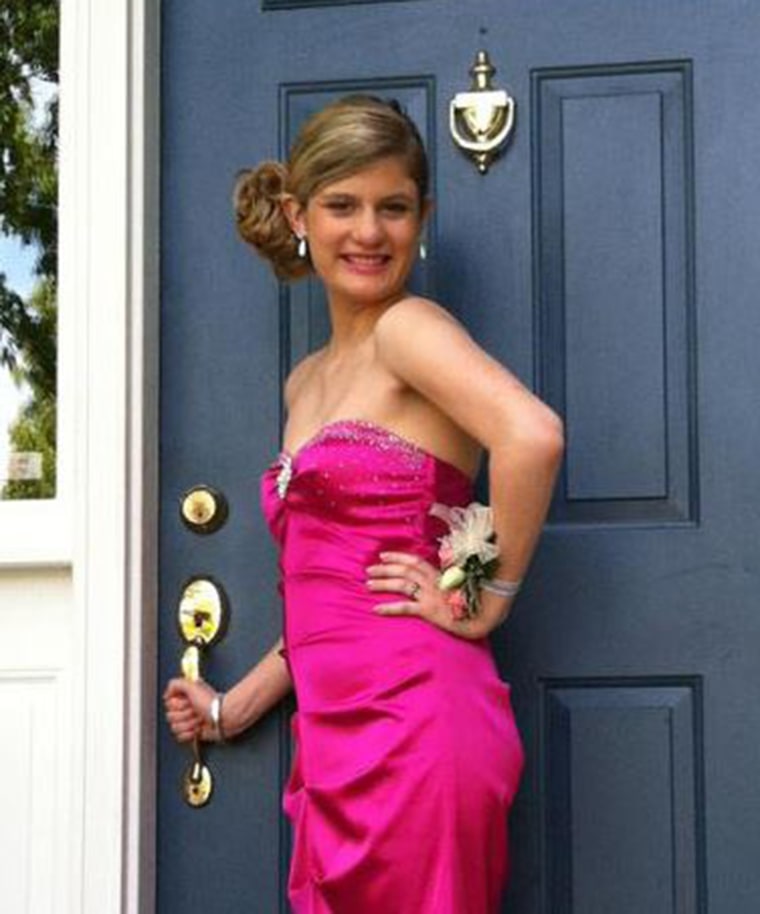 Gallagher attributes Katie's success to her teachers at Willow Hill School seeing and understanding her daughter's potential. "I used to read Katie 'The Little Engine that Could,' and I would tell her she was that little engine," said Gallagher. "I told her, 'You're going to get to the same place everybody else is. It's just a harder journey for you.'"
Katie graduated from high school in 2013 and was accepted into the Banacos Academic Center at Massachusetts' Westfield State University, a program designed to support students with documented learning disabilities. She had the exact same curriculum and tests as any other student, but she had her own advisor to guide her and accommodate her specific learning needs.
"I didn't think Katie was ready," her mom admits now. "I told her she could get her license and we would buy her a car and she could commute instead, but she said, 'You got to go away to college. Why can't I go away to college too?'"
Despite a few bumps in her academic journey, Katie finished her last class this month and will receive her diploma in Communications in February. "Katie's Westfield State was our Harvard University," said Gallagher. "She put her mind to something and she wanted it, so I just needed to back off and get out of her way and be there to pick her up if she stumbled."
At 22, Katie is in fact the Little Engine that Could: she drives a car, she is graduating from college, and she has held a part-time job at Macy's for the past two years. Now, she hopes to find her first full-time job and is applying for positions in the fashion industry.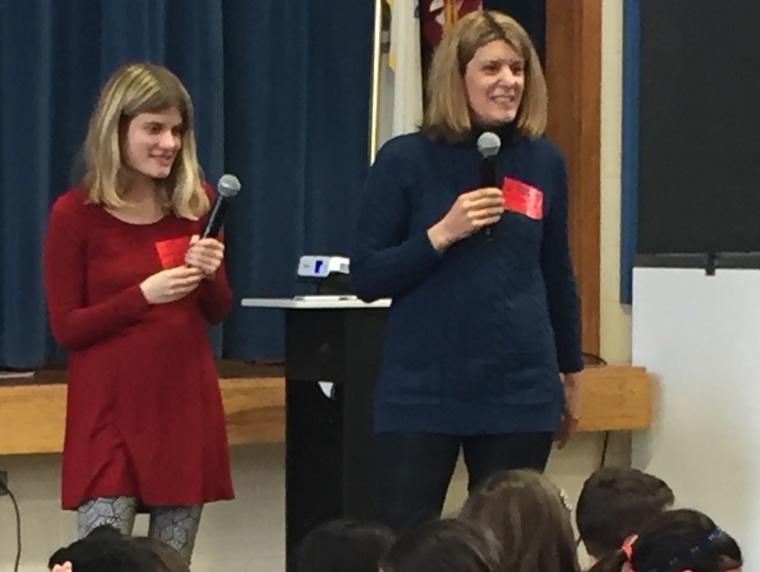 Gallagher wants Katie's story to provide hope to others. "I needed someone back then to tell me this was possible, and no one was telling me that," she said. Her advice to other parents of special needs children is to never stop advocating and fighting for them and to always go with your gut. "I listened to the experts, the team meetings, the pediatricians, but my gut was that it wasn't right," she said.
She also encourages parents to remember what accomplishments their children have already made. "Special needs parents spend so much time looking ahead at all the questions for their children's futures," she said. "One of the biggest mistakes they make is that they forget to look back at how far they have already come."
In the end, Gallagher said, experts and tests can tell parents a lot about their children, but they can't tell them everything. "Tests can't measure your child's heart or their perseverance," she said. "Tests can't measure how badly these kids want it."
Katie Gallagher, it turns out, wanted it pretty badly. Her advice to other students with special needs? "Never give up. Never, ever give up."