I've been working at TODAY for 10 years and have had the privilege of telling many stories, but the story of these two little sisters is one of my favorites.
At the end of September, childhood cancer awareness month, we introduced you to a wonderful family. Over 15,000 children are affected by pediatric cancer every year, and Natalie Gorsegner is one of those children.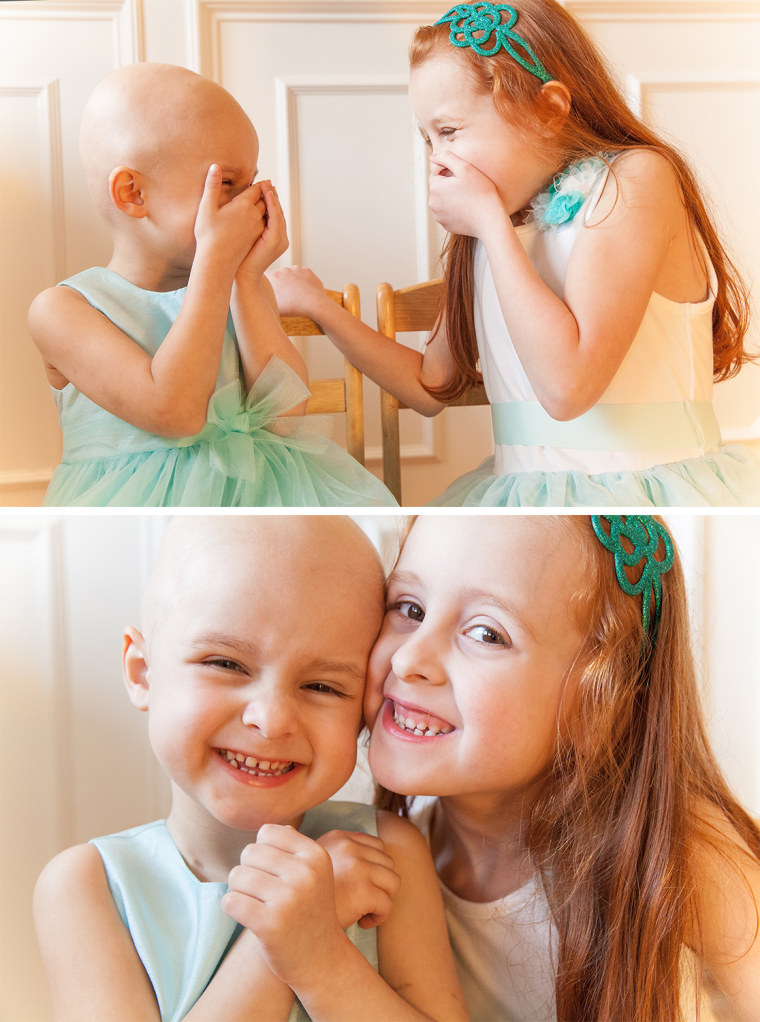 Andrea and Dan Gorsegner have two beautiful daughters. Their youngest, 5-year-old Natalie, was diagnosed with acute lymphoblastic leukemia two years ago. It's been a long few years for Natalie with endless hospital stays, countless trips to the emergency room, and chemotherapy.
The good news is that Natalie is at the end of chemotherapy treatments and in remission.

But it's been a long few years for Natalie's 7-year-old sister Hannah, too, who stood by her side while she fought for her life. Hannah told me that the day her sister was diagnosed was "the worst day of her life."
When they told their story on TODAY, Hannah made a very brave announcement. "I'm going to shave my head," she said. "This is one of the ways I can help kids with cancer and inspire them to be brave."
When Hannah first went to her parents with this idea, that she had thought of all on her own, they were touched and proud — but didn't encourage it. Hannah has had some difficulty making friends at school, and they worried that this could just make matters worse or perhaps open her up to teasing.
But Hannah was persistent. "I don't care, I'll be fine, mommy," she said.
So on Wednesday night, Natalie and Hannah arrive at the New York Stock Exchange with pretty, new matching dresses for the arms wide open childhood cancer foundation's "Shave for a cure" event.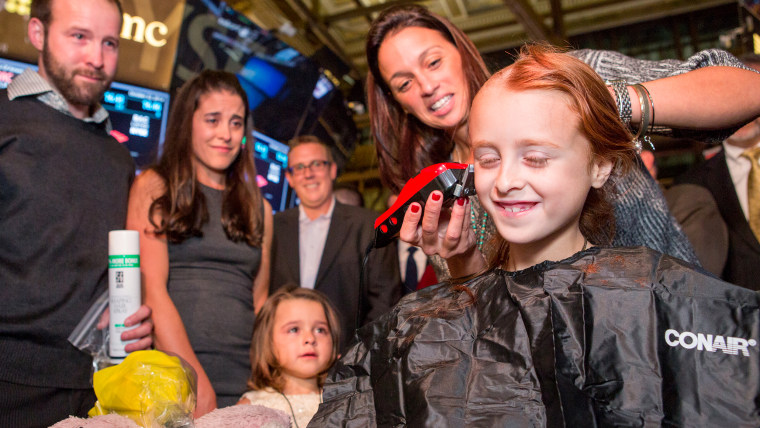 They were two of the smallest ones there, running around among some of Wall Street's most influential businessmen and women, but their message was big. It was one of true love and bravery.
Then, the moment of truth! Hannah climbed up on a stool, her mom gave her a kiss, her dad stroked her long red hair, and with a brave smile on her face, Hannah said, "I'm ready!" And they shaved off every last one of her beautiful locks. Even Natalie took a turn with the razor as Hannah giggled.
When it was all finished, they poured glitter on Hannah's freshly bald head and the entire floor of the stock exchange erupted into applause. After that, a few little boys and a bunch of the businessmen lined up and also got their heads shaved.
The event raised over $350,000 for childhood cancer, and Hannah donated her beautiful red hair to wigs for kids. "I hope that someone's going to be wearing my hair and that they're going to feel happy about it."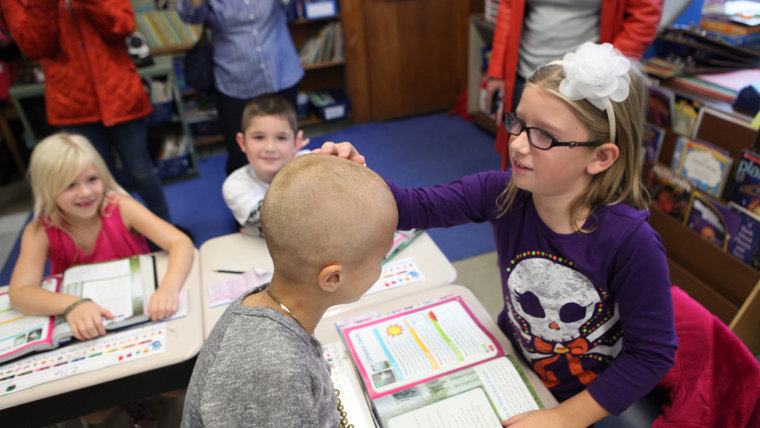 The next morning, it was time for Hannah to face her classmates with her new bald head. Her mom was terrified about what the other kids would say, but Hannah did not walk into her second grade class alone. Four of the businessmen from Merrill Lynch who had shaved their heads with her, volunteered to escort her to school to tell her class what a brave thing she did.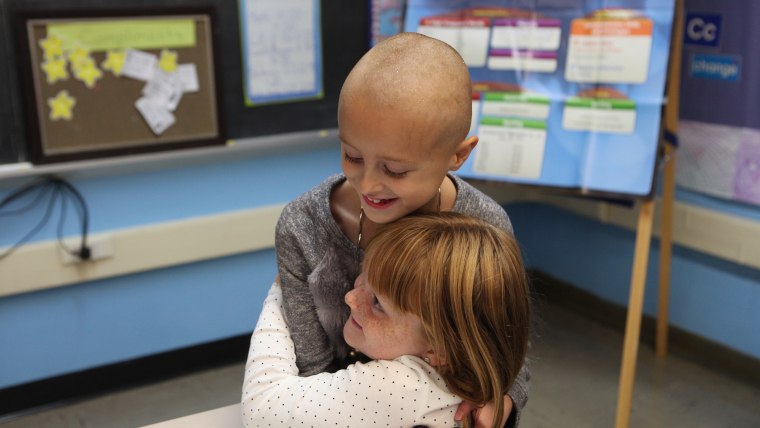 When Hannah walked in, all the kids clapped and came up to rub her head and the guys told the class that she was their hero.
I'm a new mom to my own little girl, and I've learned over the last year that we seem to learn the most about life when we really listen to and observe the children around us.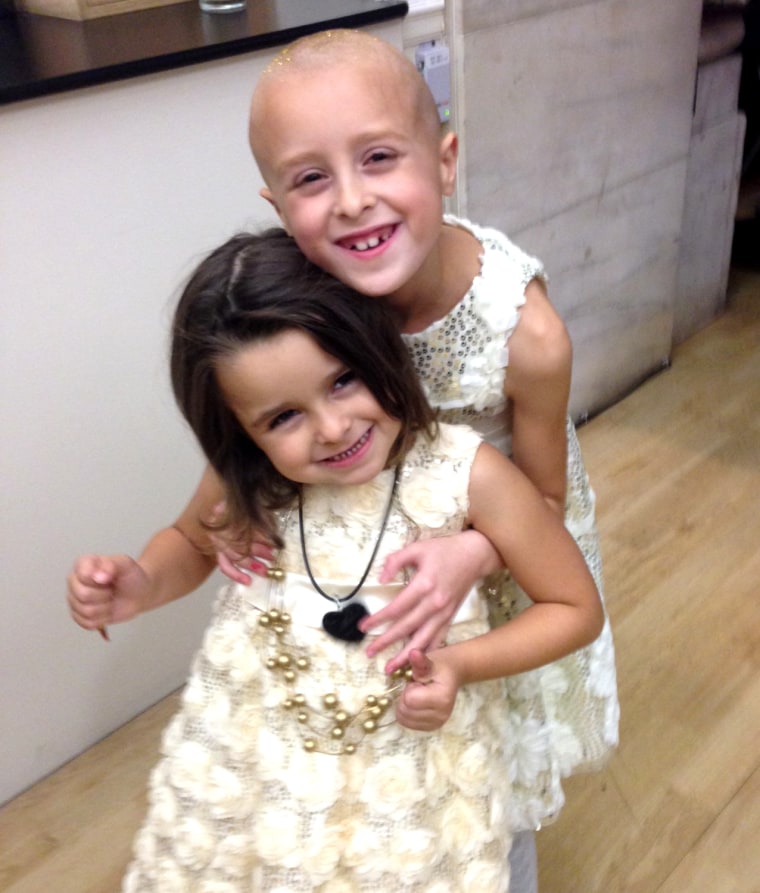 Hannah doesn't care about the way she looks or what other people think, she simply followed her heart to stand up for her sister who will survive cancer, and for the thousands of other children who, unfortunately, are not as lucky.
"I don't want them to feel alone in this fight," she said. "I'm right by their side."
If you want to join Hannah and her family in this fight, check out their website here.