A little over a month away from her April 3 due date, TODAY culinary contributor and mom-to-be Giada De Laurentiis is thinking a lot about steak, baby names and the changes her body is going through.
Though the Food Network star has been working and traveling throughout her pregnancy, she's about to return home to California — and to her husband, clothing designer Todd Thompson — to settle in for the wait. As she leaned back into an easy chair and put her feet up, the 37-year-old seemed happy but tired, admitting, "I feel awesome in the morning, but around four or five o'clock my energy crumbles."
But De Laurentiis has had some good support from her family and her husband of four years. "Todd's been fantastic," she says. "He's very nervous, but excited." However, the couple is having a hard time agreeing on a name for their daughter-to-be.
Having grown up with a relatively exotic name, De Laurentiis wants her daughter's name to be simple while still retaining some of her own Italian culture. "I don't want to give her an all-American name, but a combination like 'Valentina Thompson' would be strange," she laughs.
So far, the couple has tentatively agreed on "Jade," which is the English translation of "Giada." But they'll hold off on their decision until they meet their bundle of joy. After all, "my parents named me 'Giada' only after they saw my eyes," says the green-eyed chef.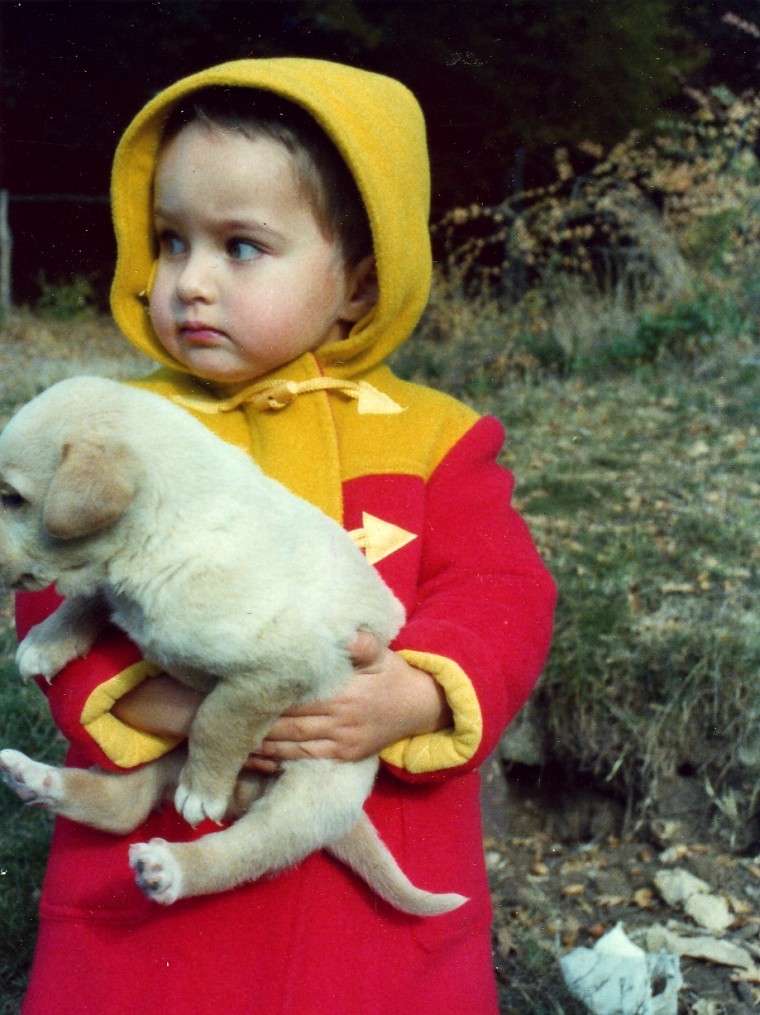 Though this is her first pregnancy, De Laurentiis is still full of advice for fellow moms-to-be. "No one ever tells you the gross things," she laughs. "There is nothing sexy about being pregnant. All you want to do is veg out." Among her warnings: "You get really, really tired — so tired that you can't control it. And you feel major discomfort. There are very few positions that are comfortable!"
When it comes to food, De Laurentiis says that she's had no strange cravings. However, she has temporarily traded her love of chocolate for a newfound carnivorous appetite. "I've never been a big meat eater, but right now I would eat steak every day if I could. I must be needing the protein."
As far as creature comforts go, the chef says moderately warm baths go a long way toward making her feel like a woman again, plus she slathers on a jasmine-scented homeopathic oil to hydrate her skin twice a day. "Your skin tends to get dry when you're pregnant. [The oil] just makes you feel good in your own skin."
As De Laurentiis ponders her future life as a mother, she says that without a doubt, what she'll miss most about her present life is freedom. "My husband and I are very spontaneous. We just take off and do things like go helicopter snowboarding." She admits that she never thought that she would have a baby — in fact, she says that she was shocked to learn that she was pregnant to begin with.
Still, what she's most excited about is "meeting this being that's inside of me. Seeing what she looks like, passing on all the traditions." So does that mean that little Giada will follow in her mom's footsteps to culinary stardom? "We'll see," says De Laurentiis. "I don't want her to feel like it's expected of her."