Some dads deserve more than a tie for Father's Day. Over the years, TODAY has honored some of the men our viewers have nominated — those who sacrificed, who put their families first, who held everyone together through tragedy.
In honor of dad's big day this weekend, we've put together some of our favorite heartwarming Father's Day surprises on TODAY.
When Barb Stewart was just three months old, her biological mother passed away to rheumatic fever. Her father, Fred, made the decision to give Barb up for adoption to her aunt and uncle — in hope that she would have the most normal life possible, with two loving parents to raise her.
Stewart said she "had a really good childhood" — but she was sadly never able to keep in touch with her biological father. In 2014, she was finally able to reunite with her 84-year-old father Fred on TODAY, right in time for Father's Day.
Marine Master Sergeant Christopher Willenbecher returned from his seventh and final deployment from Afghanistan two weeks earlier than expected and right in time for Father's Day, with a little help from TODAY and his ex-wife. Watch Willenbecher surprise his two sons.
This NAVY Seal got a surprise of a lifetime on Father's Day.
While serving his country, former Navy SEAL Bo Reichenbach lost both of his legs during a patrol. When he returned to the US, he wanted to build a house with his son and his father. On Father's Day, Home Depot and Tunnel To Towers teamed up to give him a surprise he'll never forget!
RELATED: 7 incredible surprises that will melt your heart
Chad Walter lost the love of his life, Jennifer, to a devastating battle with cystic fibrosis. Walter's life completely changed after that- he was without his best friend, and was now a single parent to two teenage girls.
His daughters wrote a letter to TODAY, commending their father's efforts toward being the best parent during this hard time.
Watch the video to find out the surprise his family received after being on TODAY.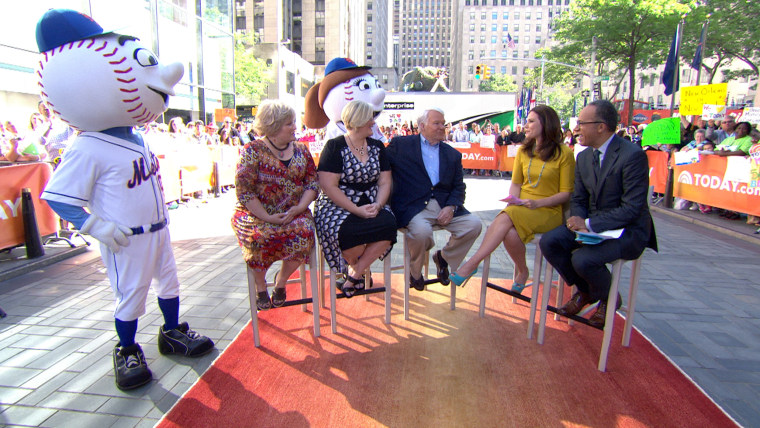 Richard Wells' wife and two daughters have all battled breast cancer, and he has been there for them every step of the way — holding their hands at every chemotherapy session, paying bills and doing household chores.
To make his Father's Day extra special, Wells got a few surprises, including the chance to meet two of his idols.
Retired school principal Jeff Petty lost his wife Judy after 35 years of care. While trying to help extend her life, Petty even donated a kidney to her.
So his son enlisted TODAY to help put into motion plans for the next chapter of his life with an emotional surprise.
Army Maj. Melvin Jackson Jackson, who was away for nearly a year on his fourth deployment, arrived home a little bit early, bearing big smiles and hugs for his wife, Stephanie, and their children, Kiera, 15, and MJ, 12, just in time for Father's Day.
To help Lewis Lusk celebrate Father's Day, TODAY surprised him with the gift of recording his own original track at the iconic Sun Studio in Memphis, Tennessee. And Lusk got a little help from a new friend: country singer Josh Turner.
After Charles Warthan's children were grown, he began the child-rearing journey anew by raising his grandson, Demille Cole-Heard. Warthan, 63, always worked at least two custodial jobs, served his country and helped Cole-Heard, 25, follow his passions.
"There is no father figure more deserving than my grandfather, Charles Warthan," Demille Cole-Heard wrote in a letter he read aloud on TODAY. "He has been right beside me for the past 25 years, sharing his love of music, and now supporting me as I pursue singing and acting myself."
For Father's Day 2015, the TODAY team spent the week before Father's Day granting the wishes of dads all over the country.
Watch these understated dads take in the moment. "You've got to be kidding me," one said. "Now I have to go cancel my dentist appointment!"
Love this article? Sign up for the TODAY Parenting Newsletter for more inspiration in your inbox.