George W. Bush offered advice Monday to fellow former president Bill Clinton on a pressing matter that affects millions of Americans: grandparenthood.
"Get ready to be like the lowest person in the pecking order in your family," Bush laughed. 
The former leaders of the free world spoke Monday at Washington's Newseum while promoting a new presidential leadership scholars program. Bush gave Clinton, whose daughter, Chelsea, is pregnant, advice on what to expect when he becomes a grandfather. 
"Be prepared to fall completely in love again," he said. "You're not going to believe it. You're just not going to believe the joy, and the fun."
During the event, Clinton revealed that the younger Bush called about twice a year in his second term "just to talk" and pick his brain.
"We never talked about it in public. We talked about everything in the wide world. He asked my opinion — about half the time he disagreed with it," Clinton said.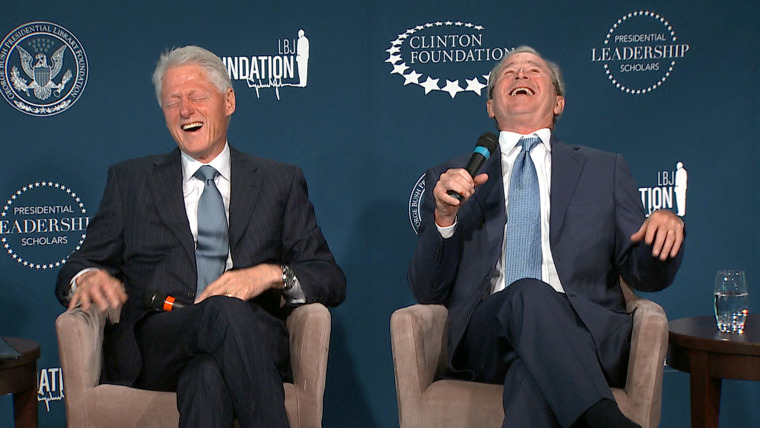 Both men also showered praise on another president, George H.W. Bush, who appeared in the program in a video. The younger Bush said he learned many lessons from his father, the subject of his forthcoming book.

"I learned a lot from him, and I'm not making any money off of it," Clinton said.
Later, Clinton complained about how people who once sought him out for autographs or handshakes now only want to pose with him for selfies.
"At least they're still asking," Bush told him.
Follow TODAY.com writer Eun Kyung Kim on Google+ or on Twitter.