/ Source: TODAY Contributor
Expectant parents Joe and Leela Krummel's plan was simple: Go to their local party store and explain they were having a gender-reveal party. Hand over a sealed note from their doctor that said either "boy" or "girl" to the employee helping them. Ask that a big cardboard box be filled with six pink or blue balloons, based on what the card said. Invite close family and friends over for brunch and open the box to reveal either pink or blue balloons that would float gently towards the sky.
Charming idea. Too bad that isn't the way it worked out.
With 30 loved ones looking on in the couple's Minneapolis backyard on Oct. 30, Leela — four months pregnant — and Joe were ready for the big moment when they'd find out the sex of their baby. After a quick kiss, they counted down, then eagerly ripped off the box's tape and opened the lid. But instead of all pink or all blue balloons, out popped a rainbow of colors — a purple balloon, and a blue one, green, yellow, red, and orange!
(Note: There's a moment of, ahem, "surprised" language in the video, so you may want to turn down the volume if you're watching with little ones.)
Never miss a parenting story with TODAY's newsletters! Sign up here
It's possible the party-store employee thought "gender reveal" had something to do with the LGBTQ community, and so he gave them balloons that symbolized a rainbow.
"We were in disbelief when we saw the balloons," says Leela, 29, who works in the medical field. "And embarrassed," adds Joe, "because we had all these people there."
They stood on their lawn, speechless. "I was trying not to cry," remembers Leela. Their guests burst out laughing. One helpfully suggested, "You gotta pop them maybe."
Joe, a 30-year-old designer and photographer, looked deeper into the box, searching in vain for the doctor's card naming the gender.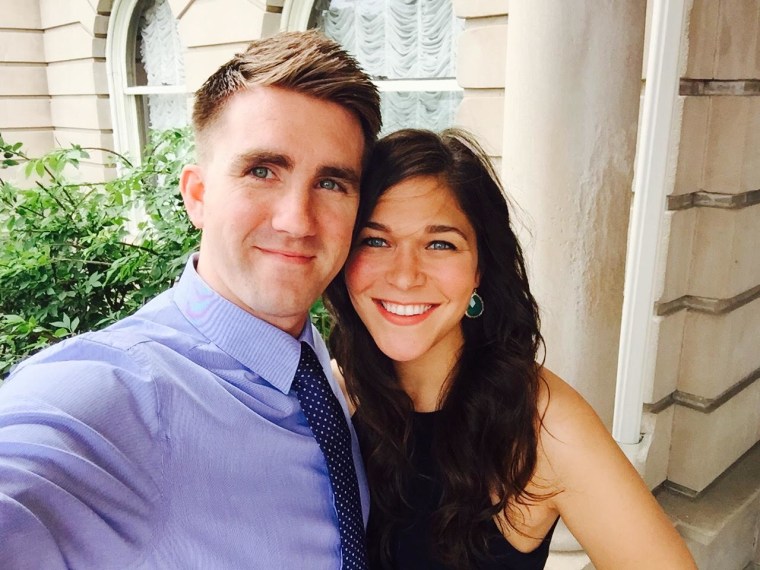 As the guests' mood changed from funny to furious, a friend searched the box more carefully and, fortunately, found the card. Using some of the baby-themed balloons that Joe and Leela had bought to decorate their home that day, their friends looked at the card and staged a Gender Reveal, Part 2.
"Our friends knew the baby's gender before we did!" says Joe.
With loved ones watching once again and the mood lightened, the parents-to-be opened the box, and several single-color balloons popped up. The color?
Blue — they're having a boy!
RELATED: Watch Savannah Guthrie reveal her baby's gender... on the TODAY show!