Looks like the Western world may have achieved peak Emma and Noah. According to a midyear report by BabyCenter.com, 2015 is shaping up to be the year of gender-neutral baby names, with some of the most popular ones applicable to boys and girls alike.
Thus far, says BabyCenter, the names making the most progress in popularity include:
Amal
Karter
Phoenix
Quinn
Reese
MORE: 15 hottest baby naming trends for 2015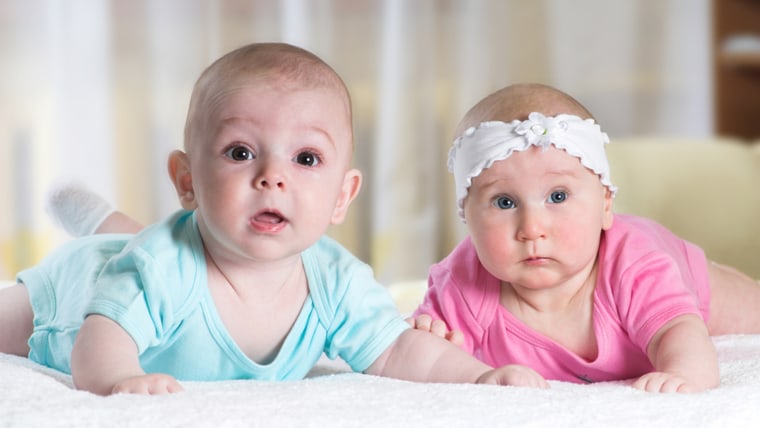 "Baby names are reflecting a larger cultural shift," BabyCenter's global editor-in-chief Linda Murray said. "Millennials are an open-minded and accepting group, and they don't want their children to feel pressured to conform to stereotypes that might be restrictive. Just as companies have started making more neutral kids' clothes, and taking 'boy' and 'girl' labels off toys, an increasing number of parents are choosing unisex names."
While celebs have also gotten in on the trend — there's a female Lincoln (Kristen Bell/Dax Shepard), James (Blake Lively/Ryan Reynolds) and Mason (Sara Gilbert/Linda Perry) — the fact is that traditional "boy" names appear to be more likely to be given to a girl than the other way around.
MORE: The gender-bending trend behind Ryan Reynolds' baby's name
"Many parents want to transcend the old-fashioned feminine or masculine roles and image with names that have not traditionally been used for either boys or girls but can be used for both sexes," Nameberry co-creator Pamela Satran told Yahoo Parenting.
That said, Amals and Quinns are not quite yet set to run the preschool crowd. The Social Security Administration reported that in 2014 the top baby names for girls were Emma, Olivia, Sophia, Isabella and Ava; for boys it was Noah, Liam, Mason, Jacob and William.
And looking over the period from 1915-2014, Michael has been the most popular boy's name the most often (44 years on and off) while Mary dominated for girls 41 times over the years, says the SSA.