/ Source: TODAY Contributor
Summer vacation starts out fun, but for moms who are fed up with hearing "I'm bored" from their kids, the beginning of the school year is something to celebrate.
In a delightful trend, hilarious moms across the country are throwing their own personal back-to-school parties with photos that contrast their joy with their kids' not-so-psyched attitudes.
1. The jump-for-joy mom
Veronica San Lucas White, a mom-of-two from Florida, has taken funny back-to-school photos with her daughters, Sophia, 12, and Gabriella, 9, for the last four years.
"It's a tradition for me at this point," said San Lucas White. "I really have fun doing this picture, and my girls just go with it. Their faces in the picture are a little bit acted, but they were sad that summer was over."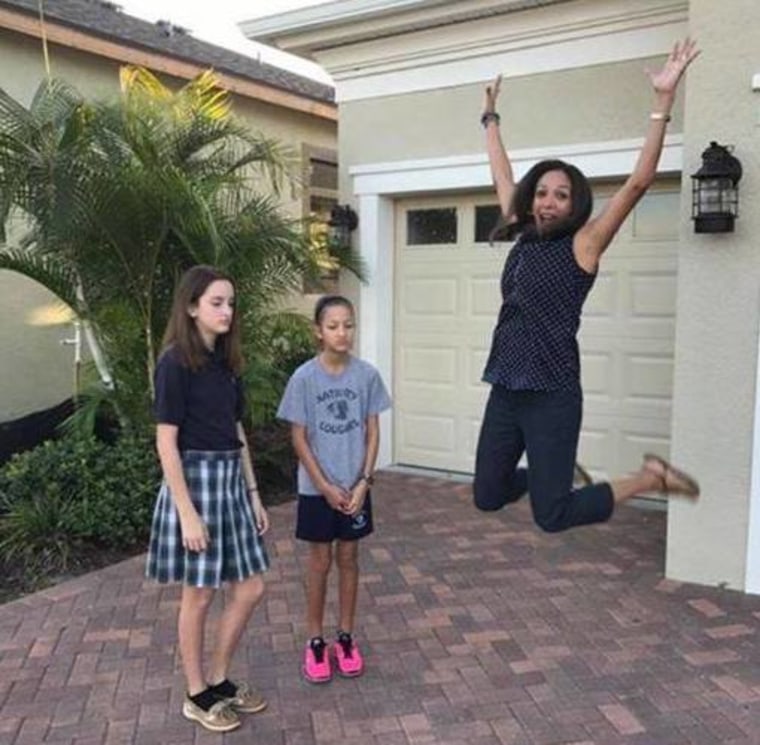 For San Lucas White, back-to-school means getting her family back into a routine.
"I like getting up early, making breakfast, packing lunches, taking them to school, picking them up, taking them to their after school activities, and — last but not least — having Mommy time."
2. The poolside mom
Alabama mom Jena Plair's funny back-to-school photo — shot by her husband in her cousin's pool — went viral this month.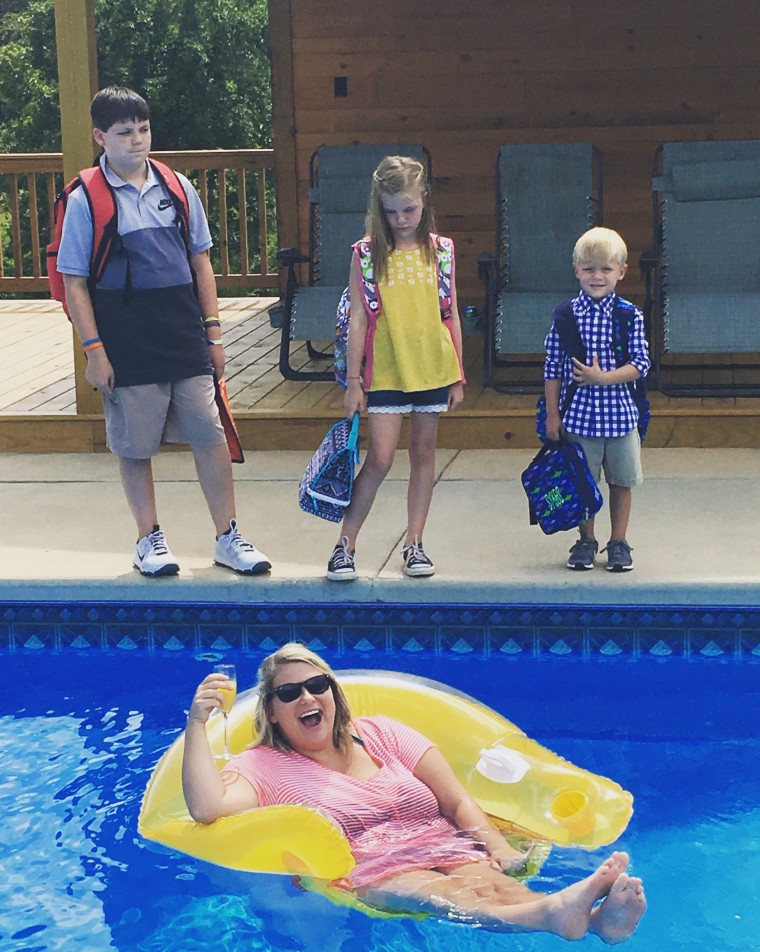 "My photo was inspired by me telling my kids I was having a pool day on the first day of school because they had been driving me crazy all summer," said Plair. "They fight over anything from the TV, to who sits where in the car, to who uses the charger first."
3. The fist-pump mom
"We are dorks," Jacque Rogers Foster said of her family. "The night before the first day of school, and that morning at breakfast, I was teasing the kids saying I'd be so sad when they went back to school, and it would be so tough on me during all the parties moms have when their kids are at school."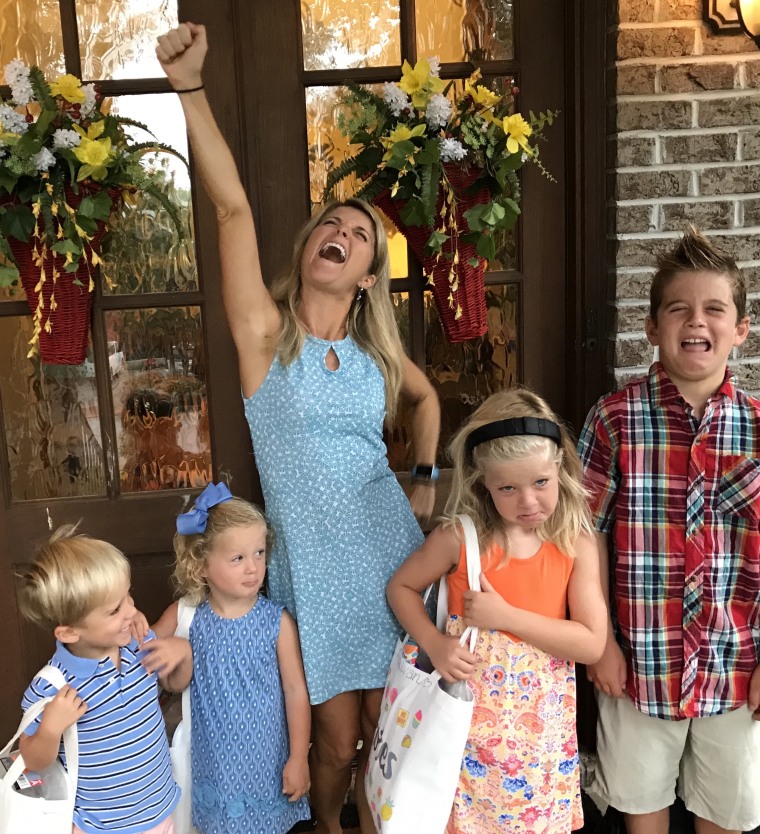 The South Carolina mom says she was hit with a bit of inspiration while snapping first day photos of her four kids, Reece, 9, Sullivan, 6, and twins, Jameson and Avery, 4.
"So many moms cry dropping their kids off on the first day," said Rogers Foster. "I've never been that mom, but it is only a few hours — talk to me on the first day of college."
4. The "Margarita mom"
After Jessi Kittrell's back-to-school photo went viral several years ago, the Virginia mom and photographer decided to keep the tradition going. This year, her back-to-school image shows her with her 7-year-old daughter, Bailey, shopping in the liquor aisle at Walmart.
Never miss a parenting story on TODAY.com! Sign up for our newsletter here.
"I did the original picture to be funny, as a way of coping with my baby going to school," said Kittrell. "She is the youngest of four, and had been home with me full-time, so her leaving for school was hard on me."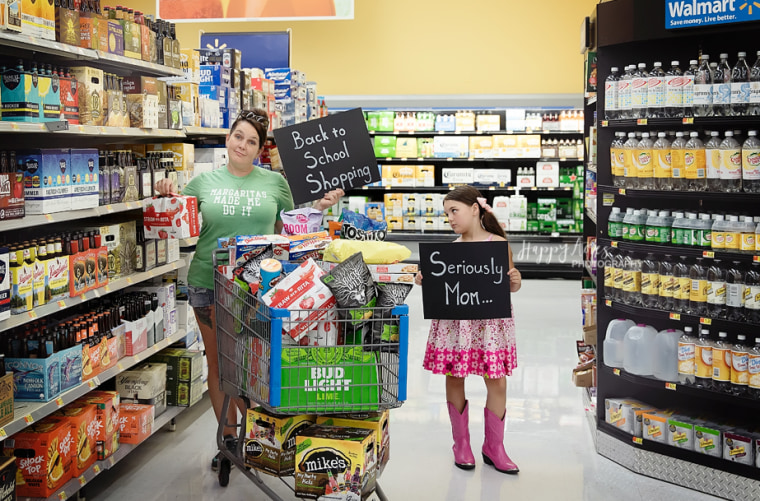 Kittrell says this year, she decided to make her photo a play on back-to-school shopping, where she picked up all of the supplies she needed for a little party of her own once Bailey returns to the classroom.
"I am one of those people who thinks life is too short to be serious all of the time," Kittrell told TODAY Parents. "You have to live a little and have fun. Now I get called the 'margarita mom' all the time and I am totally fine with that."
5. The party animal mom
Keshia Gardner has taken viral back-to-school photos for several years, but this year, she decided to get her husband, Andy, and animals from their Alabama farm, into the photo.
"We threw the kids a back-to-school party," Gardner wrote in a Facebook post. "They were so excited!"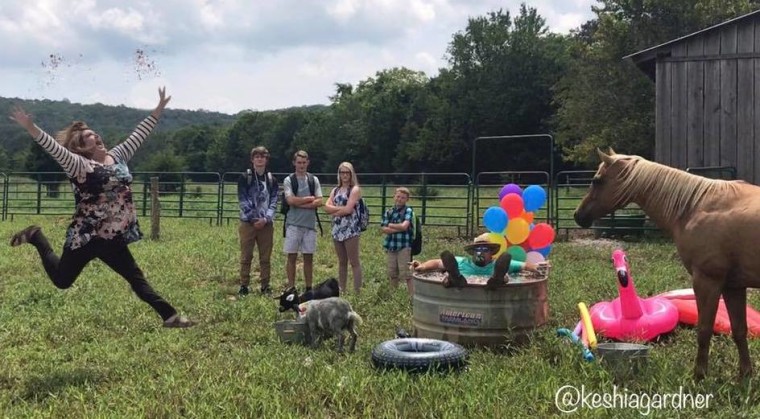 Gardner, who in addition to her own children, is a foster parent, currently cares for kids ranging from third to 11th-graders.
"Although some of the faces change in our back-to-school pictures over the years, this is a great way to remember a new school year," said Gardner. "This year's picture is definitely our favorite because it captures us perfectly on the farm."
"I realize that one day, all of this will end. But, until then, I will be jumping for joy when they go back to school," Gardner continued. "I hope that this captures the feeling of most parents — it's not that I don't love my kids, but we just do better in a routine. When they are in school, they are learning instead of texting me a thousand times to tell me they are bored."