While fathers throughout history have had to shield their genitals from their children, there's now hope. Baby-product company Fridababy has launched a padded underwear product called Fridaballs to help protect dads' family jewels.
Yes, this is a real product. Fridaballs are boxer briefs with padding where it counts. The extra cushioning protects crotches from both intentional and accidental kicks, punches and jabs — but it's discreet. Passers-by would never spot that dads are packing extra padding in the front.
In less than 24 hours, Fridaballs, priced at $27.99 a pair, sold out.
"When you sell out in less than 24 hours and your waitlist continues to grow, you know you've nailed it," Chelsea Hirschhorn, CEO of Fridababy, told TODAY via email. "Even we couldn't have predicted this. I think dads may just be an overlooked demographic."
Speaking of nailing it, as the father of two energetic daughters, Ryan Whitton has an intimate understanding of this sensitive issue affecting dads: Accidental kid-delivered punches, jabs, headbutts, kicks, flicks to the family jewels.
"You should categorize your crotch shots," Whitton, 40, told TODAY. "When kids are really little they do it by accident. They really get you, and you double over and they are amazed."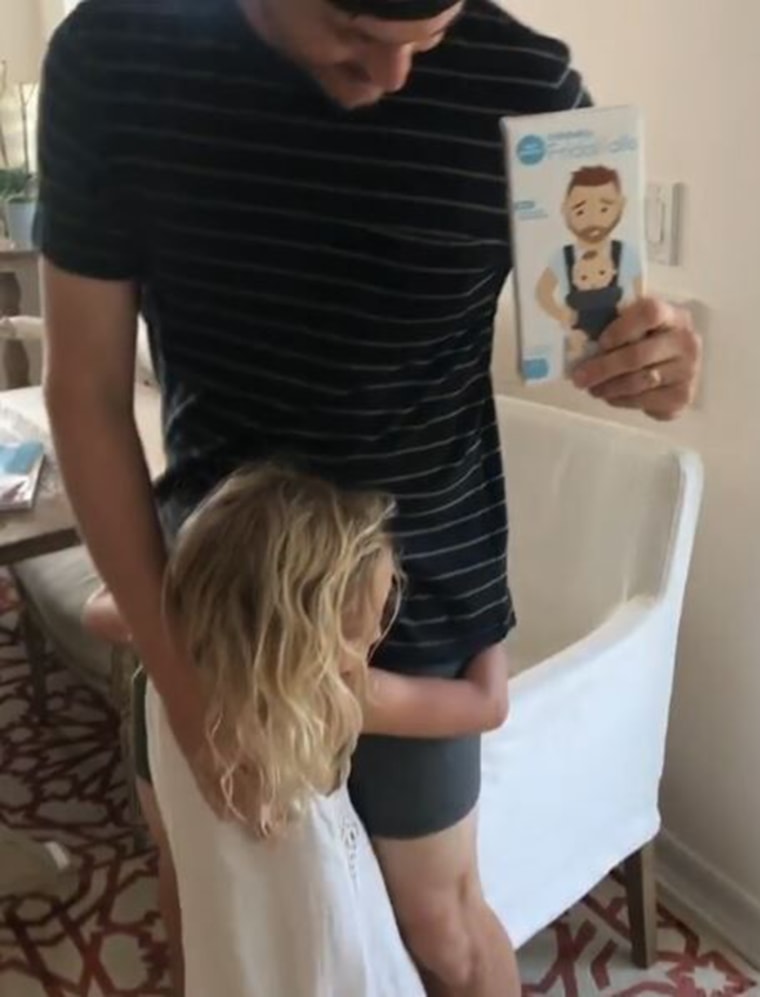 Those are the accidental crotch shots. But as his daughters, Rowan, 6, and Mariel, 3, have grown, they have discovered the other type — the light-hearted ball tap.
"As they get older, it is a way to attract attention," he said. "Everyone laughs. Mommy titters a little bit even though daddy is doubled over."
And then there's the entirely unintentional: The sleeping child who always seems to kick daddy directly in the groin.
Never miss a parenting story with the TODAY Parenting newsletter! Sign up here.
"(That's) the specialty of the youngest," he said, laughing. "It's amazing how she targets them."
Dale Grant, a Philadelphia father of twin boys, adds another category to this list — the running nut shot.
"You have this little 2-year-old coconut head that is right at crotch level … (and they embark on a) full-on sprint to give daddy a hug and a headbutt to the crotch," Grant told TODAY.
After watching her husband, Eric, take a particular rough shot to his crotch, Fridababy CEO Hirschhorn started researching the issue and found YouTube was filled with videos of dads being hit in the crotch. She wondered if there was a way to help prevent their pain.
"We took inspiration from sports-performance padding," she explained.
"Splitting up Together" actor Oliver Hudson is a huge fan. He's been showing off his pair of Fridaballs all over social media.
"I believe in the preservation of testicles," he said in an Instagram video. "You know when a kid comes by and swoops your nuts? He ball-taps you and you just crumble to the ground? That's not gonna happen anymore."
But Whitton and Grant aren't convinced they need ball-preserving technology in their lives.
"I can't see myself being like 'I need to buy underwear to protect my genitals,'" Grant said.
This story was originally published June 14, 2018.
Just so you know, TODAY does have affiliate relationships with various online retailers. So, while every product is independently selected, if you buy something through our links, we may get a small share of the revenue.