Who knew Prince Harry was such a fabulous photographer?
The 34-year-old royal snapped a gorgeous photo of his wife, Meghan, Duchess of Sussex, cradling her baby bump beneath the breathtaking trees at the Redwoods Treewalk in Rotorua.
The pair visited the lush recreational walkway on the last stop on their 16-day tour through New Zealand, Australia, Fiji and Tonga.
The royal mom-to-be paused amid the majestic 115-foot-tall trees to pose for her prince, smiling as she gently cradled her baby bump — or, as Harry's sweetly nicknamed it, "our little bump."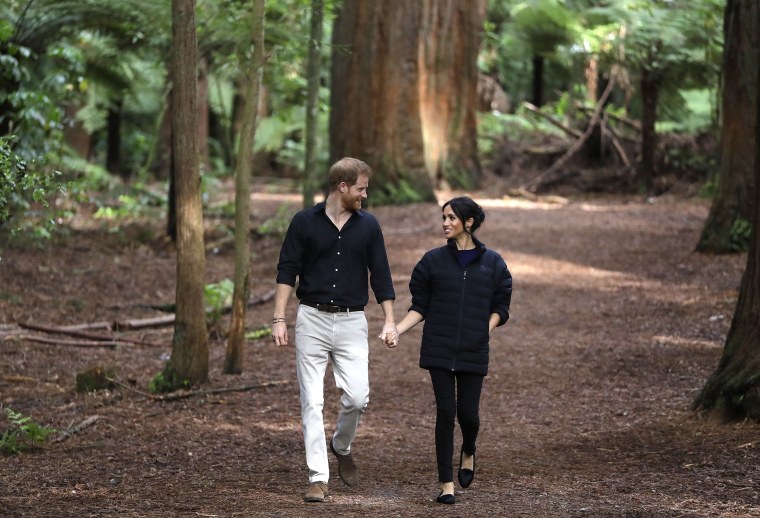 Kensington Palace shared the photo Thursday on Instagram along with a message from Harry and Meghan thanking their tour hosts.
"Thank you New Zealand for the most wonderful last week of our tour. It has been a privilege to meet so many friendly Kiwis," it read. "Australia, Fiji, Tonga and NZ — we leave feeling inspired and reminded of how every single one of us can make a difference."
The caption also included a photo credit: Duke of Sussex.
The tour has been a whirlwind two weeks for the newlyweds. Shortly after they arrived in Sydney on Oct. 16, news broke that the pair was expecting their first child. Soon they were being showered with congratulations and baby gifts.
Throughout the tour, the former Meghan Markle could be spotted caressing her baby bump — and who can blame her? The royal baby arrives next spring, and, naturally, we couldn't be more excited.
Here's hoping dad-to-be Harry shares more pics of his radiant bride soon!