All those muddy faces on Facebook are proof people are racing to mud runs like Tough Mudder to show they can triumph over any challenge. But Tough Mudder—with its ice plunges, firewalls, and dangling electric wires—is a playground compared to Tough Mother.
Sure, Tough Mudder was designed by British Special Forces and is meant to test your "strength, stamina, teamwork, and mental grit." But nothing will test you like Tough Mother, which is a challenge only a seasoned parent can withstand. While Tough Mudder's tagline is "probably the toughest event on the planet," Tough Mother's mantra is "by far the toughest job you'll ever love, in retrospect."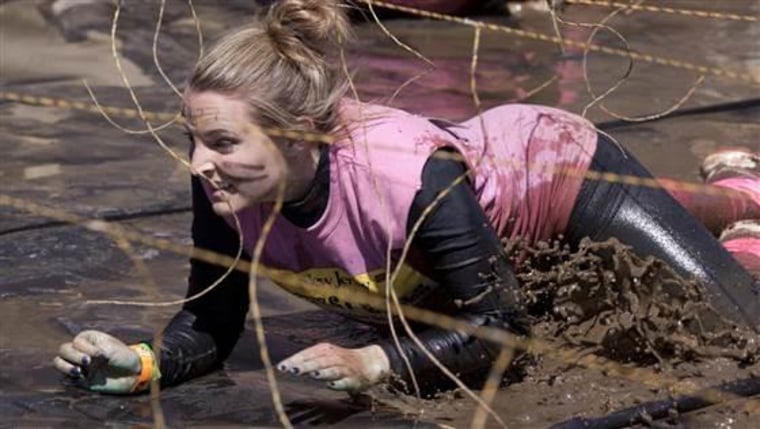 This weekend, Arizona will host the latest Tough Mudder event, where "mudders" will pledge not to whine throughout the run. As for Tough Mother, there is no escaping the whining. And it's on you to endure your kids' interminable whining while tackling these 13 challenges. If you're still standing after all of this, consider yourself a winner. Now who's with me?! Gimme a "hoorah!"
Course obstacles:
Wakeup Call: Show up predawn, after being awakened three times throughout the night. Sleep is for the childless. Contestants bolt from the starting line promptly at 4:30 am as the urgent wail of an infant pierces the dark sky. Welcome to Mother Nation, baby! Let's do this!
Nipple Rip: Breastfeed a baby (with teeth) for 45 minutes straight while sitting inconspicuously behind a bright floral nursing cover. Suck it up, mamas! To ease the pain, bask in your smug superiority over non-breastfeeders. Get pumped!
Guilt Trip: Bottle-feed a baby formula while nursing moms look on. Yeah, they're judging you. Resist the urge to explain yourself. No matter what your reasons (i.e. you adopted your child, you're transgender), thou doth protest too much. Now drop and gimme 10 burpees! (Original burpees, baby style!) Get it done!
Gear Lug: Walk a mile while carrying a loaded diaper bag on one shoulder, a heavy hobo bag on the other, a 35-pound tantrum-throwing toddler on your hip, a scooter (that your child has abandoned) in one hand, and a dog leash (pulled by an excitable dog) in the other. Don't forget to look out for the apathetic tween trailing behind you. Feel the burn! Look psyched!
Trust Fall: Stand with your hands tied behind your back—and your heart in your throat—while you watch a 1-year-old nearly fall into a swimming pool, and trust that your "teammate" (aka the 18-year-old stranger you found on sittercity.com) will catch her. Squash those fears, no matter how legit they are! You're badass!
Car Trap: Remain locked in a car for a minimum of one hour with a complaining grade schooler and a screaming toddler while singing Laurie Berkner tunes at the top of your lungs. With feeling! Move on to the next obstacle when the children have exhausted themselves into silence. Who's your mommy now?!
Highchair Lift: See how many times you can wrangle an indecisive 25-pound child in and out of a highchair in the span of five minutes. Lose points for every time you bang the child's knee into the tray, or you pull a lower back muscle. Form is key! Gain points if the child actually eats any green vegetable while in said highchair. Kale chips don't count. Work it!
Grit Factor: Look on as you watch a third-grader struggle with a math test, lose a soccer game, and get teased by another kid. Ignore the impulse to spare the child from the anguish of failure and disappointment. How else will he develop perseverance, a solid work ethic, and strength of character? No pain, no gain!
Cup Challenge: The assorted parts of seven different brands of bottles and sippy cups are strewn on a table while a 2-year-old whines for her drink. Match all the BPA-free pieces with the appropriate bottle or cup and insert them as fast as possible. For each minute you struggle with a plastic straw or air venting system, the child will whine louder. This is not a drill! (And no fruit punch allowed. Artificial flavoring is for losers!)
Film Interruptus: Start watching a movie with your spouse. But don't get too comfortable. Stop the DVD every 20 minutes for a child requesting a glass of water or potty run. Finish the movie and accurately describe the characters and plot. Bring it!
Splash Down: Hover over a basin of water while on your knees. Stay in this position for 30 minutes, despite neck and knee pain, while being repeatedly splashed in the face by water and bath toys. Now sing "Rubber Ducky." Gimme 20 reps!
Code Brown: Change the dirty diaper of a wriggling baby on a changing table sized for an airplane bathroom using one hand (you'll need to hold diaper supplies in the other). Extra points if none of the diaper's contents ooze onto your clothes. Detract points if any diaper droppings end up in your hair. This isn't mud, baby, this is the real deal. Booyah!
Bouncing Baby: Stand and bounce for one hour while holding a 20-pound crying baby. You're not done until the tot is sound asleep, and you're utterly mesmerized by her delicious baby smell, teeny tiny fingers, and delicate eyelashes—and you've entirely forgotten about your torturous obstacle course. Aren't sleeping babies precious? Childbirth wasn't that bad, right?
Now, that's Mother Nation! Hoorah!
Rachel Rabkin Peachman is a journalist specializing in health and parenting. Her work has appeared in publications such as The New York Times, The Atlantic, Health, and Parents. Follow her on Twitter: @RachelPeachman.
This article was originally published Mar. 14, 2015 at 12:23 p.m. ET.