Yes, kids say some funny and outrageous things. But so do their moms! Why do those little scamps get all the credit for being cute and witty, when we come out with just as many crazy and crazy-funny statements?
Upon becoming a mom, one expects to say things like, "If I have to tell you one more time…" and "Because I said so! That's why." But I'm willing to bet that no mom ever expected that she would ever utter the phrase "It's pronounced orange, not orgy."
Every so often, the blogosphere erupts in a round of "I can't believe I just said (fill in the blank) to my kids." Here are some of our recent favorites, culled from parenting message boards and blogs around the web and conveniently organized into categories. While there seems to be a lot of licking and pooping going on, we're happy to report we didn't come across any that involved the licking of the poop, though we suspect one of our readers might have a gem along those lines to share.
Table Manners
Somehow, we highly doubt Emily Post would have been ready to address some of the dining etiquette situations many of our mom friends have faced. While the fortunate among us are able to get by with, "Elbows off the table, please," the rest of us say things like:
"Take your finger out of your butt and eat." - April
"Don't take your penis out at the dinner table." - cute_mama88 
"Get your feet out of the Jell-O!" Chrissey 
Licking
When it comes to licking, parents expect to say  "Quick. Lick that ice cream cone before it drips everywhere." What they don't expect to say:
"Stop licking the walls!" - Mike
"Please stop licking my tattoo, it doesn't wipe off." - Mrs. Lampshade 
"Let's not kiss the garbage can, okay?" - Dana
Dogs
Dogs may be man's best friend, but they're also toddlers' best playmates. With our canine companions, moms are prepared to tell kids "Don't pull the dog's tail." They're a little less prepared for :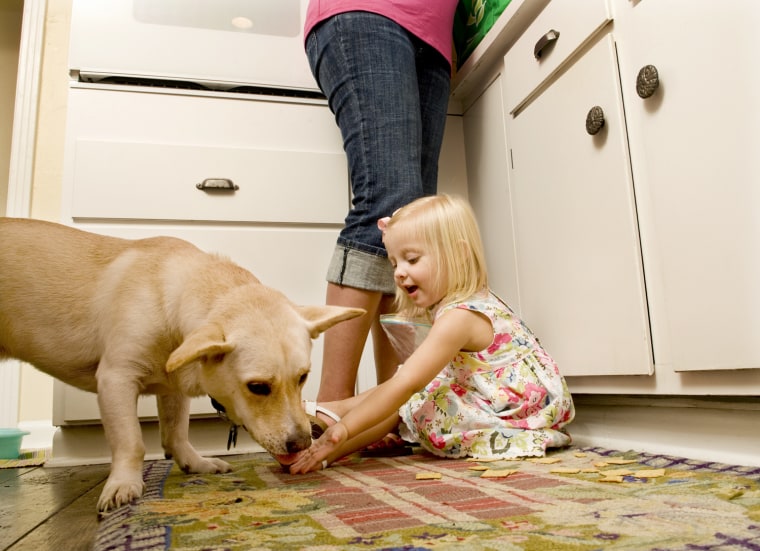 "Do NOT share your paci with the dog." - kerwolfe712
"Give the dog her food back and eat your own lunch!" - shaysmommy5810
"I told you before, I don't like it when you put my deodorant on the dog." - Dana
"Please don't use mommy's hairbrush on the dog." - Deirdre
Licking Dogs
We've established that kids like to lick. We also know that kids like their pets. Yet somehow, it never occurred to us how much kids would like to lick their pets.  Our favorite on this subject.
"You know you aren't allowed to lick the dog's ear. Seriously, stop licking the dog's ear. … Uh huh, yes, I know she licks your ear.  No… you still can't lick her ear." - Julia
Mommy's Rack
Aah, breasts. They're endlessly fascinating, functional and fun -- no matter how old you are. While we might expect to explain that "Girls have breasts, boy's don't" or "Some mommies have milk in their breasts to feed their babies with," we certainly didn't expect to find ourselves saying:
"Your boobies might get as big as mine, or they might stay small. Like Grandma's." - April
"Please don't grab my boobs. Those are mine now." (My youngest. He is done breastfeeding but still obsessed with the boobs.) - Rebekkah
"My nose is not a nipple, there's no milk in there." CBearsMamma Baby
Everybody Poops (and pees, and talks about it -- a lot)
It's pretty much a given that you'll have a few BM discussions as a mom, but most likely thought it would be limited to saying "Here's your new potty chair. From now on you'll go pee-pee and poo-poo in this." Oh, how delightfully sanitary compared to the real world comments like:
" Oh Thank God, it's chocolate not poop!!" -  ericadorsey83
"Please tell me that's dirt on your face." - Dana (said while at the dog park)
"Your dirty diaper is not a baby, stop cuddling it!" - Emily Kroeker 
"We don't drink toilet water!!!!" - ajbrownies  
"Yes, I know, you don't have to show me, Mommy knows where to wipe after going pee-pee, thank you." - Happiness After Heartache 
Say What?!
Then, there are those things we say that defy categorization. All we can say to these is, huh?!
"It's pronounced "orange" not "orgy."" - Mrs. Lampshade
" Fine!  That's fine!  Ride your bike naked but don't cry to me when your little peanut gets hurt." - The Dawning of January
"How the hell did the toothpaste get up THERE?!" - Claudia
What about you? What's the craziest thing you've found yourself saying to your kids?
Dana Macario is a TODAY Moms contributor and Seattle mom to two sleep-depriving toddlers. She is currently developing an alarm clock that will start an IV coffee drip 10 minutes prior to wake-up time. Once properly caffeinated, she also blogs at www.18years2life.com.
More TODAY Moms content:
Is maternity lingerie hot? Or not?
Jennifer Weiner: Toughest part of being a writer mom is sharing imagination