Traveling parents are in a bind: They don't want to lug a heavy car seat from home through the airport or risk it getting damaged in the cargo hold, so they opt for renting — but car rental agencies charge between $8 and $13 per car seat, per day. After a few days of renting, you can spend as much as a brand new seat costs — although picking one up safely with kids in tow upon landing would be a challenge.
So, parents open their wallets.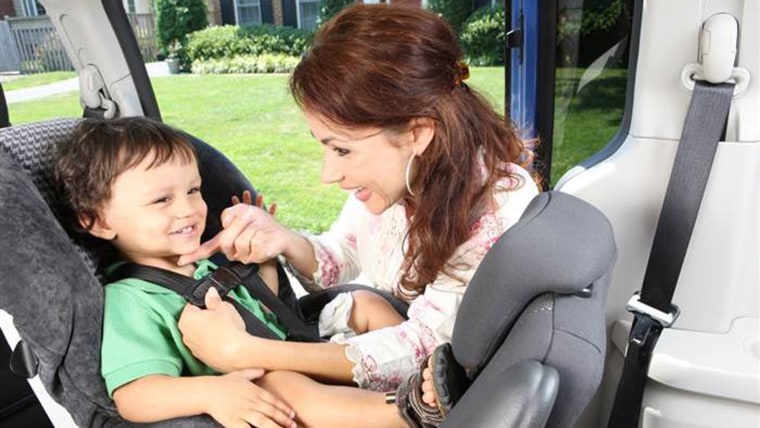 Worse yet, there's no guarantee that a rented car seat will be in safe condition. Or clean. Or come with an instruction manual on how to install it. Or even be there.
Rental car companies Avis and Hertz told NBC News they provide car seats to its customers as a convenience.
"The daily rental fee pays for a national inventory across all our locations of many more seats than are necessary to meet the demand," said Hertz spokeswoman Paula Rivera. (The fee is waived for one seat at Hertz for AAA members.)
RELATED: Watch little girl adorably talk boy troubles: 'I don't want to break his heart'
Laura Bryant, spokeswoman for Enterprise, which also owns Alamo and National, forwarded a copy of Enterprise's FAQ on child safety seat rental, which says the car rental company "takes child safety and protection very seriously," and that each seat comes attached with an installation manual for customers to use.
But some parents arrive at the car rental agency and find demand has exceeded the supply of safe, available seats.
Four car seats in a row appeared to be too dirty, flimsy or missing a safety clip when Nathaniel Kelso rented from Dollar Rent A Car after landing in Washington-Dulles in June. He ended up buying a new car seat for his four-month-old, getting a partial refund from Dollar, and selling the car seat at a loss when he got back home.
"We weren't expecting a luxury seat, but we were expecting something made within the last few years, still serviceable, and clean," said the 33-year-old design technologist from San Francisco. Dollar didn't respond to a request for comment.
RELATED: Is your little one sick? These home remedies will quiet your child's cough in no time
Stress for parents flying with kids is magnified when a critical travel safety component is missing. While child passenger safety laws vary by state, all states require car seats depending on a child's age and weight.
Avis was out of car seats when Lori Philips landed in Orlando — despite her calling three times ahead to confirm availability. The car rental agency told her they would refund her purchase if she bought one nearby at Walmart, which would have required her driving there without her three-year-old son in a car seat.
After the 29-year-old social media manager sent a few angry tweets, Avis found a car seat. "But the damage had been done," she said, "and I will never travel without my own car seat." Avis didn't respond to a request for comment.
Stories like these are why Dr. Alisa Baer, a pediatrician and nationally certified child car safety expert known as "The Car Seat Lady," says it's best to bring your own.
To avoid the lug factor, Baer recommends a few travel-friendly options. Wheeling devices, such as theGoGoBabyz Travelmate or Brica Roll N' Go, can make navigating the airport easier. For forward-facing kids up to 65 lbs., the Safety 1st Go Hybrid is a 5-point harness seat that weighs 10 lbs and comes with a travel bag. While the Go can't be used on the plane itself, it fits into an overhead bin. And for kids in boosters, Baer recommends either the Bubble Bum booster, which weighs a pound and can fit in a child's bag, or the Safety 1st Boostapak, a child-size backpack with a built-in booster seat.
RELATED: How one dad helped his daughter wear her superhero costume with pride
While bringing your own seat might seem like just another burden to juggle for parents already laden with multiple bags of children's supplies, and using it on the plane will require purchasing an extra ticket for children under two, safety must be a non-negotiable, said Baer.
"It's one thing to leave your diet at home while on vacation," she said. "It's another to leave your child's car seat at home."
Follow Ben Popken @bpopken, at benpopkenwrites.com, or email ben.popken@nbcuni.com.