Opinion over a Tampa, Florida, bar has split wide open. No, not over its selection of craft beer and pizza, but the business's decision last week to put a "no children" notice on its front door, just over the bar hours.
It happened shortly after a dangerous incident, involving a child and some adults in the patio courtyard of Hampton Station, a pub that sits on a busy street in one of the city's hipster neighborhoods.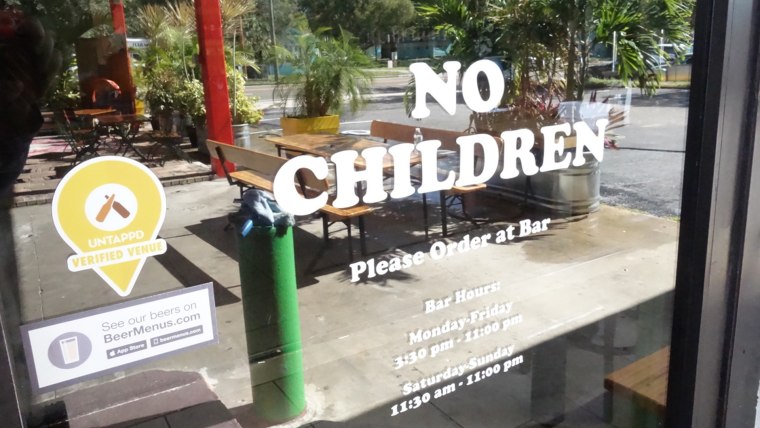 Owner Troy Taylor won't share specifics about what happened, "because there have been many similar incidents," he told TODAY.
"It's basically about children's safety. We're a small local place and I couldn't stand to have someone get hurt, especially a kid, on our watch," he said. "And we really don't have the staff to monitor that kind of stuff."
Never miss a parenting story with the TODAY Parenting newsletter! Sign up here.
After discussing the issue with his employees, Taylor on Oct. 24 posted an all-caps decal sign on his front door: NO CHILDREN.
A debate soon waged on social media, particularly after the Facebook group, Tampa Bay Moms Group, posted a diplomatic explanation.
Others weren't as kind. Many called the rule a form of discrimination, and argued that the business should ban "bad parents" and not their children.
"Really, Hampton Station? My family has been very loyal, with you being 'our' pizza place. Visiting and ordering weekly. We have given you so much business," one upset mother wrote. "Sad and angry that we will be taking our business elsewhere."
Another customer said Hampton Station was a favorite among her two older kids.
"We always sat outside because I don't allow them to sit at bars," she wrote. "No children because the owners are too afraid of confronting a few parents that have misbehaving kids and pissing them off. So better solution is to piss off ALL parents that patronized. Great thinking guys....we won't be ordering take out either."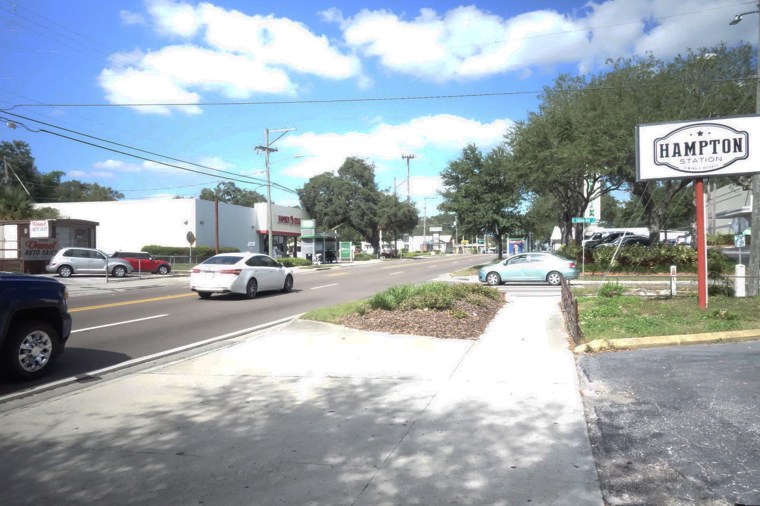 But numerous others came to the restaurant's defense.
"Is their decision to not allow minors hurting you in any way? No? Are there other places available for you to take your family in the area? Yes? Okay, so than why throw your arms up in anger?" one woman wrote. "It's their business and they are allowed to run it as they see fit. You don't have to like their decision, just like they don't have to run it the way you want."
Others argued there were plenty of children-friendly eateries nearby.
"With ALL of the places that do cater to families, it's unfair for people to gripe about a single place that doesn't. Especially considering it's literally a bar with bar food. Just go somewhere else," one customer wrote.
Hampton Station won't specify what ages are targeted under the new policy.
"We left it broad," Taylor said. "It could be a 25-year-old for all we know if they're acting childish."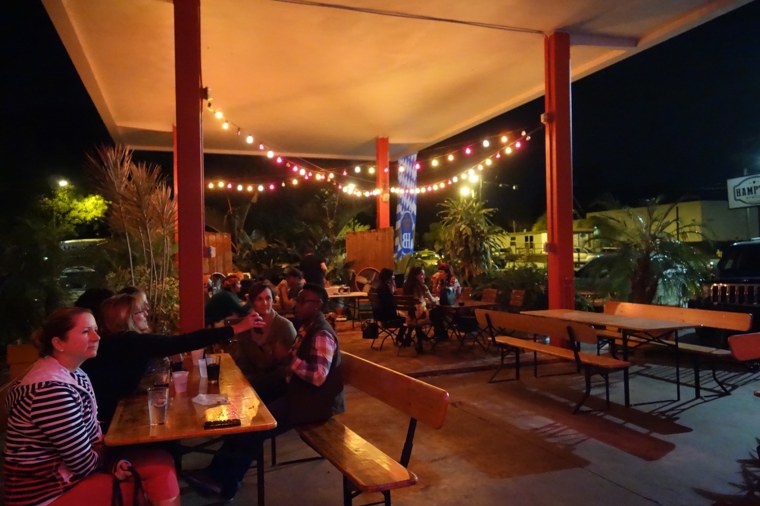 He also acknowledged that some adults, particularly ones who've had too much alcohol, can act just as disorderly as children.
"But it's okay for an adult to go over to another adult and say, 'Hey, I need you to stop. I need you to leave.' If an adult goes over to a child and does that, it's a whole different thing," he said. "It's a very touchy thing. And it's not our job to go out and tell kids what they should or shouldn't do."
Federal law prohibits public establishments from discriminating on the basis of race, religion and other specific categories — but none of them include children or boozy adults.
Hampton Station is not the first restaurant to ban children. Many others have done so specifically after dealing with complaints about inattentive parents with unruly children.
Many parents who support Hampton Station's new policy said they appreciate places where they can enjoy a kid-free meal.
"As a parent when I go out with my husband I want an escape from screaming children! Great pizza. Great people. Great patrons. Have fun!" said one.
Another added: "We appreciate having a space for adults. Well done."
Taylor, who opened his pub in March 2015, described his new policy as "one of the hardest decisions I've had to make — it's not like we have anything to gain from it."
He expects to see business drop but he hopes it will pick up once people understand his decision.
"I understand the anger that some people have, especially some of the regulars who feel betrayed," he said. "And I have to say, it's not you, but I have to deal with the few people that ruin the experience for everyone."