Fans of the HGTV hit "Flip or Flop" were shocked to learn about stars Christina and Tarek El Moussa's recent divorce, but they'll be happy to know the couple is navigating co-parenting as peacefully as possible — and yes, they'll continue to do the show.
Christina El Moussa opened up to TODAY about life after divorce, how she handled a recent string of online parent-shaming, and what it's like to work with her ex-husband on set.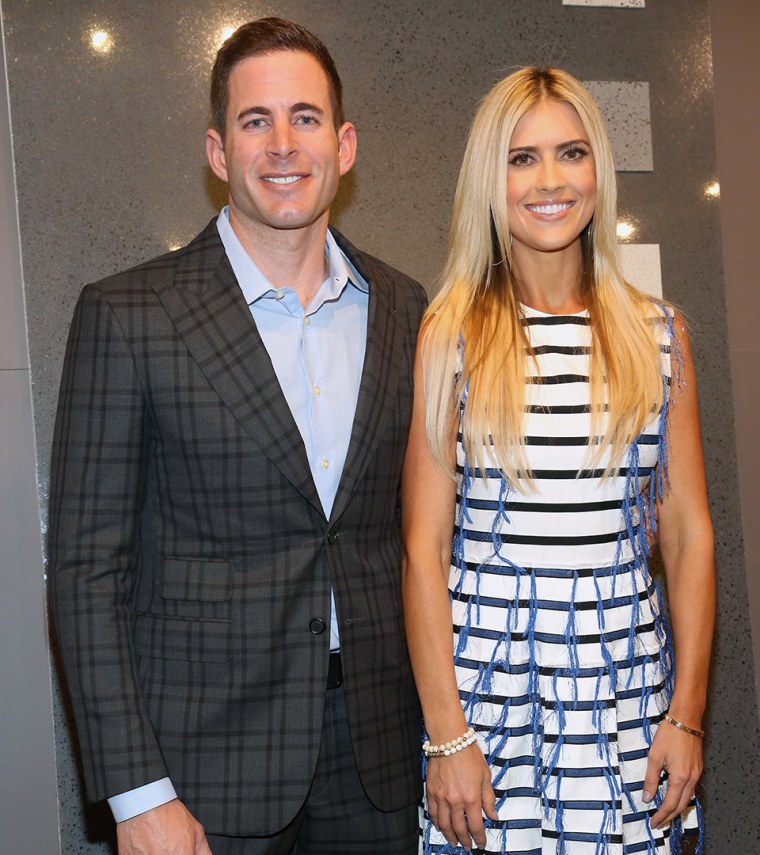 "It's not any different," she said. "I know that may sound strange, but we met at work. We'll continue to work together and we'll continue to flip houses together, and we'll continue to do the show."
"We've had the same crew for a few years now," El Moussa added. "They're a really positive group of guys and they just keep it super fun and super light."
RELATED: Tarek El Moussa on divorce, cancer and the story behind that gun
The couple, who announced their separation last December, has two children, 6-year-old daughter Taylor and a 20-month-old son, Brayden. While Brayden is too young to understand the divorce — "He'll never know any different," El Moussa said — Taylor has a firm grasp on how her family is changing.
"She's a smart girl and we're open with her," El Moussa said. "My niece was even able to tell Taylor some of the good parts about having two homes — extra birthday parties, stuff like that."
And when it comes to co-parenting, the couple appear to have it (mostly) figured out.
"The best part is that we're both flexible," El Moussa said. "We both travel a lot, so if one of us is gone, the other picks up the slack. It's all about communication. Both of us are feeling really good. The kids are extraordinarily happy."
RELATED: Even after divorce, this former couple still takes family photos
One aspect of parenting in the spotlight that El Moussa struggles with? Shade from strangers on the internet. She was recently the target of mom-shaming twice: once for posting a photo of her and her daughter in matching bikinis, and another time for a photo of her son standing near the edge of a swimming pool.
"I just get surprised," she said. "The bathing suits, I just thought that was a cute photo. I didn't intend for it to get such heat. I mean, obviously we live in California, and it's warm here. We wear bathing suits."
When critics questioned her son's safety in the other photo, El Moussa was quick to fire back, pointing out that the pool was shallow and that she could have been by his side within three seconds.
RELATED: Funny video shows moms dishing about co-parenting
"Thanks for your 'concern' AKA judgement," she wrote on Instagram.
She told TODAY that while she tries to ignore most of the negativity, she felt compelled to speak up that time.
"I needed to say something because it was ridiculous — that comment was uncalled for... petty," she said.
At the end of the day, she tries to let the shaming slide.
Never miss a parenting story with TODAY's newsletters! Sign up here
"Social media is a weird thing," El Moussa said. "People have their keyboard and no face... they can say whatever they want... but it happens to every celebrity and people in general. We don't let it affect us."