"Fit mom" Maria Kang, who was slammed five years ago for posting a "What's your excuse?" photo on social media, is tweaking her message so it's more sympathetic.
Instead of focusing on excuses why moms can't get in shape, Kang, 37, is encouraging women to zero in on the reasons why they want to get fit.
"I changed my tone a little bit, for sure," Kang told TODAY's Megyn Kelly, who said the original message made her feel "irritated" as a mom.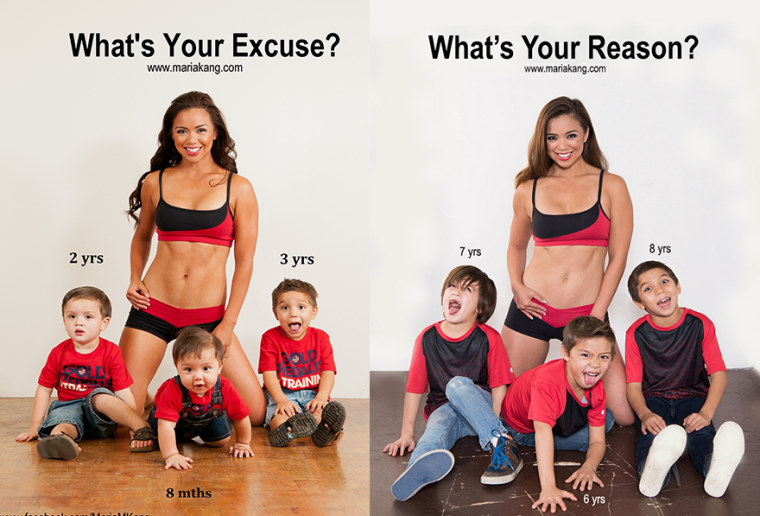 "I'm realizing that yes, it's important to address your excuse but it's more important to address your motivation," Kang said.
"The reason is way more important than the excuse," Kang told TODAY.com in an email interview. "When you find your why, you can overcome your excuse."
She says that she never realized the original photo "would create incredible backlash from mothers, as I never experienced a 'mommy war' and didn't intend the picture to be seemingly fat-shaming."
"Since I grew up in a household with an overweight mother, I had a lot of passion under my belt when people came at me with their criticism and excuses," she says.
And yes, Kang, like most mothers, has dealt with mommy shaming.
"When I am being shamed and bullied (as I felt I was in the past), I do what I usually do when stressed or depressed...I write in a journal, pray, exercise or reach out to friends," she says. "Women make quick judgments about each other based on how we look, if we nurse, how our children behave. I can understand why people felt judgement when they initially saw my image! The difference is that it wasn't my intent to make anyone feel bad," she says.
The Kang-bashing did get to her. But she doesn't sweat the insults.
"It never feels good to be disliked, but when you are being disliked because you are speaking the truth and standing behind genuine intent, then being disliked is worth it. It's not easy to see/hear the criticism, which is why I don't read it. I'm laser-focused and time-conscious with my work and family each day so when I devote any time thinking about how someone I don't know hurt me on the internet, they just took a piece of my life I can never get back," she says.
So back to the picture. Kang appeared in the original, controversial photo in 2013, dressed in a sports bra and shorts alongside her three sons, including one who was just 8 months old. The slogan "What's your excuse?" was emblazoned on the top of the image. Critics accused Kang of being a fat-shaming bully.
Never miss a parenting story with the TODAY Parenting newsletter! Sign up here.
This time around, Maria is wearing the same outfit with her three children, now 6, 7 and 8 years old. "What's your reason?" is now the slogan at the top of the photo.
"A lot of people wanted to see a re-creation of the photo for a long time," explains Kang, who lives in Sacramento. "But as I wrote 'What's your excuse?' on top, it didn't feel like it represented who I am today."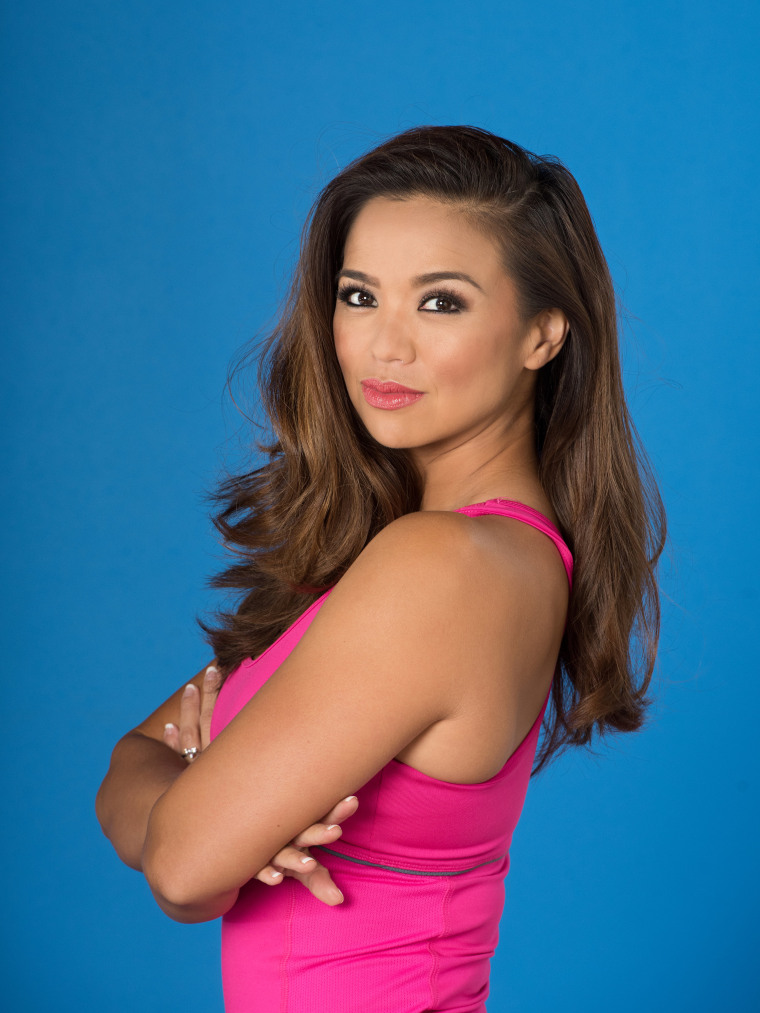 The fitness fanatic and author noted that she's about 10 pounds heavier than she was five years ago and that she is more flexible and forgiving with her workout regimen. Instead of exercising 60 minutes four-to-five times a week, some days it will be closer to 30 minutes.
There's a practical reason for why she works out, and yes, she does it in moderation. "I train for less than an hour, usually when my kids are in school or are sleeping and if I didn't exercise and watch what I eat, I would absolutely be overweight because heavy genetics runs in my family," she says.
She noted that she doesn't regret initially using the word "excuses," saying, "I do believe you need to address your excuses… but after that you need to find your reasons." Kang's reasons are primarily her health and her family.
"What's kept me going is really my reason. This represented me a lot better right now in stage two of my life, focusing on the why," says Kang, who runs the non-profit "Fitness Without Borders."
"Fitness has always been a priority. Instead of it being number one, it's probably number four but I still get it done," she says.
Editor's note: This article was originally published on Jan. 5, 2018, and has been updated.