She's the wife of the leader of the free world, and on the day TODAY.com sat with her, she squeezed a conversation between three engagements in as many hours.
But Michelle Obama, first lady, activist, female face of the nation and parent to Sasha, 10 and Malia, 13, has one concern at the top of her mind: "Like any mother, I'm just hoping I don't mess them up."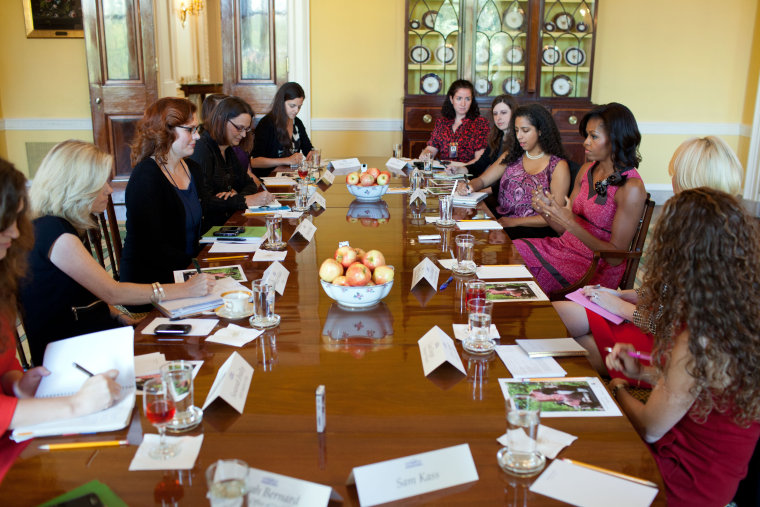 Sound familiar?
"That's all we're living to do. It's like, at the end of the day, I find myself checking with friends: 'How did the girls seem?' And they'll say, 'No, they're the same kids. They're the same girls.' I'm like, 'OK, good. Just tell me if you see anything. Just let me know.' "
So far, so good. "They're good," she said. "That's why the president and I are so happy. Even when times are tough, in the end you are as happy as your least happy child.
"When your kids are healthy, your dog is healthy, you find that you sleep a little bit better."
More from TODAY Moms: The Mom-Judging Olympics
The first lady was speaking Monday to a panel of digital journalists in the first-ever roundtable of its kind. All were writers from prominent sites, and all were wondering: What does it take to raise two kids in the White House? 
First, as their mother warned her staff, the girls are not to be treated like "little princesses." Malia does her own laundry, and they clean their own rooms. "We fight for their normalcy," the first lady said. "We're living in a place that's not used to kids."
And how. As we sat in an imposing dining room better suited for summits with heads of states than playdates, it was clear this cavernous old house, for all its beauty, could use some child-friendliness. So when they moved in, Sasha and Malia chose their own bedding, to decorate their own rooms.
White House chef will get you to eat your veggies
And getting out of town is a priority. "Vacations are important because they're not living in a house with photographers all around, and they can go outside, maybe go to the beach, and just not think about that," said Mrs. Obama. "That becomes important, to keep those traditions. We fight for that for them, even amid criticism. Because those are the things that make them feel like themselves."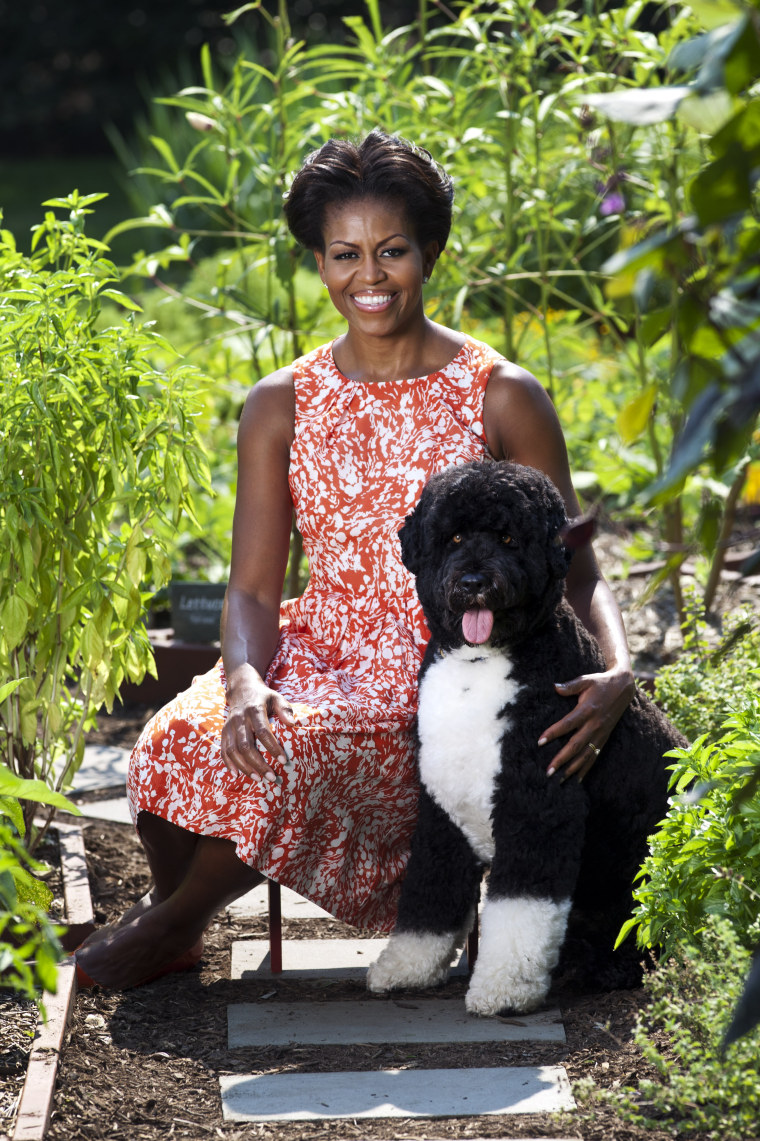 The first lady is strict about "screen time" -- her catchphrase for when kids are allowed to be on their computers. It's a big part of her campaign to reduce childhood obesity, and she recommends limiting it to one to two hours a day, per the American Academy of Pediatrics.
When 13-year-old Malia is online, she has to be having a conversation about school. "Sometimes I have to come through the room. It takes a couple of times to be like, 'That didn't sound like math to me.' So she knows that at any point I'm going to walk into her room, which I do, that it keeps her honest. But she's a good kid. She doesn't try to break the rules. We'll see about Sasha. She's coming up."
More from TODAY Moms: Baby thinks magazine is broken iPad
The dinner table is a no-device zone not just for the girls, but for mom and dad too ("Barack is the worst," Mrs. Obama admitted). On TV, the kids watch what they want; their mother just makes sure they talk about what they're watching.
As for the Kardashians, that, um, other famous American family, their shows get a veto from the president himself. "When they watch that stuff," said Mrs. Obama, "he doesn't like that as much."
Wearing a Target dress  ("that was my last trip," she said of getting snapped while shopping at the megastore), Mrs. Obama spoke candidly about the privileges and challenges of life in a spotlight that gets "a little annoying, a little hot," at times. She's wistful for a simpler life.
Michelle Obama: Nobody recognized me at Petco
What she misses most is just ordering an ice cream cone "and having the kid behind the counter ignore me just like he's ignoring everyone else he's serving." She gets tastes of it: During one trip to Target with an aide, she was approached in an aisle by a woman -- who merely wanted her to grab something from the top shelf.
Still, the first lady said she's lucky to live in the White House, where a staff -- and her own mom -- are available 24/7. "There's always somebody here who can create that safety net," she said. "Which is why I find myself being an advocate for women who don't have it. I know how blessed I am, and I know how rare it is to live in an institution that can provide you with that kind of support. I believe every mother needs a personal assistant. And a chef. And what else do we need? A driver. But we don't have it. We have to make it work, and make it work for each other."
At 5 a.m. each day, she starts returning emails. Then, once the kids are off to school, it's upstairs to the in-house gym for exercise. Her main motivator for staying in shape? "For me, it's, 'I can't afford to buy another set of clothes.' It's a cost issue, if I look at Barack and say, 'You know what, those dresses I wore last week, none of them fit.' "
And also (oh thank God she admitted this): Vanity. "That's just sort of the honest thing," Mrs. Obama said. "It's like a picture in the newspaper that looks crazy is my motivation. It's like, 'Oh my God, is that me? I can't look.' So that can be motivating."
To keep on her regime, she intentionally asks the staff to stock the family's private kitchen with healthy snacks -- because, she said, if there were a bag of chips hiding in those cupboards, "I'd eat the whole thing." 
You heard me: Even the woman with the nation's most famous lateral muscles thinks it all sucks sometimes. "I will hate working out and I will be cursing the name of the people who told me to do it. But there will come a time when ... you have a cardio pop, an epiphany where actually it does feel better."
She stocks her iPod workout mix with Beyonce, Jay-Z, Janelle Monae (she likes "Tightrope"), Sting, Michael Jackson, the Beatles and Mary J. Blige. "A lot of us have to get over the painful hump of starting," she said. But, she added, give it six weeks of exercising –- no measuring or weighing in -- and stick with it.
Somehow, when she says it, it sounds so reasonable.
That's because she's kind of a powerhouse: I mean, look at those arms! Plus, she's not the only supermom trying to do it all. She understands that everyone wants to effect change in the world around us, and make it a better place for our kids. 
When that all starts to get overwhelming, she has one piece of advice: Just chill.
"That's when you know you need a break. When you feel like, 'Oh, I haven't changed the environment!' Just take a bath. Eat a piece of chocolate! You need one."
If you want to make the world better, start with what you're doing already –- being a great mom to great kids.
"The truth is, the greatest power I feel like I have is raising two more intelligent, decent people," she said, "and putting them in the world prepared to give and contribute."
Read more:
We all need help navigating the corn maze of motherhood
Family dinners: Important, or overrated?
Ready for his close-up! White House releases official Bo portrait
Slideshow: Life inside the White House