/ Source: TODAY contributor
Like many companies, wowOwow.com has a bunch of interns running around the office, working for free for the opportunity to learn about the business. What makes these interns different is that they aren't fresh-faced kids who've never had a job. Instead, they're all in their 40s and 50s and accomplished professionals.
Ann Hodgman is one of the four interns taken on by wowOwow.com, a start-up Web site based in New York and targeted to women over 40. For Hodgman, who shared her experiences as a fiftysomething intern Friday with TODAY's David Gregory, the new site couldn't have come along at a better time.
"I'm a freelance writer. I kept looking for freelance writing jobs, and I realized the only market that's expanding is the online Web world," Hodgman told Gregory. By lucky happenstance, her daughter works in publishing and told her about the internships at wowOwow.
From six figures to 0
"I said, 'It doesn't pay.' She said, 'I think you should do it,' " Hodgman said. After thinking about it, she decided to give it a shot. "I just wanted to learn a little bit about a world that seems to be still asking for content," she said.
Even before the stock market collapsed and the recession hunkered down over the economy, the publishing industry was being buffeted by the increasing shift from traditional print outlets to online content. One of Hodgman's fellow interns, Lois Draegin, 55, is a prime example of the dislocation in the industry. A year ago, she was one of TV Guide's top editors, earning a six-figure income. Now, she's unemployed.
Deborah Barrow, the editor-in-chief of wowOwow, told NBC News that taking on interns like Hodgman and Draegin seemed a natural move.
"There are so many jobs being lost," Barrow said. "You hear about it every day. We're trying to be creative and proactive in a way where there's mutual benefit."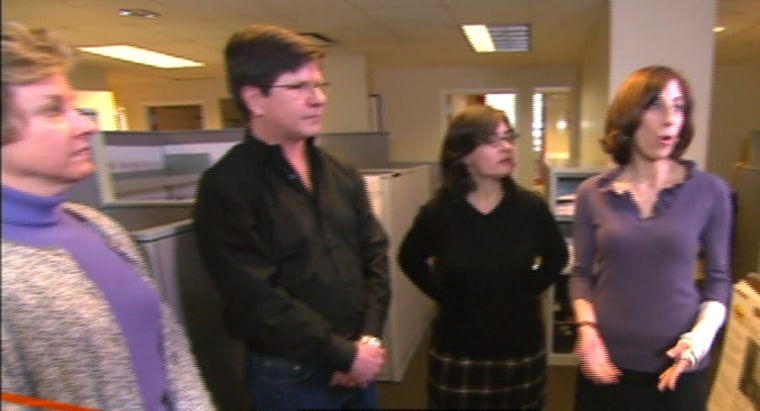 WowOwow was founded by such media giants as columnist Peggy Noonan, "60 Minutes" correspondent Lesley Stahl, advertising executive Mary Wells and gossip columnist Liz Smith. Hodgman said that interning there has been like a breath of fresh air.
"When I came out of the first wowOwow meeting, I thought, 'Finally, a company where publishing is viewed with optimism.' It's such a relief not to be thinking, 'Oh, everything's in decline.' They're so energetic and they're so sure that they can make this work. It's really invigorating," Hodgman said.
Starting overShe was joined on the TODAY set by Marci Alboher, a freelance writer, journalist, author and speaker who focuses on career and workplace trends. A former lawyer, Alboher is the author of the book "One Person/Multiple Careers." She told TODAY it's too early to tell if older internships are a new trend in business, but she thinks it's an idea that people looking to begin new careers in mid-life shouldn't be afraid to present to companies they would like to work for.
"What's great about the wowOwow program is that they have something in place and they were looking for the Ann Hodgmans of the world," Alboher told Gregory. "What I see a lot with adult internships is you have to take the initiative and pitch this to someone because often you don't know that this exists. But if you're presented with this opportunity to have someone with the level of experience of Ann who wants to do some learning, you'd be surprised how receptive they are."
One reason companies are receptive is because interns work for free. But Alboher told NBC News that interns who prove themselves to be invaluable can parlay the assignments into full-time jobs. With unemployment reaching 8.1 percent nationally in February, every advantage counts.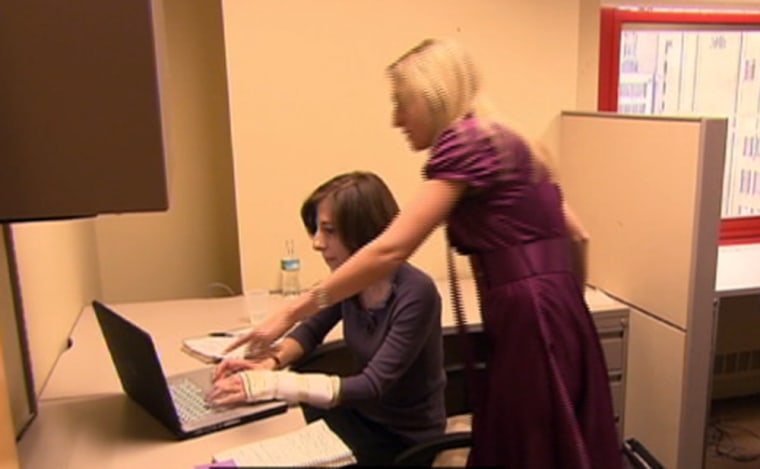 Alboher said interning is also a good way to learn about an industry. "Anytime you want to make a career change, it's always good to test-drive it, to try it out, to see what it's like to actually do that work," she said.
It takes courage on the part of the intern. Hodgman's supervisor is Randi Bernfeld, who is 24 — the same age as Hodgman's daughter.
"You really need to be willing to say, 'Even at my ancient age, I can be a beginner, I can learn again,' " Hodgman said. "You have to be just terribly willing to take that leap and to embarrass yourself in front of people who are younger than you, which is not that easy to do."
But Hodgman said it's worth it to learn the online skills she needs to prosper in the new electronic world. When Gregory asked her what she hoped to accomplish with her new skills, she quipped, "Oh, immense wealth gathered from the Internet."
To learn more about wowOwow.com's executive intern program, click here.