Throughout history, women have played critical roles in the success of the U.S. military in both war and peace times.
Margaret Corbin famously defended Fort Washington in 1776 during the Revolutionary War and Cathay Williams disguised herself as a man to serve in the Civil War, but it wasn't until 1901 that women were allowed to serve in the military in any official capacity.
World War I was the first time women could join military service outside nursing and by the end of World War II, 350,000 women wore American service uniforms according to official archives.
In January 2013, Secretary of Defense Leon Panetta lifted the ban on women in combat roles and gave the military two years to complete integration.
These female trailblazers are to thank for the roles women have in our armed forces today. But who are they? And how did they do it?
9 Inspiring Female Military Heroes
The list of inspiring female military heroes is long. Here are nine women in the military you (and your kids) might not know about, and now is the perfect time to learn.
Loretta Walsh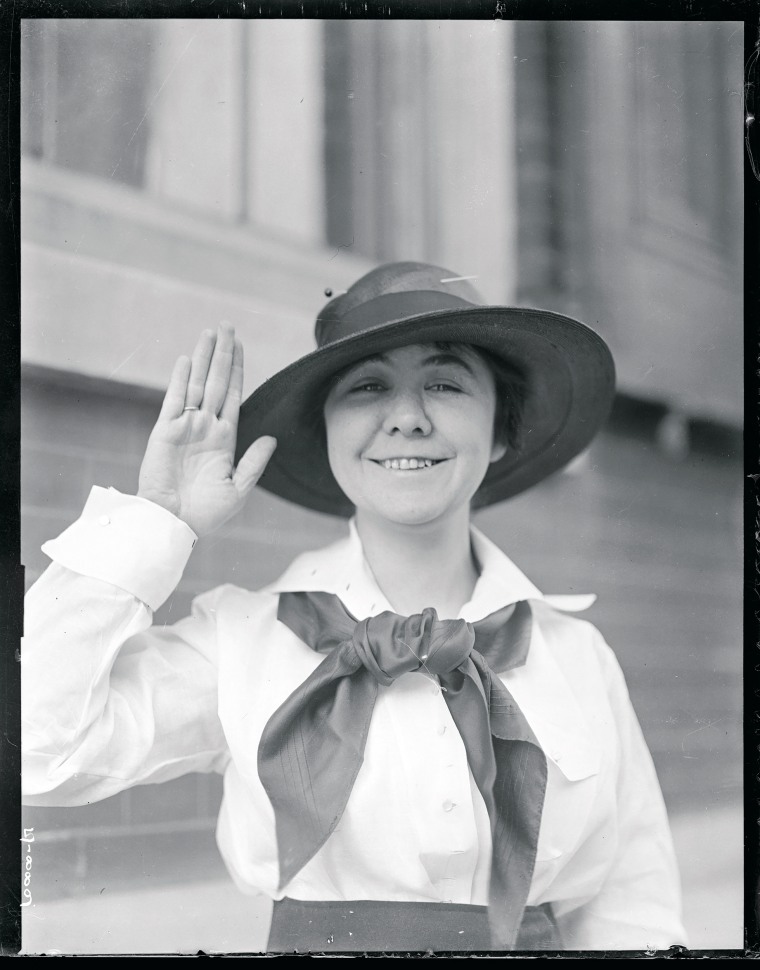 First woman to enlist in the U.S. Navy
The U.S. Naval Reserve Act of 1916 permitted "persons" to enlist in the Navy and on March 17, 1917, the first woman to enlist was Loretta Perfectus Walsh.
According to Navy records, Walsh was "the first woman to service in any of the U.S. armed forces in other than a nursing assignment" and was enlisted as a Yeoman(F), the title given to females.
Walsh was stationed at the Naval Shipyard in Philadelphia during World War I and, alongside more than 11,000 fellow women, received the same pay as men.
At the end of the war, Walsh was treated as a veteran, but died from tuberculosis on Aug. 6, 1925. She was 29.
Susan Ahn Cuddy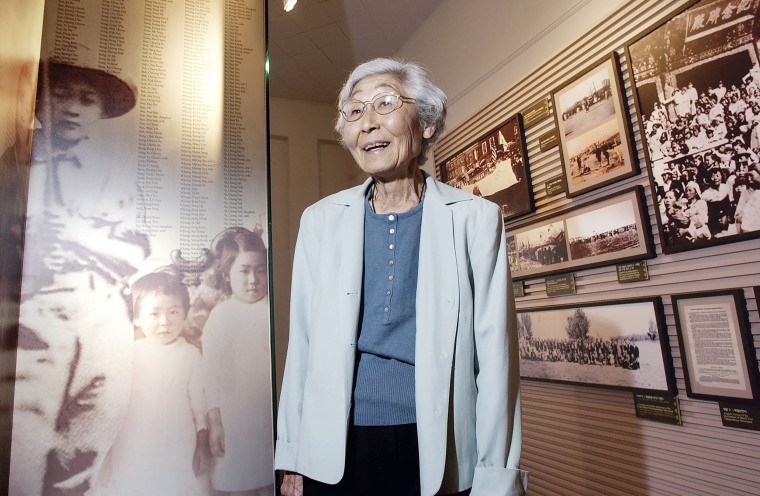 First Asian American female officer in the U.S. Navy and first female gunnery officer in the U.S. armed forces
Lt. Susan Ahn Cuddy enlisted in the U.S. Navy in 1942. She initially applied for the Women's Reserve of the U.S. Naval Reserve (WAVES program), but was rejected because of her race, according to the Department of Defense. Undeterred, she reapplied and was accepted in December 1942.
Cuddy went on to become the Navy's first Asian American female officer, first Korean-born American female member and first woman gunnery officer, in charge of the ship's guns and ammunition.
"She would literally say she didn't experience racism through all these things, but in those days, to her, there was no choice," her son, Flip Cuddy, told TODAY.com in 2021. "You just had to put up with it if you wanted to blaze a trail, which she did."
Cuddy died on June 24, 2015. She was 100.
Ann E. Dunwoody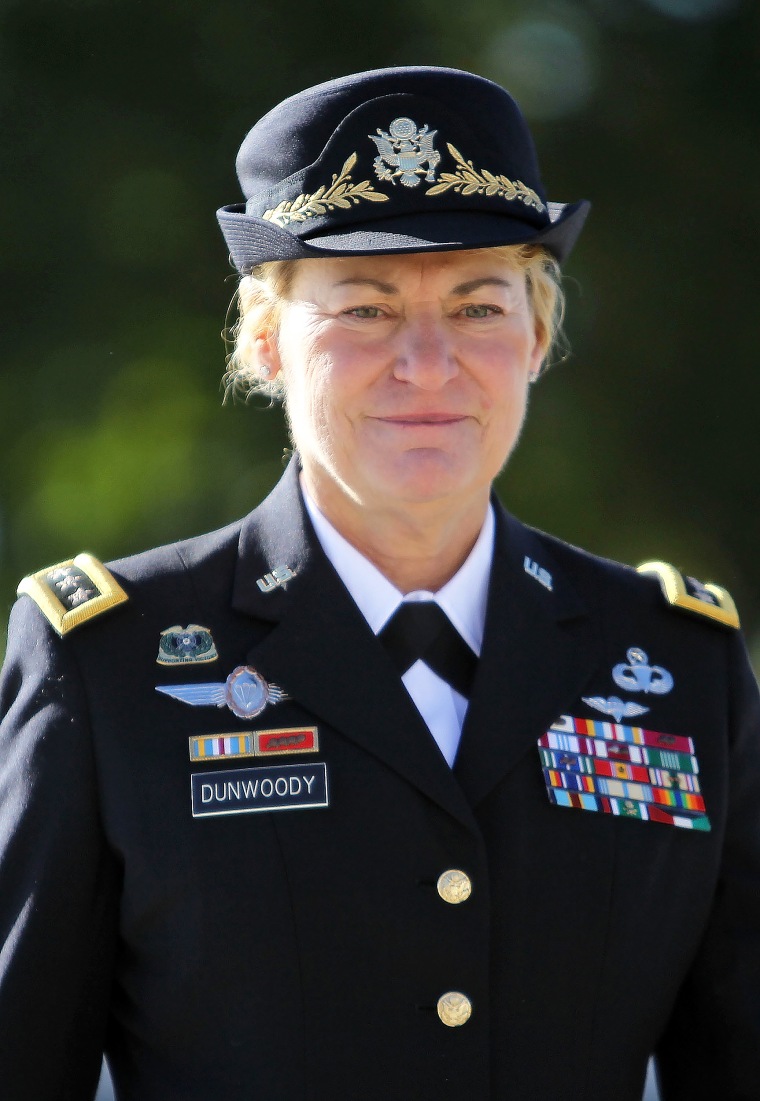 First female to serve as a four-star general in U.S. military
Gen. Ann E. Dunwoody joined the U.S. Army in 1974 and commissioned as a second lieutenant in the Women's Army Corps in 1975.
Dunwoody became the first female battalion commander for the 82nd Airborne Division, an elite airborne infantry division and one of the most frequently deployed combat units, in 1992. Eight years later, she made history again as the first female general at Fort Bragg, North Carolina.
In 2008, Dunwoody became the first female four-star general in U.S. military history.
"I have never considered myself anything but a soldier," Dunwoody said at the time of her promotion. "I recognize that with this selection, some will view me as a trailblazer, but it's important that we remember the generations of women, whose dedication, commitment and quality of service helped open the doors of opportunity for us today."
After 38 years in uniform, Dunwoody retired in 2012.
Martha McSally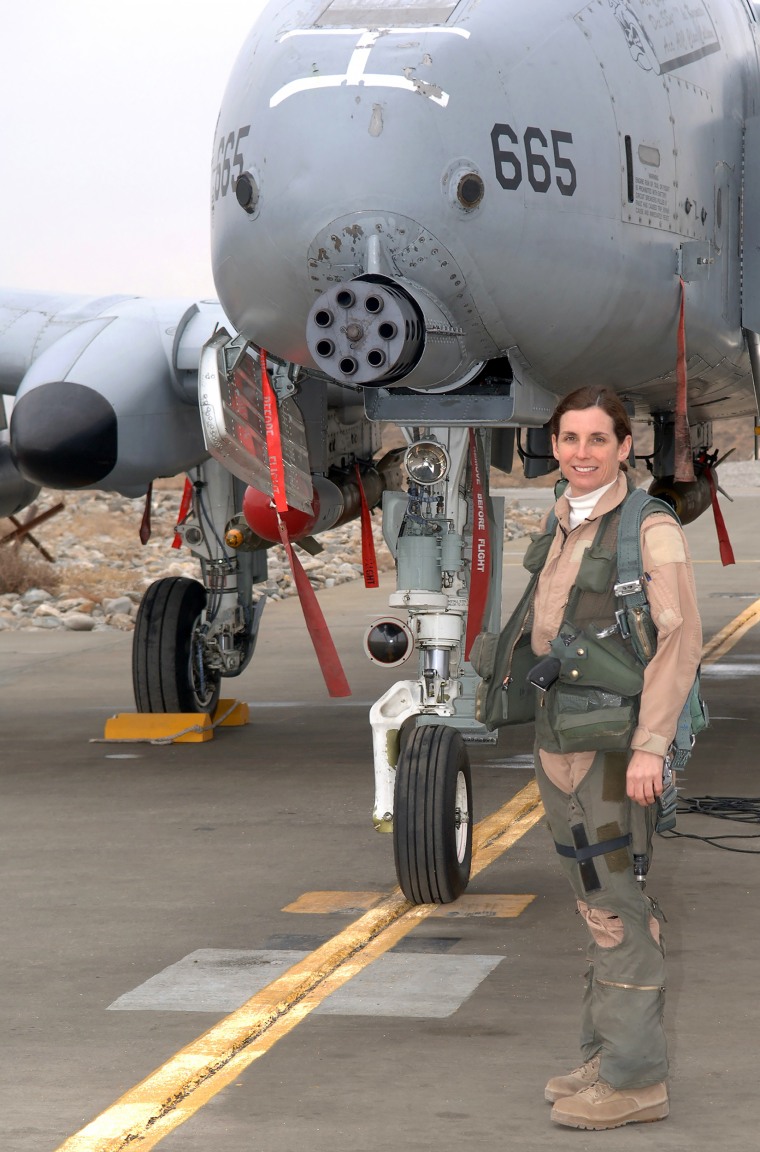 First American woman to fly in combat
Col. Martha McSally flew 2,600 flight hours, including over 325 combat hours, during her military career in the U.S. Air Force.
Women served as military flyers during World War II as Women Airforce Service Pilots, but the organization disbanded after the war. While women resumed flying, legislation from Congress in 1948 prohibited women from flying warplanes in combat.
"In 1984, I was attending the U.S. Air Force Academy and told my first flight instructor that I was going to be a fighter pilot," McSally said in a 2006 interview. "He just laughed, but after Congress repealed the prohibition law in 1991, and I was named as one of seven women who would be put through fighter training, he looked me up and said he was amazed I had accomplished my goal."
In 2001, she successfully sued the U.S. Department of Defense in McSally v. Rumsfeld, which challenged the military policy requiring all female personnel serving in Saudi Arabia to wear a head-to-toe gown, known as an abaya, and its matching head scarf.
In 2010, McSally retired from the USAF after 26 years of service and went on to serve as a Senator for Arizona from 2019 to 2020.
Cathay Williams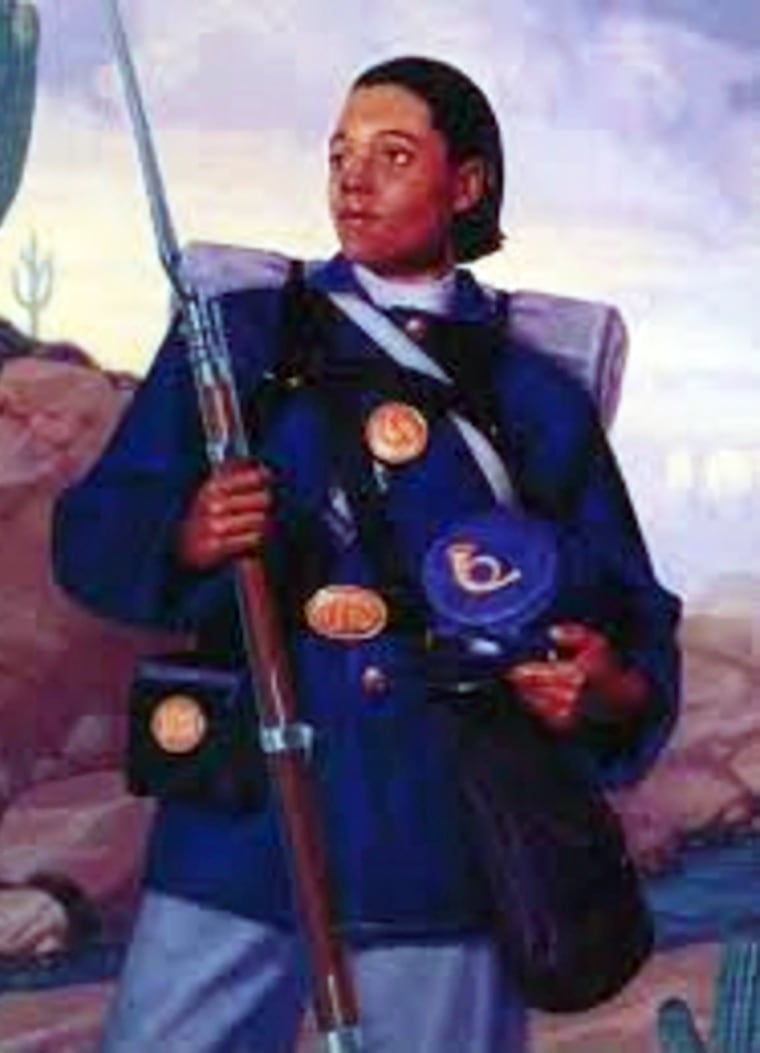 First Black woman to enlist in the U.S. Army and the only known female Buffalo Soldier
Growing up, Pvt. Cathay Williams worked as a house slave in Jefferson City, Missouri, but when the Union army took the city, captured slaves were used in military support roles, according to the National Park Service.
On Nov. 15, 1866, Williams enlisted in the U.S. Army as a man under the name William Cathay and was assigned to the 38th U.S. Infantry Regiment. She was the first Black woman to enlist in the U.S. Army.
After contracting smallpox, and once commanding officers discovering she was a woman, Williams was discharged in 1868. NPS reports Williams went on to join the all-Black military regiment known as the Buffalo Soldiers.
Williams died in 1893, shortly after being denied veteran healthcare benefits granted to those with prior military service.
Kristen M. Griest and Shaye L. Haver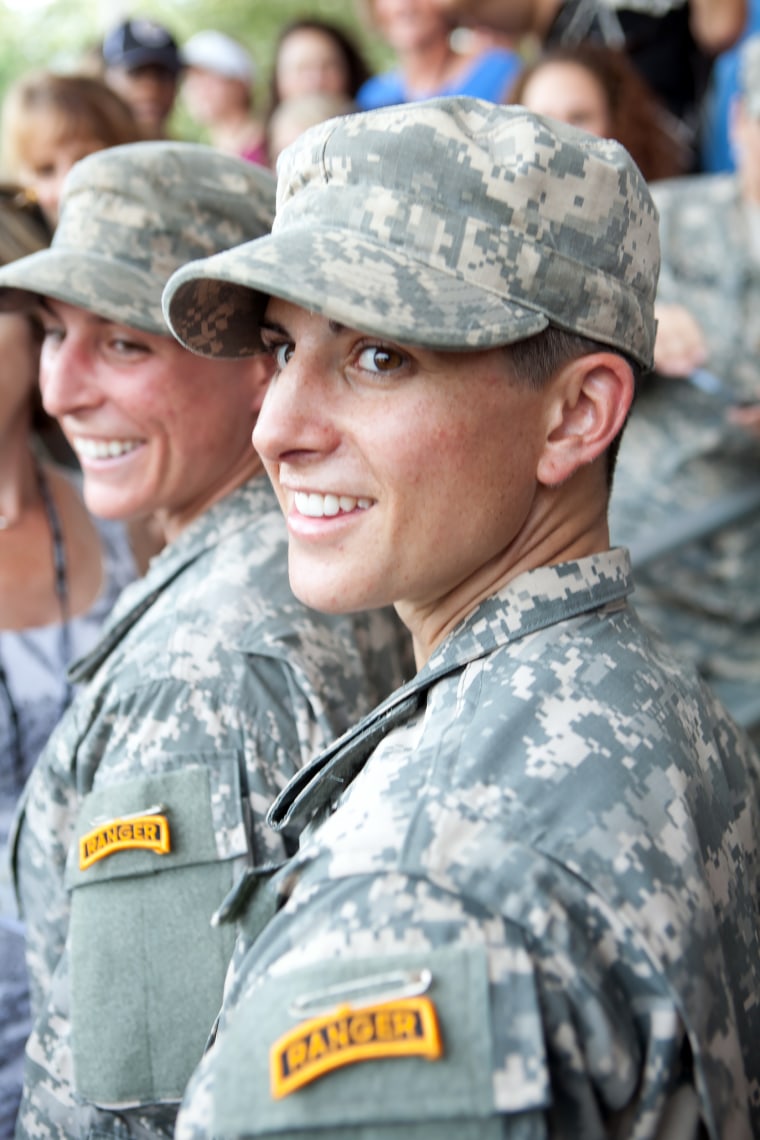 First two women to complete Army Ranger School
In 2015, Capt. Kristen M. Griest and 1st Lt. Shaye L. Haver became the first two women to complete U.S. Army Ranger School and earn their Ranger tabs.
Griest and Haver graduated from the notoriously grueling training of the U.S. Military Academy at West Point alongside 94 men on Aug. 21, 2015, in a class that began as 364 people (19 women and 381 men).
"I knew how badly I wanted to go [to Ranger School] when I was a second lieutenant, before I became a platoon leader," Griest said during a press conference at the time. "I was hoping to go to this course because it is the best training the Army can provide, and I wanted to have that training before I had a platoon."
One year later, Griest also became the Army's first female infantry officer.
In 2020, Supreme Court Justice Ruth Bader Ginsburg became the first woman to lie in state in the U.S. Capitol and an Honor Guard — led by Haver — took her body into the rotunda.
Diana Holland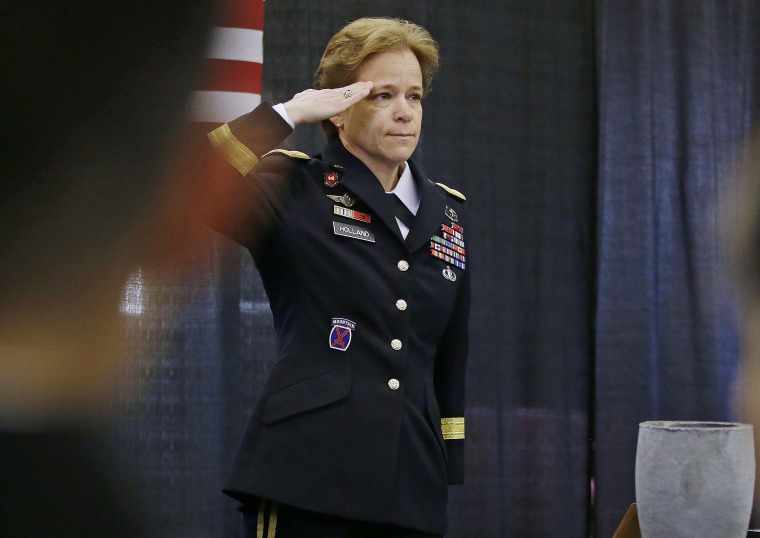 First female commandant of cadets at the U.S. Military Academy
Inspired by her father's service, Brig. Gen. Diana Holland commissioned into the U.S. Army in 1990.
As a career engineer officer, Holland worked her way from platoon leader to battalion operations officer and in 2015, she became the first female commandant of cadets at the U.S. Military Academy at West Point, New York.
"I am very honored to be named the next commandant of the U.S. Corps of Cadets," Holland said at the time. "It's a privilege to be part of the team that trains and develops leaders of character for our Army."
On July 11, 2019, Holland was promoted to major general, a rank pinned by her husband, James.
She is currently the 41st President of the Mississippi River Commission — the first woman to hold the position.
Jeannie Marie Leavitt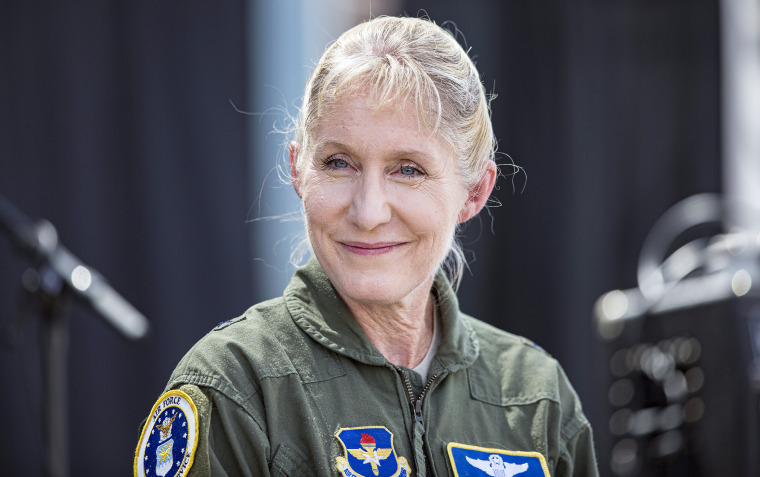 First female fighter pilot in the U.S. Air Force
Maj. Gen. Jeannie M. Leavitt began her career in 1992 by entering the U.S. Air Force.
When restrictions for women flying combat missions were dropped in 1993, Leavitt became the Air Force's first female fighter pilot in the McDonnell Douglas F-15E Strike Eagle. Throughout her career, Leavitt has accrued more than 3,000 hours as a command pilot, including more than 300 combat hours in Iraq and Afghanistan.
"I just wanted to fly fighters. And at one point, I was asked by a general officer, he said, 'Now, you realize if you were to go fly fighters, you would be the first female fighter pilot for the Air Force,'" Leavitt told NPR in 2013. "And I said, 'Well, sir, I don't want to be the first, but if that's the terms of the deal I'll take it.'"
Leavitt is also the first woman to command a USAF combat fighter wing and was promoted to major general in 2019. A mom of two, she presently serves as the Department of the Air Force Chief of Safety.Throughout the month of March, TODAY.com is celebrating women across generations who have made history and continue to move the conversation forward by breaking stigmas, sparking dialogue and inspiring the next generation.