Parents who think their adorably chubby babies can get a pass from working out may have to reconsider, now that experts on both sides of the Atlantic are recommending all kids under five – including those who can't walk yet – exercise every day.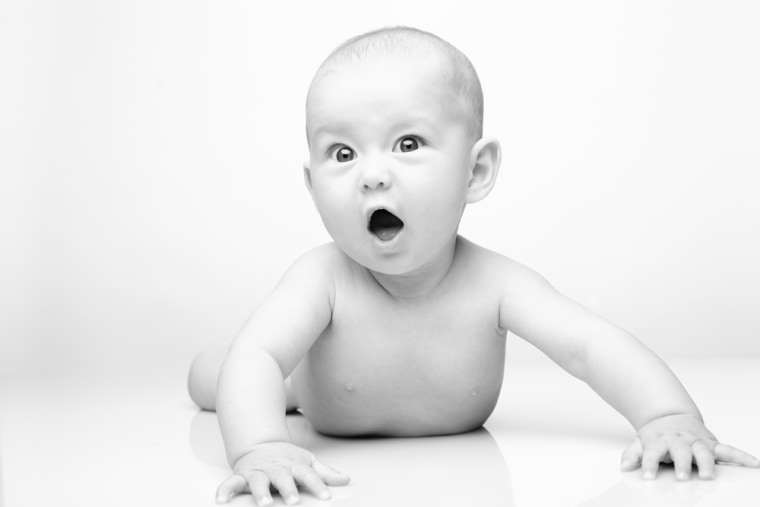 But before you rush to sign up for baby yoga or download a baby workout playlist, keep in mind that meeting the new guidelines, released by the British health department as part of its campaign against obesity, could mean anything from scooting on the rug to reaching for a toy just out of reach.
"This isn't calling for a baby boot camp or a baby P90X," said Dr. Christopher Bolling, a Kentucky pediatrician who is also the obesity chair for the Kentucky Chapter of the American Academy of Pediatrics. "This is common sense."
Babies' "exercise" should come from playing on the floor, grabbing for objects or spending time on their stomachs, he said. For babies who don't like to be on their stomachs, parents should get on the floor and actively play with them, Bolling said.
Experts are increasingly realizing how early obesity can start, he said.
Too much screen time and too much time strapped in a bouncy seat may not give babies the chance to be as active as they need. Once a child is obese, he said, it's much harder to make exercise enjoyable.
The new British guidelines recommend that kids under 5 who can walk should be physically active for at least three hours spread throughout the day. Much of that exercise will likely come from simply playing, British officials said, and parents should encourage physical play and activities such as walking to school. Parents should avoid excess screen time and relying on a stroller when it's unnecessary.
"If a toddler isn't sitting frozen in front of the TV, he's being active," Bolling said. "They are cruising around and they're be-bopping around the floor."
In the U.S., about 20 percent of children between the ages of two and five are already overweight or obese, according to the Institute of Medicine. Last month, the Institute issued a report telling parents to encourage daily exercise and a healthy diet, and limit screen time; It said preschool-aged kids should get at least 15 minutes of exercise for every hour they spend in child care and suggested the U.S. government create dietary guidelines for babies from the time they're born until they are 2 years old.
What do you think? Do you consciously "exercise" with your little ones or do they take care of it themselves by simply playing?