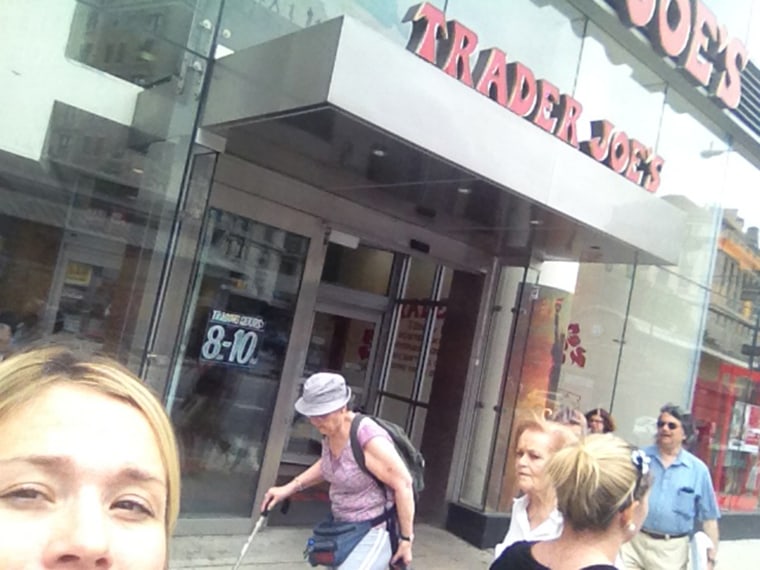 With over 400 stores in 38 states, Trader Joe's has taken parents' mundane grocery shopping experience to the next level. And then there are the bragging rights: The minute someone brings up Trader Joe's in a convo you almost always get an enthusiastic "OH, have you tried…?" or "You MUST get…" Folks just love to boast about their go-to TJ's items. 
I'm one of them. I used to be overwhelmed upon entering those sliding doors, my anxiety level building before I even grabbed a shopping cart. There was just so much eye candy in each aisle that I found it increasingly hard to figure out what to buy. 
Watch Megan and Willie Geist's Parental Guidance videos here.
But now, I've cut through the Trader Joe's clutter — and discovered amazing finds for my kids that'll make shopping a little bit easier and less stressful. 
Here's how to make breakfast, lunch and dinner (snack and dessert too!) for your kiddos in just 10 items. Bon appe-TJ's!

BREAKFAST:
Organic silver dollar pancakes ($1.99, frozen breakfast section). TIP: The perfect pint size option for your little ones tiny fingers. No fork required! Just add fresh blueberries and strawberries to make this a healthy start to your kids' day!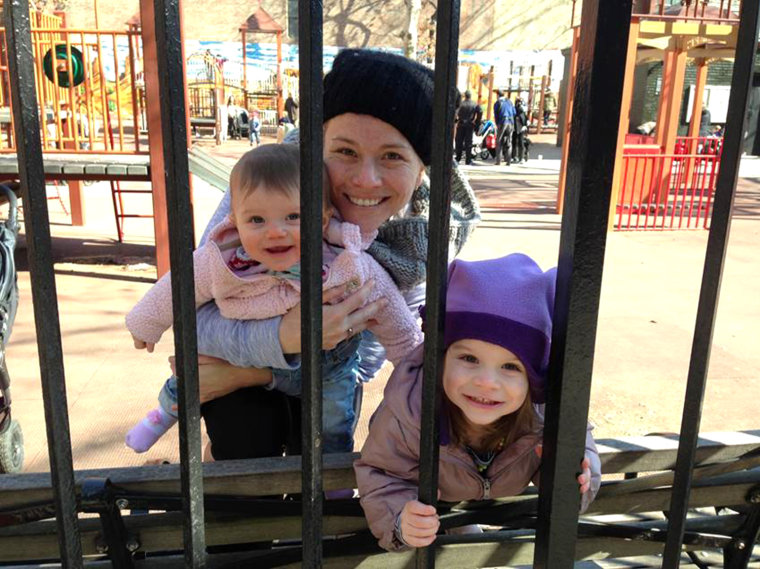 LUNCH:
Sunflower butter or Organic TJ creamy unsalted peanut butter ($4.99, same aisle as applesauce). TIP: If your child has nut allergies, use the sunflower butter. It's yummy and tastes just like peanut butter! Whatever you choose, just spread on some whole wheat bread and lunch is served!
Organic Low-Fat Yogurt Squishers ($2.99, refrigerator section next to the orange juice). TIP: Throw in the freezer! Your little one will think it's ice cream and it will keep their lunch bag cool, too!
Snap peas ($2.99, refrigerator section next to the fresh vegetables). TIP: These veggies literally taste like candy. Seriously! And they make a popping noise when you bite them. Fun! If that won't convince your picky eater, try making it a numbers game. Ask your little one to open each pod before eating it and count how many peas are inside!
Organic sliced apples ($4.99, refrigerator section next to the bags of lettuce). TIP: They are organic, fresh and delicious. Just grab and go!
DINNER:
Frozen turkey meatballs ($3.29, frozen section next to chicken and fish), plus cheese tortellini ($1.99, refrigerator section next to the sliced deli meats). TIP: These pre-made meatballs are just like what mom would make but even better because the work is done for you. Just heat in the oven on a cookie sheet: They are slightly crispy on the outside and tender on the inside. And there is nothing better than fresh pasta. Just boil the cheese tortellini, add a pat of butter and a sprinkle of Parmesan cheese or mix the meatballs and the tortellini and VOILA! A real Italian meal!
SNACK:
Carrot Apple Crushers ($2.99, same aisle as apple sauce). TIP: It's on-the-go apples sauce with a veggie twist! Who doesn't love a sweet treat with a side of veggies for their little one? Put in the refrigerator for a refreshing afternoon treat. It's a sneaky delicious way to add veggies in to your picky eaters' diet! 

Organic fruit wraps ($.49, fresh fruit section, usually in a bin on the wall). TIP: Your kids will think they are candy. These gummy treats are filled with fruit, but your little one's don't have to know that. Great for outing to the park or the beach this summer.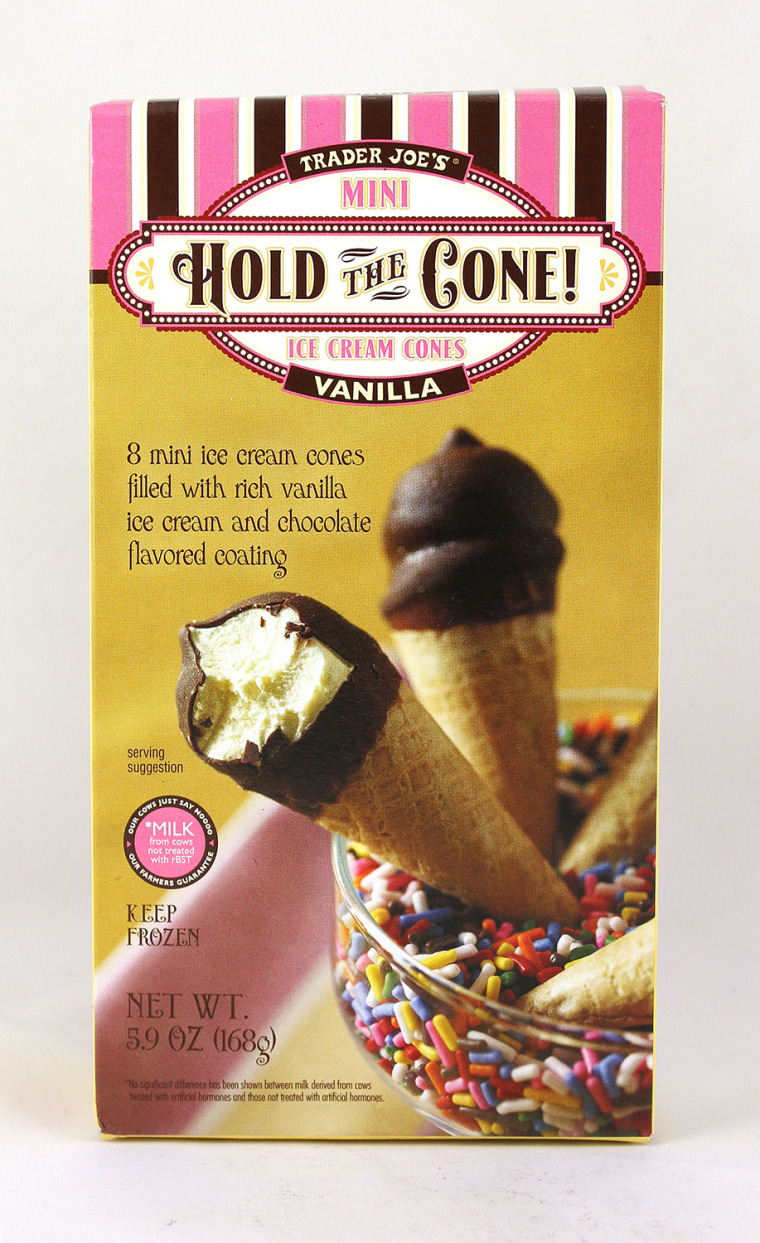 DESSERT:
Mini Hold the cone Ice Cream ($2.99, frozen dessert section). TIP: Move over, big portions. These sweet treats are just the right size for your little one! Warning: They may become addicting to parents.
AND MORE:
Turns out, the TODAY team is a treasure trove of TJ's info, too! Here are some more expert finds:
Coordinating producer Minah Kathuria whips up homemade sushi for her son with just two simple TJ ingredients. Grab a Roasted seaweed snack pack ($.99), which is typically stacked up high against a wall, and one packet of frozen Organic Jasmine rice ($3.99 for package of 3). "I take a piece of seaweed, put rice in the middle, wrap it up like a burrito and call it sushi," said Minah. "I sometimes add avocado or cucumbers in the middle, put some soy sauce on the side for him to dip, and dinner is served! It's cheap and he LOVES it."
Alicia Ybarbo, TODAY producer and mother of two, enthusiastically swears by the frozen Trader Ming's Mandarin Orange Chicken ($4.99) for dinner. "To make yourself feel better about making the entire package (sautéed without the oil), throw in an entire head of broccoli at the end and you've got a balanced meal (wink wink!)"
TODAY.com editor Dina El Nabli, who is a veritable expert in TJ's allergy-free offerings, swears by the Gone Bananas chocolate-covered banana slices ($1.99), which are in the frozen section. "They're so good," she said. "They have soy but no other allergens, and are milk-free since they're made with dark chocolate."

Follow Megan Colarossi on Twitter at @megancolarossi