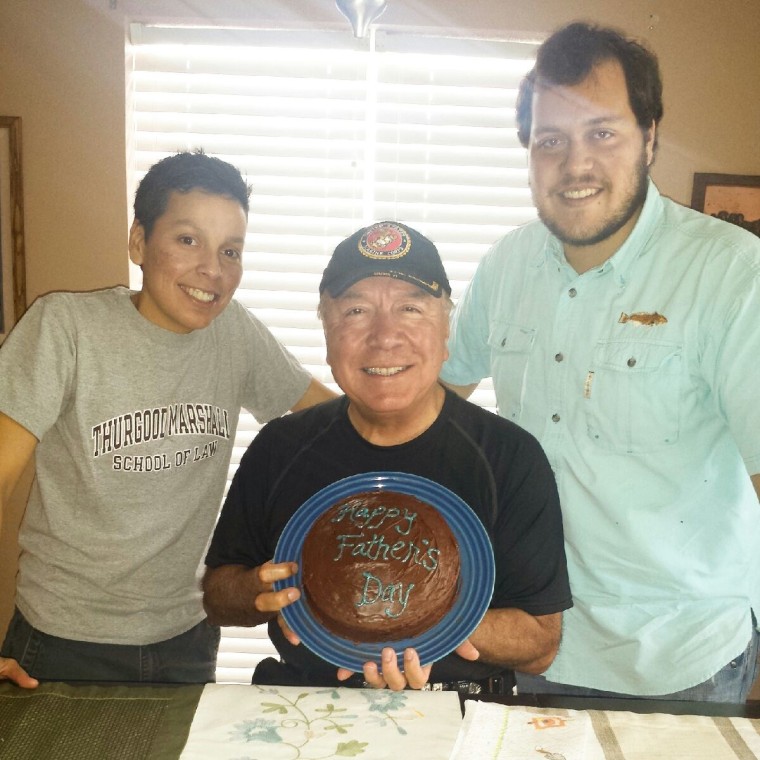 It's not uncommon for fathers to declare love for their kids on Father's Day, but Texas State Sen. Juan "Chuy" Hinojosa's heartfelt proclamation for his adult daughter, Kriselda, took it to another level with an emotional newspaper column defending her sexual orientation.

In a letter first published in Sunday's edition of the McAllen, Texas-based newspaper The Monitor, Hinojosa recalled the unconditional love he felt when Kris was born, followed by the frustration of his inability to protect his daughter from the "discrimination, ignorance [and] hate" she'd face later in life.
"I was unprepared for the discrimination you would experience for being gay," wrote Hinojosa, a Vietnam War veteran, attorney and Democrat who represents Texas' 20th District.
"As your journey into adulthood revealed that you are gay, it made no difference to me. You are still my daughter. You did not change. I will always love and support you. … A father's love is without end. Why would sexual orientation change anything?"

"I just said, 'OK, enough is enough,'" Hinojosa told TODAY.com, of what led him to write the open letter. "Every person should be treated with dignity and respect. I feel very strongly about that."
Even while acknowledging the adversity his daughter has faced, Hinojosa offered some optimism in his letter, citing changing viewpoints and celebrating the gay community's contributions to society, faith and the military.
"As a society we should not tolerate acts of discrimination, hate or violence for any reason," he wrote, while advocating for same-sex marriage. "We are all equals. I remain committed to the cause of equality and most importantly in fighting to protect you and the children of all fathers. All men and women should have the freedom to choose their partner."
In closing, Hinojosa brought things full-circle, returning to the theme of Father's Day.
"I hope one day that you, too, can experience the love for a child," he wrote. "And I hope one day that your children will live in a world where they will not need protection for wanting to marry who they love."
The state senator told TODAY.com that he was motivated to write the letter after a week in which Texas Gov. Rick Perry compared homosexuality to alcoholism, and a fellow Texas lawmaker, Bryan Hughes, appeared on CNN to defend gay conversion therapy programs.
In a separate phone interview, Kris Hinojosa told TODAY.com her father had told her that his letter would be published, but that she didn't realize how powerful it would be until she saw the newspaper the next day.
"Coming from your father, being so public about it, it really means a lot to have his support and being open to it," she added. "Not everybody's open to it, but having support from my family — like my dad and my mom — is awesome. I've been really blessed."
A second-year student at the Thurgood Marshall School of Law in Houston, Kris said she was lucky to have a strong support group among her high school classmates.
"When I came out, they didn't turn their back on me," Kris said. "We're still friends, to this day."
Her father, who represents four counties in south Texas, filed a bill last year to legalize civil unions statewide if there were a repeal of the state's 2005 ban on same-sex marriage and civil unions. Four months ago, a federal judge in San Antonio overturned that 2005 amendment, but permitted it to remain in effect to allow for an appeal.
Kris said she's been in a relationship with her partner for three years. "We live our lives like a normal couple," she added. "We don't expect anything different, or to be treated different."
Sen. Hinojosa said he hopes his letter's message has staying power: "I hope people will support equal rights and treat gay couples with respect, and treat them as equals in our community."