/ Source: TODAY Contributor
After learning his son marched in the white supremacist rally in Charlottesville, Virginia, over the weekend, Pearce Tefft decided he had to break his silence.
"We have been silent up until now, but now we see that this was a mistake. It was the silence of good people that allowed the Nazis to flourish the first time around, and it is the silence of good people that is allowing them to flourish now," he said in a heartfelt letter published in his local paper, in which he decried his son Peter's behavior and said until Peter disavows his bigoted ways, he is no longer part of the family.
"Peter Tefft, my son, is not welcome at our family gatherings any longer. I pray my prodigal son will renounce his hateful beliefs and return home. Then and only then will I lay out the feast," Tefft wrote in a letter on The Forum, a Fargo, North Dakota paper.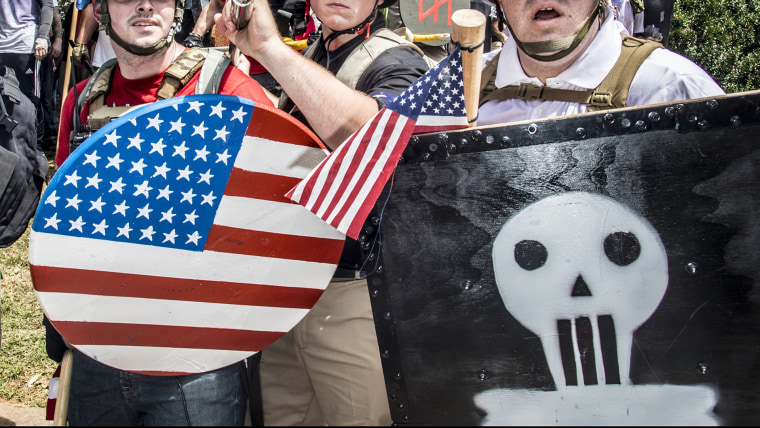 A Twitter account called "Yes, You're Racist" identified Peter as a participant in the "Unite the Right" rally in Charlottesville over the weekend. Despite his differences with his family, Peter Tefft continues to be outspoken about his views. He gave interviews claiming to be a "pro-white" advocate and in July wrote his own letter to the editor about why he planned to attend the rally.
"I am going to the Unite the Right event in Charlottesville, Va., on August 12th to stand up for rural, traditional Americans. We will be rallying around the statue of General Lee, one of many statues the left is bent on demonizing and dismantling," he said in the Forum.
Peter's family has gotten threats from people assuming they share Peter's beliefs. His nephew, Jacob Scott Wieber, pleaded with his uncle to distance himself from the family to save them some pain.
"You are bringing shame and ignominy on your whole family, and causing a great deal of heartbreak and distress for all of us. A number of individuals have already begun harassing your siblings and other relatives, because they think we are associated with you," Wieber wrote on Facebook. "We are NOT, we never will be, and every one of us will resist you to our last breath, if you continue to fight to bring about the fascist America you so crave to see."
In Tefft's letter, he makes it clear that he felt he had to speak out against his son's beliefs and actions because it was the right thing to do.
"I, along with all of his siblings and his entire family, wish to loudly repudiate my son's vile, hateful and racist rhetoric and actions. We do not know specifically where he learned these beliefs. He did not learn them at home."
Tefft stresses that the family does not share Peter's views and do not understand where he adopted them.
"We do not, never have, and never will, accept his twisted worldview," he said.
Tefft closes with a exchange he had with his son and a warning.
"He once joked, 'The thing about us fascists is, it's not that we don't believe in freedom of speech. You can say whatever you want. We'll just throw you in an oven.'
Peter, you will have to shovel our bodies into the oven, too. Please son, renounce the hate, accept and love all."