The news that the term "Asperger's syndrome" will soon cease to exist has some parents concerned – especially parents raising "Aspie" children.
Starting May 2013, the American Psychiatric Association's new diagnostic manual, known as the DSM-5, will go into effect, stripping the well-known condition – a condition sometimes associated with loner geniuses like Albert Einstein and Andy Warhol -- of its name.
Instead, Asperger's syndrome will simply be known as ASD-Level 1 (mild), a top rung in the ladder of autism spectrum disorders. For those who viewed an Asperger's diagnosis as light-years away from clinical autism, this new classification may feel like a fall from grace.
Timothy Bumpus, a 14-year-old high school student from New Jersey, says he understands his condition falls into the autism spectrum, but prefers to define himself as a person with Asperger's, not autism.
"Some of the most brilliant people had Asperger Syndrome, and you just can't put that under the title of Autism," he wrote in an 8th grade school assignment. "This disability, which is ironically not at all a disability, causes the recipient to be antisocial, physically weak ... However, it is so much more. It allows a person to think in whole different ways, to see things in a different light than others."
An honors student at Bloomfield High School in New Jersey, Timothy's intellectual complexity is evident even during idle conversation; he moves fluidly from subject to subject with eager, thought-provoking and quirky insights. Possessing an IQ of 140, he attends mainstream classes and has a sociable demeanor. Certain tasks, such as tying his shoes or riding a bike, however, are challenging for him.
"That's okay, because I really don't see the point in riding a bike," he says cheerfully.
Catzell Bumpus, Timothy's mother, feels her son's future is bright because of – not in spite of – his differences.
"His mind works in a very different way, but we focus on the positive," says the 43-year-old adjunct professor of theology. "I don't call it disabled. I call it differently-abled. There are so many articles I've read where people say it's not a disability at all, that it's a giftedness. It's just a whole other level of giftedness. I think [in the DSM-5], Asperger's should be in its own unique category."
Others, however, see it differently.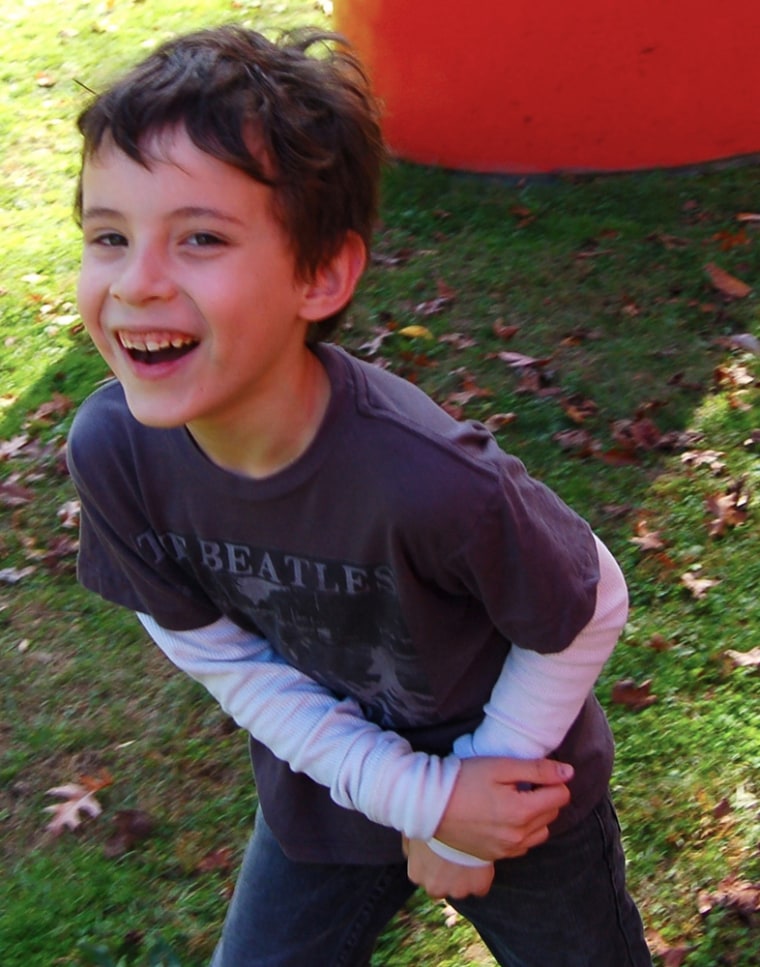 "Hey, even if your child is diagnosed with Asperger's, it doesn't necessarily mean that they're some gifted savant," says Deborah Knutesen, a New Jersey mom whose 7-year-old son Grey has autism. "It doesn't mean they're Temple Grandin." (Grandin is a scientist, professor, bestselling author and noted autistic who was the subject of a 2010 Hollywood biopic.)
Knutesen believes parents should accept the APA's decision to classify Asperger's under the umbrella of autism (where it's always been clinically) and that parents with children on the autism spectrum should focus less on labels and more on advocacy.
"I think if there's a definition of Asperger's and you fall into that, then you're part of the party," says the 52-year-old advertising sales executive. "If a different name makes you feel better, okay, but you're still part of it. And you should be an advocate for it.
"Our society always has to have a class system," she adds. "It makes me laugh. [Asperger's parents] consider themselves the upper class of autism."
Ari Ne'eman, president of the Autistic Self Advocacy Network and a presidential appointee on the Council on Disability, says he's seen children with Asperger's reassured by their families, "you're not really autistic."
"That's why the single diagnosis is a good thing," he says. "You can no longer play those kinds of games."
Ne'eman, who himself has autism, explains, "Asperger's was always under the umbrella of autism, even when it had its own diagnostic coding. You hear people say things like, 'I don't want to be associated with people who can't talk or need attendant care or wear diapers.' I find that attitude despicable. We are all autistic. To borrow from the words of Benjamin Franklin, 'We have to all hang together or we're surely going to hang separately'."
Lori S. Shery, president of the Asperger Syndrome Education Network (ASPEN) in Edison, N.J., says she understands how wide the divide can be between parents of Asperger's children and those with severe forms of autism.
"When I started ASPEN, there was an agency -- who we have a lot of respect for -- that was serving all individuals on the spectrum," she says, explaining that parents of higher functioning Asperger kids would be sitting side by side with parents of severely autistic children.
"The parents of the severely autistic children -- not meaning to be cruel -- were saying, 'Why are you complaining? My kid doesn't talk. My kid's still in diapers. I wish my kid had what your kid has.'"
"We're hearing it from both ends," says Shery. "Parents of the classically autistic kids are resentful. Why would you lump them in the same category? Their needs are not the same. Their prognosis is not the same."
Nonetheless, autism experts and advocates like Ne'eman say they are hopeful that the DSM-5 will ultimately be beneficial because the more general diagnostic criteria means more children will be entitled to educational, medical and social services.
"This is an improvement for anyone who is covered under the new unified diagnosis," he says.
Ne'eman admits, however, that there may be some individuals who risk losing coverage, depending on how clinicians interpret the new diagnoses. Shery concurs, saying the group she would be most concerned about would be children who fall under the heading of "Social Communications Disorder," a new category in the DSM-5.
Children who are diagnosed with this disorder demonstrate some -- but not all -- characteristics of autism, she explains.
The good news for many parents is that some of the most common neurological conditions that are covered now, including dyslexia, attention deficit disorders (ADD and ADHD) and disruptive mood dysregulation disorder (DMDD), to name just a few, are expected to be covered under DSM-5.
Shery, however, still has misgivings.
"My concern, and the concern among parents – with all due respect to school districts and teachers -- is that districts will use [DSM-5] as an excuse to declassify the student for services."
She warns that some schools may recommend students be professionally re-evaluated at a cost of, potentially, thousands of dollars for parents. "The parents won't be responsible to pay for it but there will districts that won't tell them this. And the parents won't know better."
Eric Knutesen, Grey's stay-at-home dad, expresses a similar concern.
"My experience through the years is, if they're doing any type of fine-tuning of the categories, it's being driven by politicians and officials who want to tighten the budget," he says. "Maybe I'm paranoid or cynical, but I'd be pleasantly surprised to find more children were getting services [when DSM-5 goes into effect] rather than less."
Ne'eman, who on behalf of the Autistic Self Advocacy Network communicated closely with the American Psychiatric Association's task force to revise the diagnostic manual, says he is "cautiously optimistic" that the new DSM-5 will be advantageous to the vast majority of people with autism.
"We feel the fundamental shift from multiple diagnoses to a single diagnosis was the correct decision," he says. "We want to make sure everyone is covered. That's our primary concern."