A fascination with "Star Wars" that started two years ago became a problem for Layla Murphy when she started getting bullied in school this past year.
"A friend bought her an R2-D2 jacket in November, but she stopped wearing it because she said girls were making fun of her,'' the 8-year-old's mother, Nicolette Molina, told TODAY.com. "We would go shopping, and they didn't have anything for 'Star Wars' in the girls' section, so we would go to the boys' section and get her clothes. Girls at her school were noticing she was wearing clothes from the boys' section and would make fun of her and tell her she can't wear that."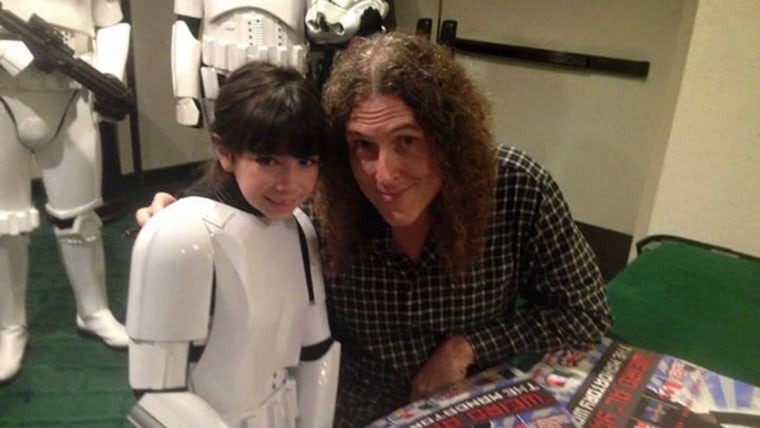 Part of a military family that has moved numerous times, Murphy was just trying to fit in at Mary Calcott Elementary School in Norfolk, Virginia.
"Three or four girls tried to hold an intervention and told her it was becoming a problem and that she was turning into a boy,'' Molina said. "She even asked me to shave her arms, saying one of the girls told her she was turning into a boy and that's why her arms were hairy."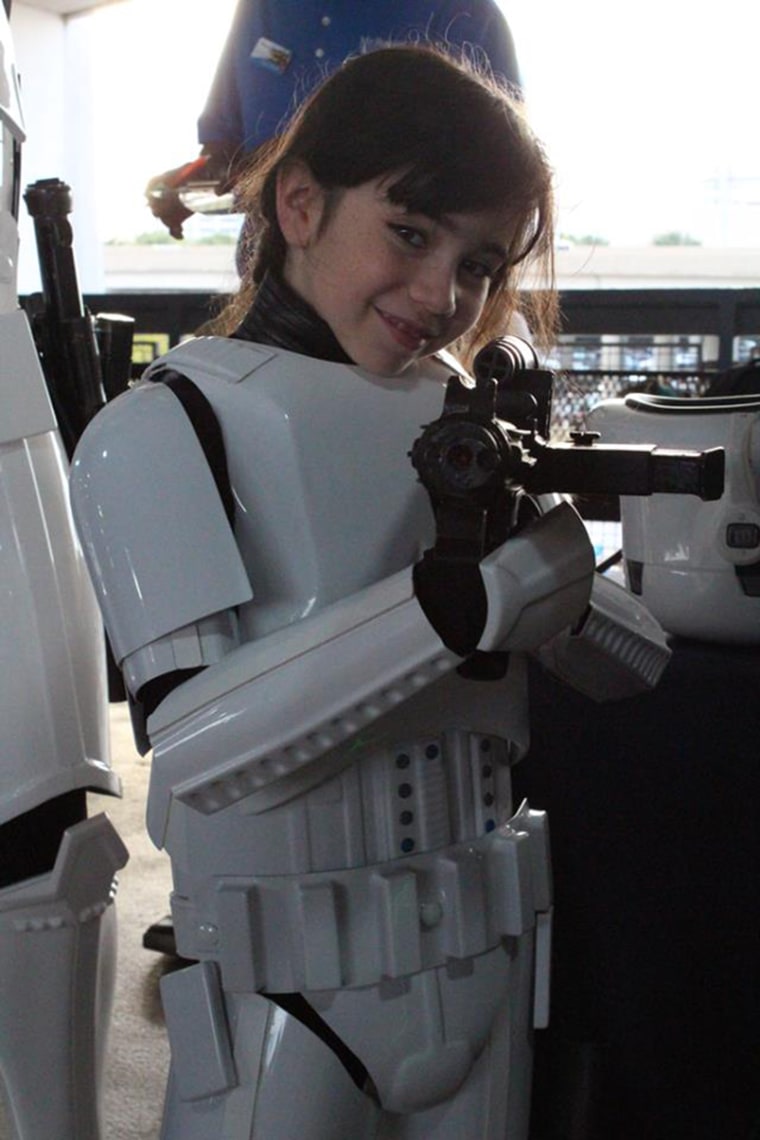 After enduring the dark side of liking "Star Wars," Murphy has now experienced the light, thanks to a wave of support from a group of passionate "Star Wars" fans and "Weird Al" Yankovic. It started when Molina reached out to a fan named Jason Tuttle whom Murphy had met at a local comic-book convention with her mother while Tuttle was dressed in a "Star Wars" costume. Molina hoped that Tuttle could just send her a little encouragement, which mushroomed into much more. Tuttle is part of the 501st Legion, a large group of "Star Wars" fans that does charitable acts and promotes dressing in costumes and supporting the films.
"He sent her something really personal, talking about how he had also been picked on in school,'' Molina said. "Then he reached out to other 501st members and said, 'If you have time, please send her a trading card or something.' She got letters and stickers, and a lot of the females sent her pictures dressed as 'Star Wars' characters. Having these people flood Layla with so much love and compassion, it's overwhelming."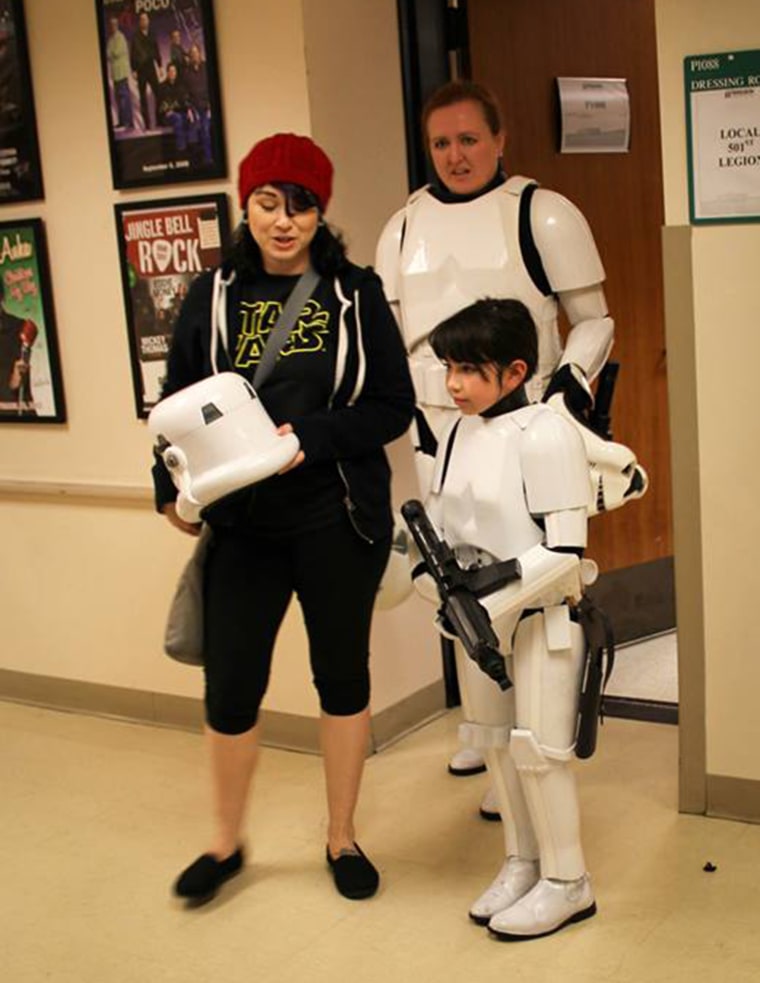 "The stories really struck a chord with me,'' Tuttle told TODAY.com. "I experienced bullying as a child myself. When I heard about that, I immediately wanted to send her a note to encourage her and tell her that 'Star Wars' is for everybody. It's always been for anybody, and you should not have to be afraid to show what you love by wearing T-shirts or jackets or the backpack she had."
Her story also reached "Weird Al" Yankovic, who brought her backstage when she came to a local show dressed in her "Star Wars" Stormtrooper costume.
"She loved it,'' Molina said. "She thought he was just the silliest guy ever."
"That day we presented her with what we called 'anti-bullying armor,''' Tuttle said. "Then at the 'Weird Al' concert that night, he allowed her to come backstage, meet him, and get his autograph. It was very nice of him to allow us to do that."
Murphy will start school in two weeks, and she will be wearing her "Star Wars" gear proudly.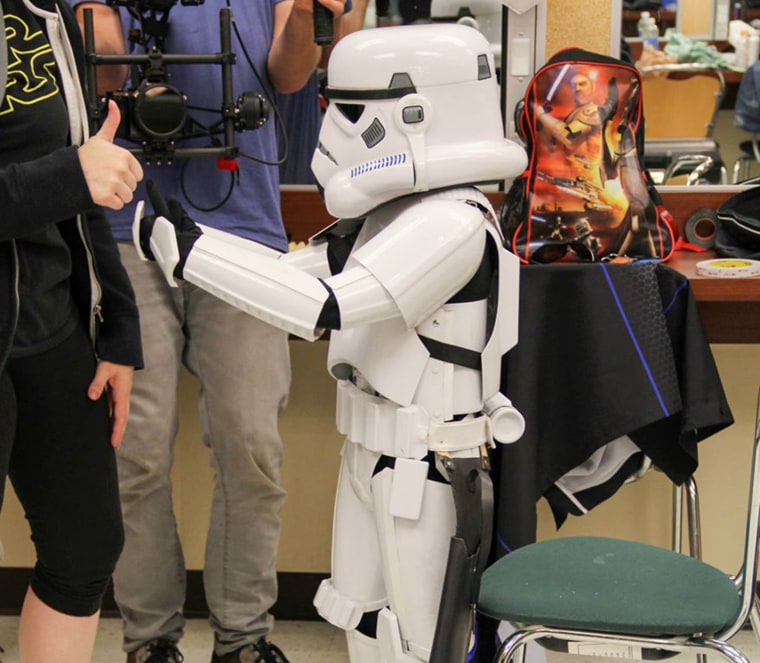 "She is definitely way more confident,'' Molina said. "She wore that [costume] proud [at the concert], and she did not have a problem taking her hat off and showing everyone she was a girl. She's very proud to like what she likes now, and she just bought a Chewbacca backpack and wears it everywhere. I had people telling me you need to teach her self-confidence on her own, teach her to stand up on herself, and even teach her how to fight. I'm not going to teach that, and I tried very hard to teach her confidence on her own, but this has made a big impact."
"Our only goal was to make her smile and to empower her that it's OK to show you love something,'' Tuttle said. "It's just been amazing."
Follow TODAY.com writer Scott Stump on Twitter and Google+.