In 2008, Kristen Armstrong received a terrifying phone call: Her husband, Brandon Smith, had been involved in a car accident — and it was bad.
"They couldn't tell me if he was alive or not," Armstrong, 38, tells TODAY.com. "I remember asking my mom, 'What will I do if Brandon is gone?'"
She couldn't picture her life without her "rock."
Armstrong, a speech pathologist, and Smith, an auto mechanic, had been married for two years, but together since they were in high school.
When Armstrong got to the hospital, she learned that Smith was in the neuro trauma intensive care unit after being T-boned by a commercial truck.
Smith, who had suffered a traumatic brain injury, would spend two months in a coma.
"Even though Brandon's doctors warned me that if he did wake up, he would be forever changed because of his severe traumatic brain injury, I held onto hope that a miracle would happen and he'd be the same Brandon," she says.
"But he wasn't," she adds, quietly.
Smith, who now needed around-the-clock care, moved into a nursing care facility in Texas. 
"Every morning I woke up and I was hit by this train of sadness. He was my soulmate, my best friend," Armstrong says. "I was grieving a living person, and that was very complicated and isolating."
Smith was 23 at the time of his accident, and Armstrong was 24. She dreamed of having children. When it became clear that Smith would never recover, Armstrong made the "heart-wrenching" decision to file for divorce. 
"I had a lot of talks with God, and I decided I was going to take care of Brandon until the day he died," Armstrong says. When Armstrong filed papers to become Smith's legal guardian, the judge had some concerns.
"She asked me, 'What happens when you have a family of your own? Will you still be able to take care of this man?'" Armstrong recalls. "And I said, 'Yeah, I'm not going anywhere.'"
Armstrong kept her word. She and her husband, James Armstrong, who have been married since 2015, see Smith regularly — and so do the couple's three children. 
"We bring Brandon to our house every week and we take him out to restaurants," Armstrong says. "What makes it really beautiful is how much my family has accepted Brandon as a part of their family."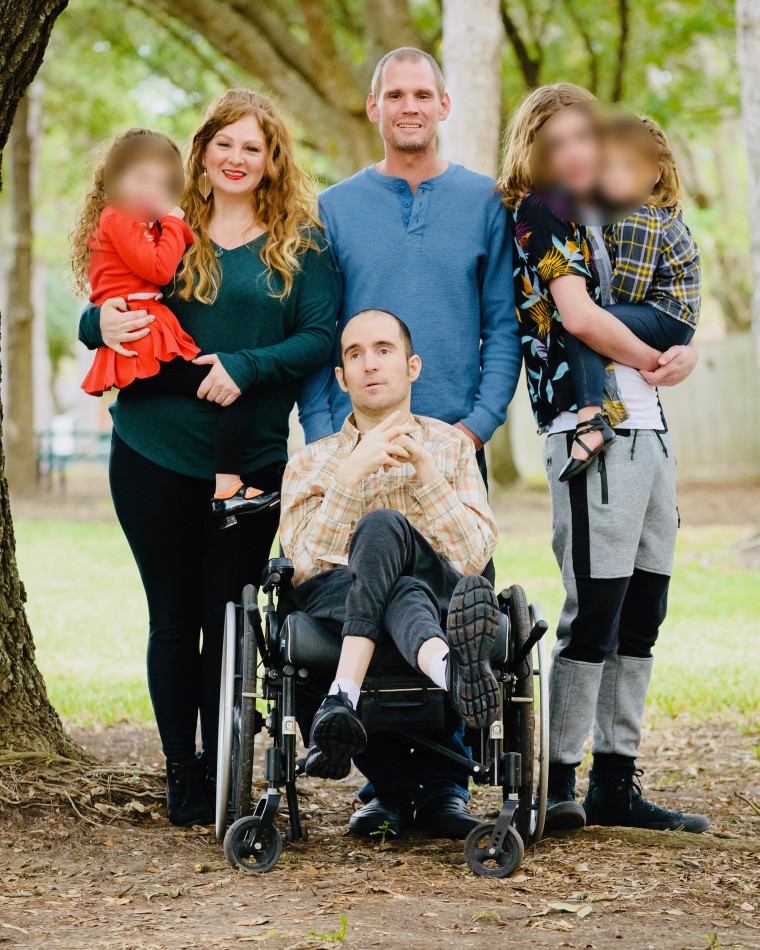 James, 36, is especially close with his wife's former husband. In a TikTok video that has been seen more than 7 million times, James is shown lovingly spoon-feeding Smith breakfast at a diner, and then transferring him from his wheelchair into a car.
"The first time James met Brandon, we went to church," Armstrong says. "I got up to go to the bathroom and when I came back, James's arm was around Brandon."
In his wedding vows, James wrote that he would love and care for Brandon.
"And he has," Armstrong says. "James helps in whatever ways he can. He never complains, he's never uncomfortable. And I think that's a huge thing. Some of the stuff that comes out of Brandon's mouth is a little crazy, and he can't toilet on his own. But none of that bothers James."
Armstrong says her two young daughters "fight" over who gets to snuggle on the couch with Uncle Brandon.
"These little girls adore him," Armstrong says. "My stepson, too — he comes with me to the nursing home, and he's getting Brandon drinks and hugging him."
Armstrong says caring for Smith is an honor, and that her love for him has only grown.
"Brandon's short-term memory is very poor, so he's not anxious about tomorrow or regretful of yesterday," she tells TODAY.com. "I've learned from him how to be more present. Even though he can't communicate well, he's always teaching us things. He makes life beautiful."
In April, Armstrong shared on TikTok a video of herself interviewing James about his special relationship with Smith.
"He's our family member. He's like one of our kids, we love him the same," a visibly emotional James said.
"He's a central part of our family," he added. "He's a central part of our life."