For 48 years, thousands of multiples have descended upon Twinsburg, Ohio, for the annual Twins Days Festival.
"It's like a big family reunion," Ned Mitchell, 72, who has attended Twins Days with his identical twin brother Fred for four decades, tells TODAY.com. "This is the only place twins can go where they won't be the minority."
Adds Fred, "We make new friends every year. There's a special connection with twins that's hard to explain."
This year's event, held the first weekend in August, drew roughly 1,800 sets of twins, plus triplets, quadruplets and their families.
Most of the time, we know what the other one is thinking.
fred mitchell
The three-day celebration included a parade, lookalike contests and a talent show. There is always a theme. For 2023, organizers chose "Shiver Me TWINbers," and so the grounds were packed with pirates, mermaids and sailors of all ages.
In 2022, it was "Welcome 2 the Jungle." (See what they did with the 2?!)
The annual event is recorded as the "Largest Annual Gathering of Twins in the World," by the Guinness World Records. Keep scrolling to see five of the best photos from the Twins Days Festival.
Fred and Ned Mitchell, 72, Hollywood, South Carolina, Vietnam Veterans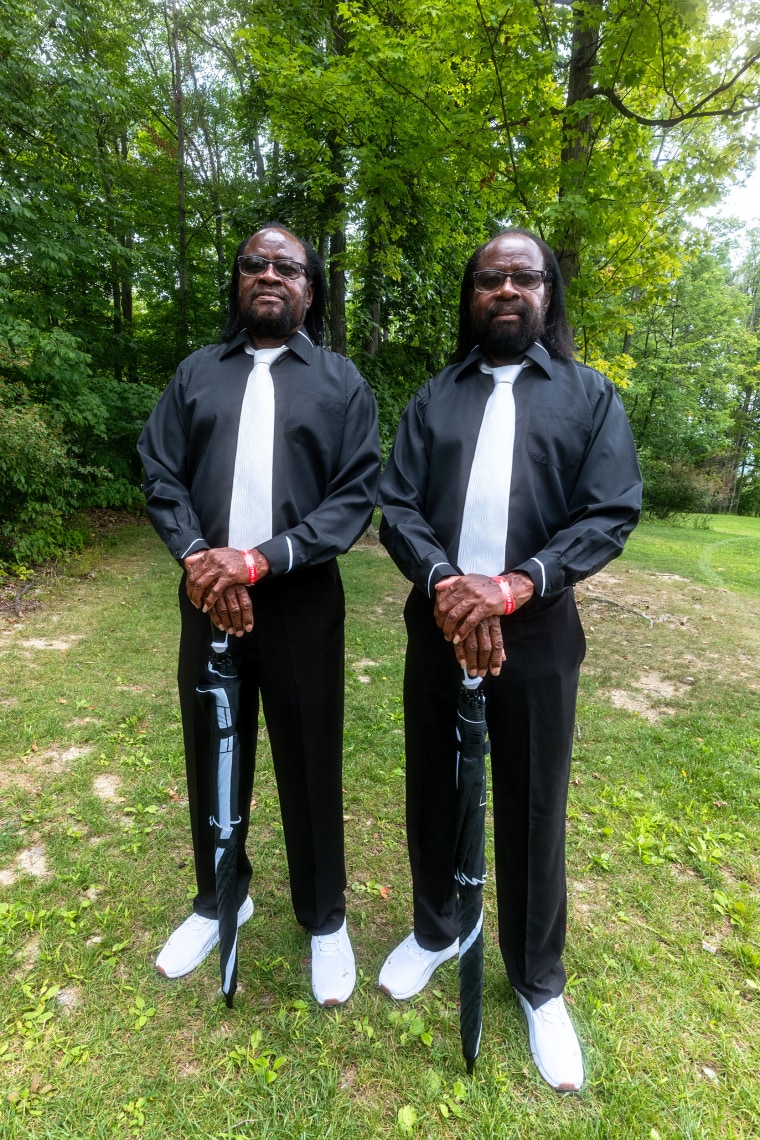 Ned: I've been divorced twice, and engaged a couple of times. It was the twin thing that they couldn't handle. Fred and I are next door neighbors. Fred is still married.
Fred: We say, God put us together, so we must stay together. Most of the time, we know what the other one is thinking. Out of the blue, we'll start singing the same song at the exact same time. 
Ned: We see each other every day. 
Fred: And we dress alike. We're car collectors and we try to drive a different car every day. Whatever vehicle we drive, we put that color on. It's good for the younger twins to see us dressing alike. When we were growing up, people would say, "You're too old for that." 
Ned: We're turning 73 next month and we dress alike every day. 
Fred: We have a purple car today, so we're going to wear purple.
Jessie and Chelsea Whitely, 31, Cuyahoga Falls, Ohio, nail technician, restaurant manager.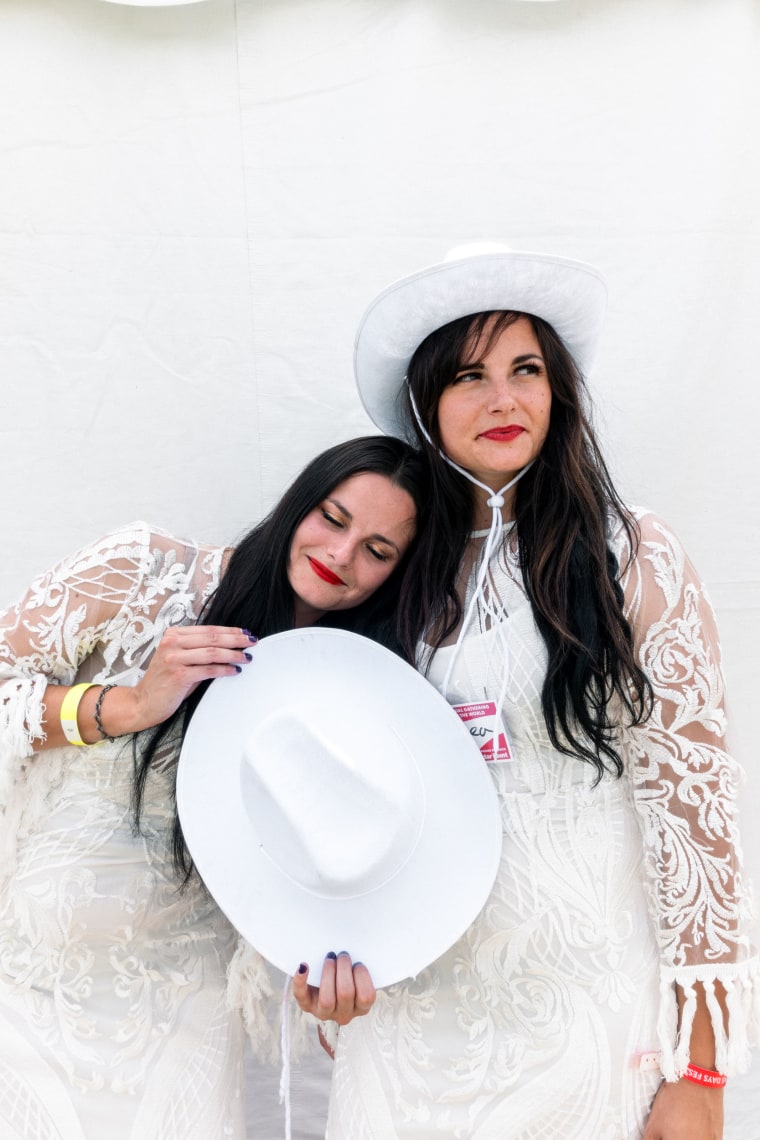 Jessie: We're both single, so we live together. Chelsea was dating a guy she met at Twins Days last year. When she moved to Indiana to be near him, I went, too. But they broke up, so we're now back in Cuyahoga Falls. We saw (the ex-boyfriend) at Twins Days last month and that was kind of awkward.
Neither of us like being apart from each other. When Chelsea went off to the military at 25, and I stayed home to be a bartender, I'd write her 50-page letters.
I've been on "American Idol" two times (in 2012, 2018). During my first audition, they turned me into a joke and manipulated my voice, so I came back for redemption at 26. They called me the most improved contestant, but I still didn't make it to Hollywood. 
Chelsea and I sing together. I'm more of the songwriter and I also play the guitar. She just sings. We used to have a band called the "Brunette Barbies," because we're brunette. It was EDM music and you can find it online.
We don't mind when people stare at us. Seeing two clones walking around must be a little freaky — like supernatural, you know? We're so lucky, that's what I say. Only God could make something as incredible as identical twins.
Morgan and Megan Linkous, 20, Manassas, Virginia, college students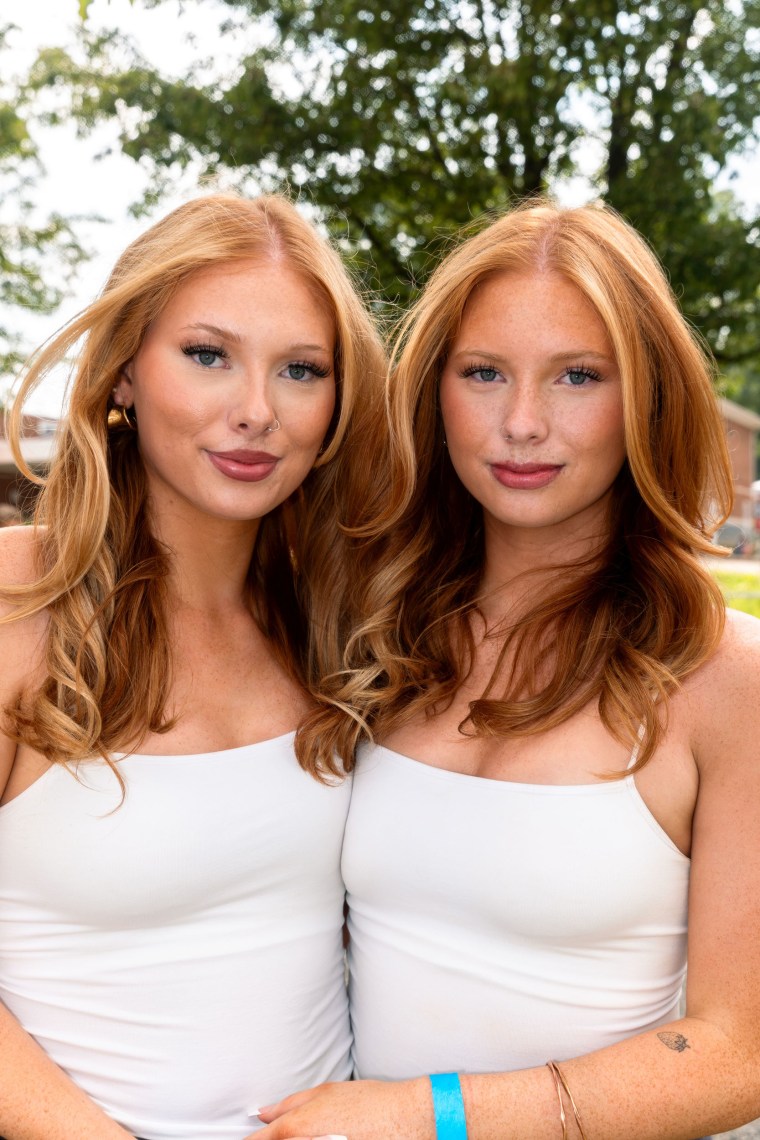 Megan: At the moment, we're living at home, but this fall we're going to get an apartment together. 
Megan and Morgan (in unison): We've never lived apart.
Morgan: The longest we've ever been apart is at most, a day.
Megan: No, I think the longest was a weekend, because you went to Ohio without me.
Morgan: Megan is my best friend. I think you have to be an identical twin to understand the bond. Every night, we watch a movie together, and we fall asleep together a lot. We like pretty much all the same things, and have the same sense of style: Most of the time, we're in a SKIMS bralette and a black pair of yoga pants.
Megan: Our parents get us mixed up sometimes. 
Morgan: It happens a lot, actually. If we have our makeup on the same, they'll be like, "Which one is which?" But we have different tattoos. I have butterfly on my left arm. 
Megan: And I have a little strawberry on my arm.
Morgan: We get a lot of attention when we're out together— but even more so when it's our whole family. We're redheads, our mom is a redhead, and we have an older sister who is also a redhead. You'll hear people say, "Look at all those redheads walking by."
Azaelea and Ilyanah Sisson, 4, Warren, Michigan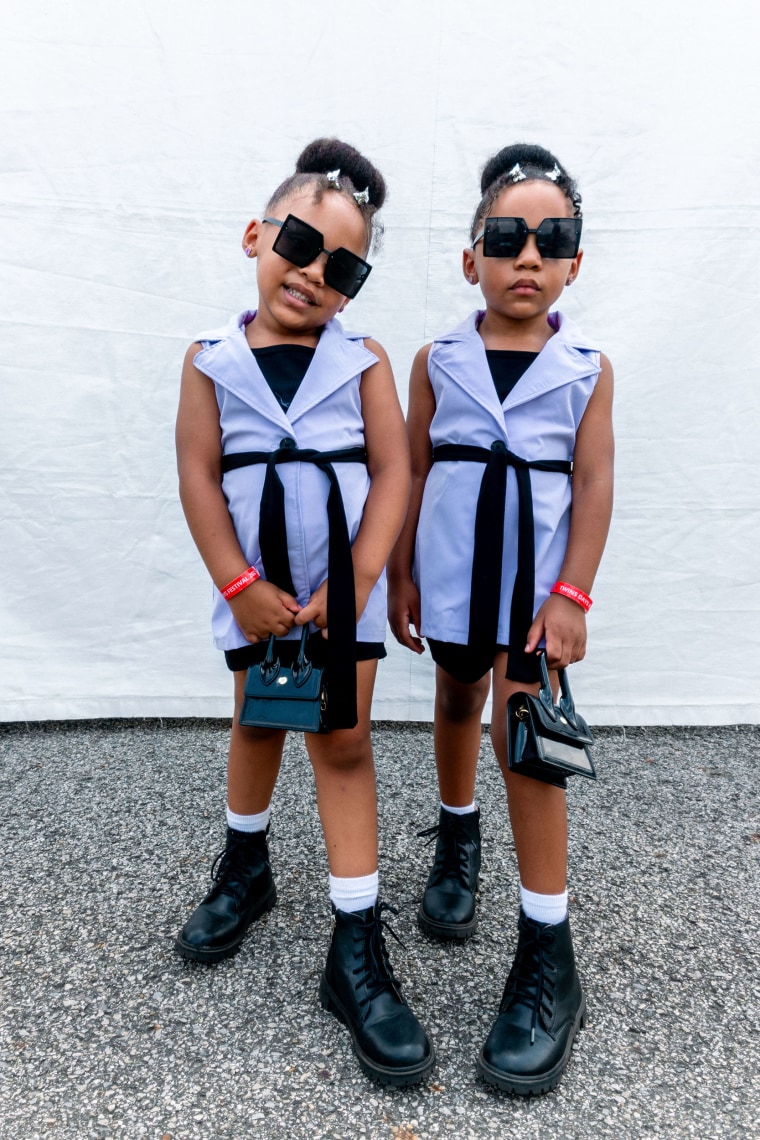 Mom Imauni Harvey-Wahid:
My daughters are very polite. I get that a lot, "Oh, they're so well-mannered." But they're on opposite sides of the spectrum as far as personality. Azaelea is what I call the "mom" of the two. She's the more responsible one, she likes things neat and orderly — and she's a little more cautious than her sister. Ilyanah on the other hand, will make a mess anywhere, anytime, and it doesn't matter to her. She's a risk taker. She's more carefree than Azaelea. 
I dress them alike about 99% of the time. We get stopped a lot for compliments. It's fun for now, but I know pretty soon they'll have their own style and want to dress themselves … or maybe they won't! We'll just wait and see.
They are starting kindergarten this month. I don't know if they'll be in the same classroom. I'm leaving it up to the school. When we're doing lessons at home, I'll ask Ilyanah a question, and I'll glance over and see that Azaelea is trying to sneak the answer to her. So maybe it would be good if they were separated. 
Courtney & Kelsey Lawmaster, 20, Bremen, Indiana, college students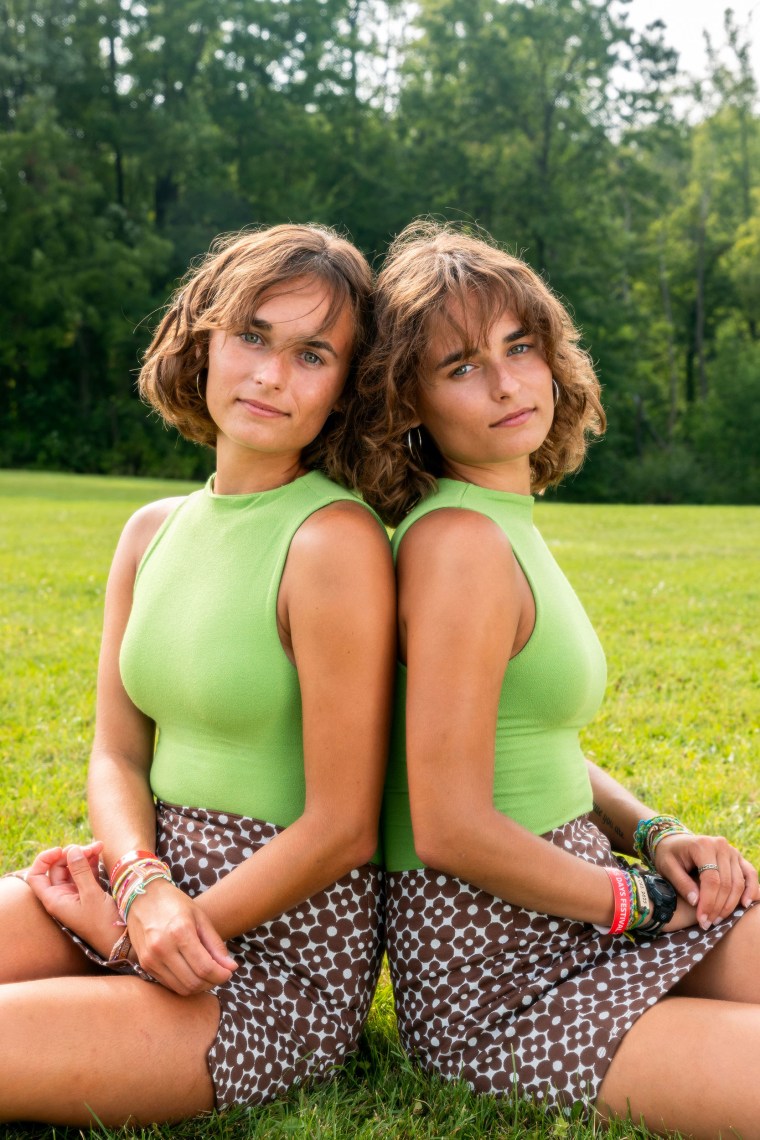 Courtney: I'm a junior at Purdue University and Kelsey is at Ole Miss. (The schools are roughly 570 miles apart.) In high school, people called both of us by our last name, Lawmaster, because they never knew which one they were talking to. 
Kelsey: I hated being called Lawmaster. I hated being mixed up with her. In high school I would would go out of my way to be different. I wanted us to have completely different identities and personalities. Courtney loved the Beatles, so I'd go around telling people, "I hate the Beatles."
It wasn't until I had some space from Courtney to figure out who I am as a person that I realized what privilege it is to be a twin. 
Courtney: I was always more into the twin thing. I wasn't interested in us dressing alike, but I did want us to be best friends and do the same sports and clubs, and I also wanted everybody to see us together all the time. So when I went to college, I had to stop focusing on wanting to be a duo, or a pair. I had to figure things out on my own. I'm definitely more independent now. Some of my friends are just finding out that I'm a twin!
Kelsey: We want to go back to Twins Days next year.
Courtney: You know how people are always like, "Oh, twins have a bond that no one else can really understand." I feel like Kelsey and I kind of forgot about that. And going to Twinsburg, and being surrounded by other twins, it reminded us how lucky we are. We really reconnected. 
Kelsey: In high school I was so resentful of being a twin, and now I think, "This is my person who understands me."