An Oklahoma family is grieving after their 18-month-old twins drowned in a backyard swimming pool.
Their mother, Jenny Callazzo, said she discovered siblings Locklyn and Loreli Callazzo in the water on the morning of March 16, according to Oklahoma City Fire battalion chief Scott Douglas. He said that when first responders arrived on the scene, they found Locklyn and his sister Loreli on the ground, and immediately began patient care. The children's hearts had stopped beating, he said, and they did not have a pulse.
"The mother explained she was homeschooling an older child while the younger children were playing in the living room," Douglas tells TODAY.com. "The grandmother left the back door open, leaving an exit to the swimming pool. The mother stated the longest they could have been in the swimming pool was ten minutes. " 
Locklyn and Loreli were transported to an area hospital where they were pronounced dead.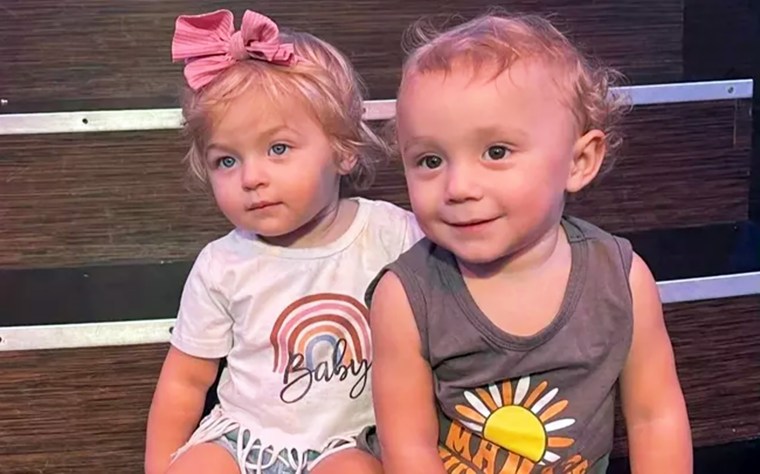 According to Douglas, the Callazzos did not have a pool fence and there was "open access." Douglas says he could not say if there was an alarm on the back door leading out to the pool.
In the state of Oklahoma, residential swimming pools must be surrounded by a fence that has minimum height of 4 feet, or 48 inches. The law also requires them to have self-closing safety gates. 
The American Academy of Pediatrics says that every home pool be surrounded by a fence to prevent a child from unsupervised access from the house. The group warns that "there is no substitute for at least a four-foot-high, nonclimbable, four-sided fence with a self-closing, self-latching gate."
Captain Valerie Littlejohn of the Oklahoma City Police Department tells TODAY.com that the investigation into the deaths of Locklyn and Loreli is "still open." 
Dawn Lemon, the twins' godmother, describes Locklyn and his sister Loreli as "inseparable."
"They were never apart — ever. They didn't want separate chairs. They wanted to sleep together. You never saw one without the other," Lemon tells TODAY.com.
Lemon says Locklyn loved music and played the harmonica, while Loreli was a natural dancer and "thought she was way older than she was."
"They were the sweetest babies," she says. "They liked to play hide and seek behind the drapes. They'd yell out, 'Where are we!?' and their little toes would be peeking out. They didn't realize we could see their feet."
The toddlers are survived by four siblings, including 17-year-old twin brothers.
Drowning is the leading cause of unintentional death for children ages 1 to 4, according to the Centers for Disease Control and Prevention. There are nearly 300 drowning deaths of children younger than 5 each year in swimming pools, according to the Consumer Product Safety Commission.
Olympic skier Bode Miller and his wife, Morgan, lost their 19-month-old daughter, Emmy, to drowning in 2018.
The couple have since made it their mission to promote pool safety and swim lessons for children as young as 6 months old.Related video: