A little girl with terminal cancer celebrated her fourth birthday early with a fantastical princess party.
Over the summer, 3-year-old Adalyn McGuire of Brentwood, Tennessee, was diagnosed with diffuse intrinsic pontine glioma (DIPG), an aggressive brain tumor that is not easily treated outside of radiation and experimental chemotherapy, according to the Dana Farber Cancer Institute.
About 300 U.S. children are diagnosed with DIPG annually, typically between the ages of 5 and 9, and their prognosis is "very poor."
Adalyn's parents, Stephanie and Andrew McGuire, first noticed symptoms after her third birthday in March 2022.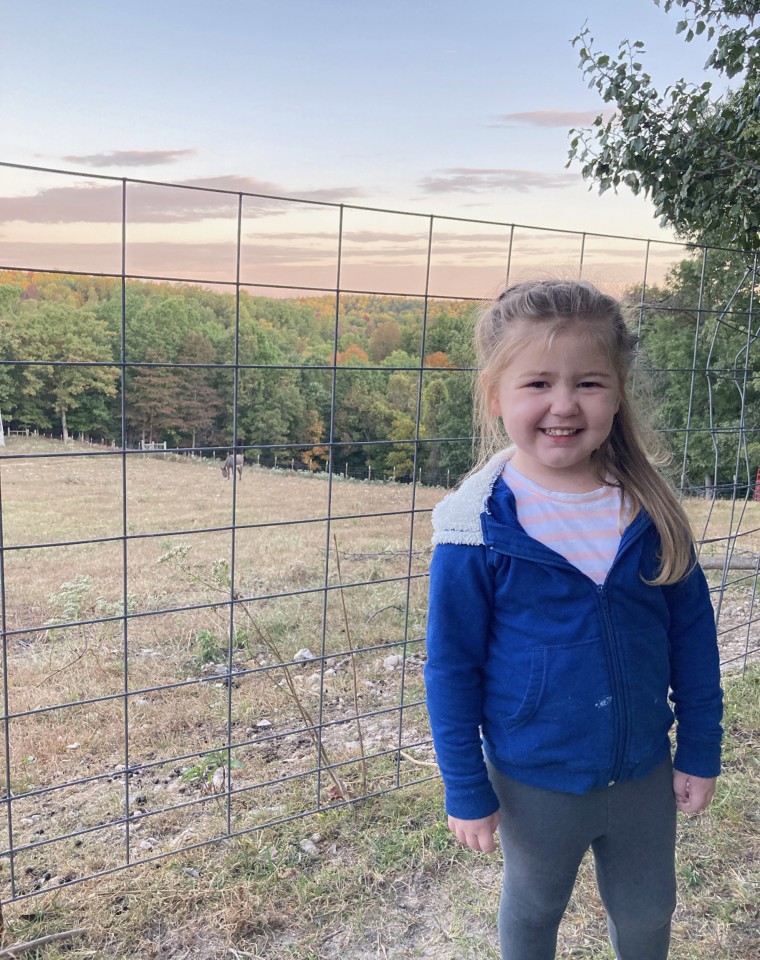 "Adalyn started complaining about fleeting head pain and stumbling a lot and one morning, she couldn't stand up," Stephanie tells TODAY.com, adding that her daughter couldn't move her right eye.
Adalyn's parents took her to a local hospital, where they were referred to Children's Hospital at Vanderbilt in Nashville.
A neuro-oncologist diagnosed Adalyn with cancer several weeks before Stephanie delivered her third daughter Analyn on July 30, 2022.
"At the time, I was really numb and couldn't understand what they told me," Stephanie recalls. "My brain couldn't comprehend how bad this was."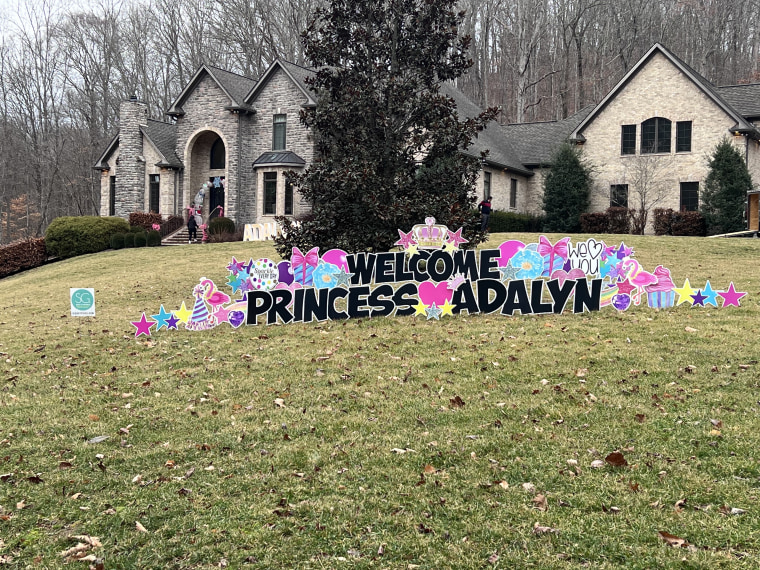 Adalyn stayed in the intensive care unit for three days and took 30 rounds of radiation almost every day for a period of six weeks, each time with general anesthesia.
"She lost a bit of hair but it didn't bother her," Stephanie says. "She still wore her 'Princess Elsa' braids."
Adalyn's treatment ended in August, and without other options, the family is making each day count.
"We don't talk about prognosis at home, but we tell Adalyn's 2-year-old sister Emalyn that Addy has a brain boo-boo and went to treatment," Stephanie says.
With Adalyn turning 4 on March 31, her family wanted to throw her an early birthday party. "We aren't sure if she will make it to her fourth birthday so we thought, let's have an early party," says Stephanie.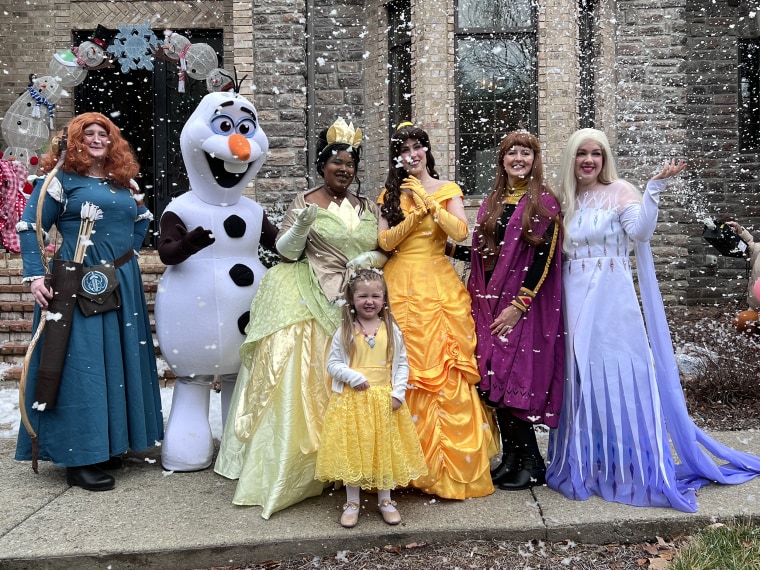 The McGuires connected with Tanya Sturm, the founder of Dreams & Wishes of Tennessee, whose organization grants wishes to children who relapsed from cancer and to young adults between the ages of 18 and 21 with a new cancer diagnosis. Each wish is $2,500 or less and is usually dependent upon donations.
Sturm recalls Adalyn's ambitious guest list: Princesses Elsa and Anna and Olaf the Snowman from Disney's "Frozen." She also requested a party menu with meatballs, mac and cheese, hot dogs and Chick-fil-A chicken nuggets.
"I put requests on social media and it was amazing how people wanted to help," Sturm tells TODAY.com.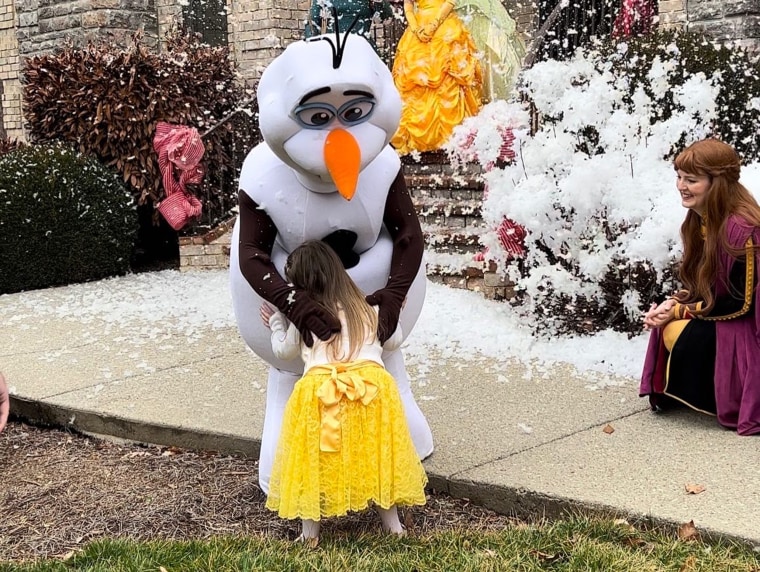 Sturm's friend offered to host the party at her Brentwood home. Others donated a princess dress in Adalyn's favorite color yellow, a snowman doorway arch and cookies customized as Disney princesses.
Meanwhile, Sturm was connected to a group who offered to attend the party dressed as Elsa, Anna, Olaf, Belle, Tiana and Merida.
On Jan. 7, more than 40 people showed up to Adalyn's party. Guests were served key lime pie (Adalyn's favorite) and a homemade "wedding cake" baked by Adalyn and her dad. During the party, princesses read the children stories in a backyard treehouse and a balloon artist created a 4-foot Ariel the Mermaid character and assorted animals.
"At first, Adalyn felt overwhelmed," says Stephanie, "but when she saw Olaf, she opened her arms and said, 'He needs a warm hug.'"
Stephanie says the family is making memories now, adding, "We're taking it day by day."
Related video: