TODAY's Savannah Guthrie is having a crowning moment.
On Monday, Jan. 30, Savannah's new animated show, "Princess Power," will begin streaming on Netflix.
The preschool series is based on Savannah's bestselling book, "Princesses Wear Pants," and celebrates the magical power of female friendship.
"It's a girl gang of princesses who support each other and work together," Savannah tells TODAY.com.
"There's a lot of humor and irreverence in it," she adds. "So I hope it's fun for moms and dads to watch, too."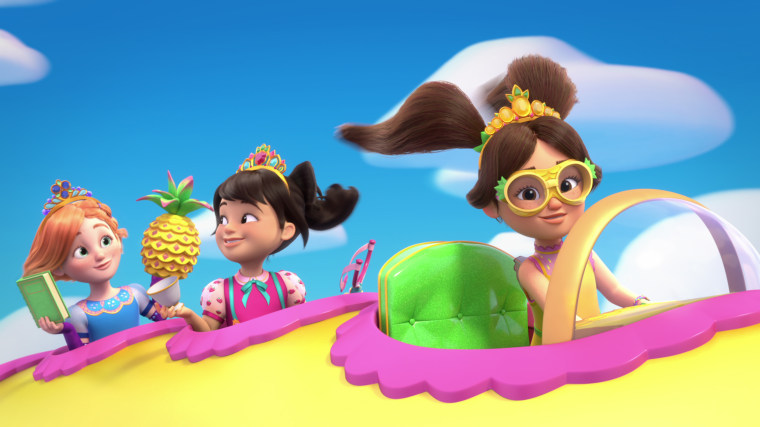 The 14-episode season follows four young royals: Rita Raspberry (Trinity Jo-Li Bliss) Kira Kiwi (Dana Heath), Penny Pineapple (Luna Bella) and Bea Blueberry (Madison Calderon) who each hail from a different fruit kingdom. Each character has a special talent. For instance, Penny is a science superstar, while Rita is an artist.
"If I had a princess power, I think it would be waking up early and being in a good mood," Savannah reveals, noting that she rises anywhere between 3 and 4 a.m. "I am very much a morning person."
Savannah and her co-author, parent educator Allison Oppenheim, released their first book, "Princesses Wear Pants," in 2017. At the time, Savannah's daughter, Vale, now 8, was still a toddler. Savannah says the idea for the book came about organically.
"Alli and I were just talking as moms about how our little girls were obsessed with princesses. And we are not anti-princess — we just thought maybe we could bring more substance to the storylines," Savannah explains. 
"Yes, they're fashionable, they're pretty, they're sparkly and glittery, but they're also in essence, young girls who are in leadership roles. They're young girls on a mission with important things to do."
Savannah says she and Oppenheim wanted to bring "something new to the princess space."
The underlying message is that people are stronger when we work together.
"Female friendship is really the highlight and hallmark of the series," Savannah says. "It's not one princess — it's a team of princesses."
Drew Barrymore is among the executive producers of the series, along with Guthrie and Oppenheim.
Related video: