Priscilla Presley is thanking fans for their support as she grieves the death of her daughter, Lisa Marie Presley.
Lisa Marie Presley died at the age of 54 on Jan. 12 after suffering cardiac arrest. Two weeks after her death, Presley is taking to Twitter to acknowledge those who have sent her loving messages as she navigates through a "dark painstaking journey."
"To YOU, I'm truly overwhelmed with your words, your prayers, your love and your support," she wrote on Twitter. "Thank you from the bottom of my heart in trying to help me get through this loss. 
"Every parent who has lost a daughter or son knows what a dark painstaking journey it is," she added, finishing her message with a broken heart emoji.
Presley's message was a follow-up to her tweet from earlier this week, in which she thanked fans for their condolences and said she had been "touched" by their words.
"It has been a very difficult time but just knowing your love is out there makes a difference," she wrote.
Following her death on Jan. 12, Lisa Marie Presley was laid to rest at Graceland, the legendary former home of her father, Elvis Presley, and had a service held on Jan. 22. 
Presley spoke at her daughter's memorial service, reading out a poem she said was written by one of her granddaughters.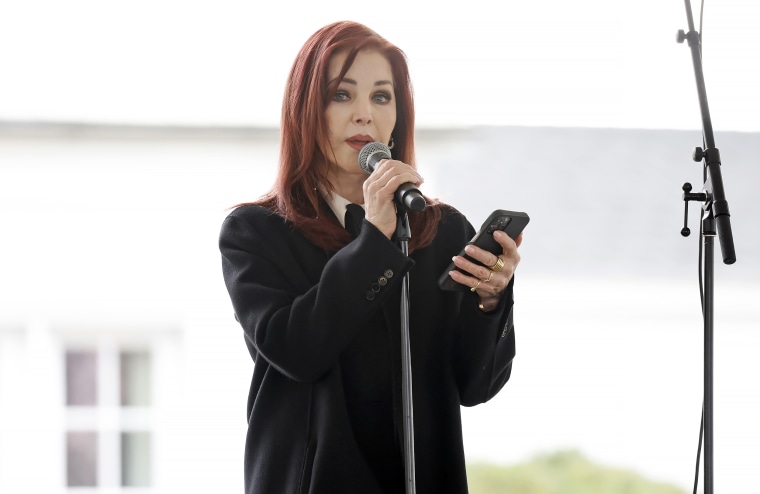 "She always knew she wouldn't be here too long," Presley read. "Childhood passes by with a glimpse of her green eye. She then grew a family of her own. Then came her second child, leaving her with suspicion. Could this be the angel that takes me home?
"Now she is home where she always belonged, but my heart is missing her love," the poem continued. "She knew that I loved her. I fear I'll never touch her, but the old soul is always with me. She doesn't drift above."
Presley's latest Twitter message resonated with other parents who have lost children. 
"Yes, it is a dark painstaking journey. I am so sorry for your loss," one person wrote in response to her tweet. "May your precious baby girl rest safely in the hands of our Lord. I lost my beloved son Eric. He is always on my mind; forever in my heart."
"Lost a 4 yr old son 35 yrs ago. You get past it, live around it, but never forget it," another person wrote. "Don't carry the grief on your shoulders, but find a warm spot in your heart and place her there — where she will always be."
Lisa Marie Presley is survived by three of her children: Riley Keough, 33, and twins Finley and Harper Lockwood, 14. Her son, Benjamin Keough, died in 2020.