"Outdaughtered" stars Adam and Danielle Busby are opening up about their decision to take a two-year hiatus from filming the show.
The series follows Adam, 41, and Danielle, 39, as they navigate life with rare all-girl quintuplets. Ava, Olivia, Hazel, Riley, and Parker, who were born on TV, are now 8, while their big sister, Blayke, is 12 .
In 2022, the couple, who live in Texas, shocked fans when they announced they were taking a break.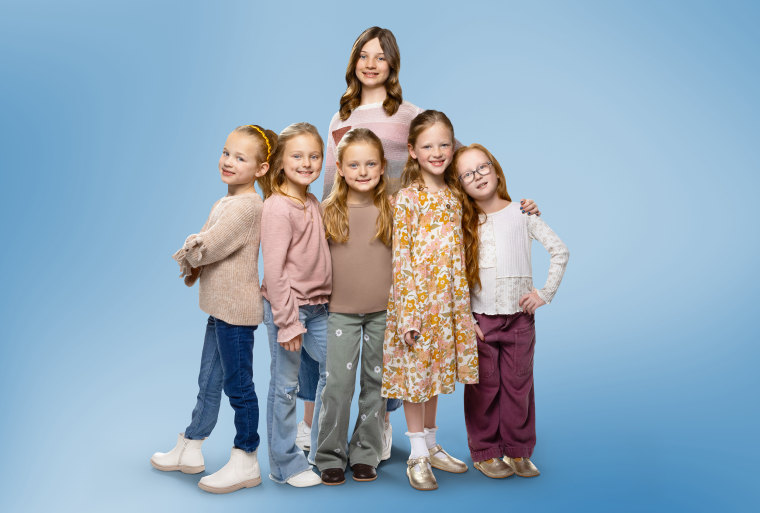 The pandemic played a large role in the family's decision to take a step back, according to Adam. He tells TODAY.com the episodes they shot during Covid "felt flat." The magic just wasn't there.
"We were, like, confined to the living room and the kitchen pretty much," Adam says. "Filming a season of our show usually takes anywhere from three months to six months, tops — but during Covid, it dragged on for the better part of a year. It just started to weigh on the kids, and us.
"You could feel it in the room," he continues. "So we were like, 'Man, let's take a break. Let's take a breather.'"
Adds Danielle, "We just kind of had to reassess, like, 'What are we doing?'"
"We just kind of had to reassess like, 'What are we doing?'"
danielle busby
Adam says that he and Danielle, who have been married since 2006, took time to "reconnect" with each other, and with their daughters. 
Eventually, the quints started asking when the film crew would be coming back. They were ready to shoot new episodes. But Adam and Danielle weren't sure how Blayke would feel about returning to TV. 
"I thought of all the kids, we would get the most pushback from her, and that she'd be the most apprehensive to step back in," Adam says.
Danielle notes that Blayke is in sixth grade and "it's a hard age" with "a lot of changes."
To their surprise, Blayke was ready to mic back up. 
"She was like, 'I want to do it,' and I was like, 'Really? Are you serious?'" Adam recalls. "She was so positive and responsive to the idea, and that made (the decision) so much easier."
This is Blayke's best season yet, according to her mom. 
"She was just a little more mature and comfortable with who she is and what she likes," Danielle reveals.
Fans can also expect to see Adam taking on more household responsibilities while Danielle focuses on her brick-and-mortar business, Graeson Bee Boutique. 
"She has to travel more — and I'm sort of manning the fort a home a lot more, and doing a lot more stuff solo with the kids," he says. "It's a new season of life."
CORRECTION (June 30, 2023, 5:42 p.m. ET): In a previous version of this article, Danielle Busby was incorrectly referred to as Heather.