Olivia Newton-John's daughter says she made a pledge to her mother before she died.
Her daughter, Chloe Lattanzi, will return to her mother's native Australia in October for the singer's annual Walk for Wellness, an event that brings people together to support those with cancer. Along the way, Lattanzi will be inspired by her song "Phoenix," which has deep meaning and is one of her mother's favorites.
"That was my promise to my mom that I would soar, and fly, and be happy," Lattanzi said when she and Newton-John's widower, John Easterling, talked to TODAY's Hoda Kotb in a clip that aired March 3. "So that song is for my mom. And it's also for anyone who needs to be uplifted, you know? We're all capable of incredible things.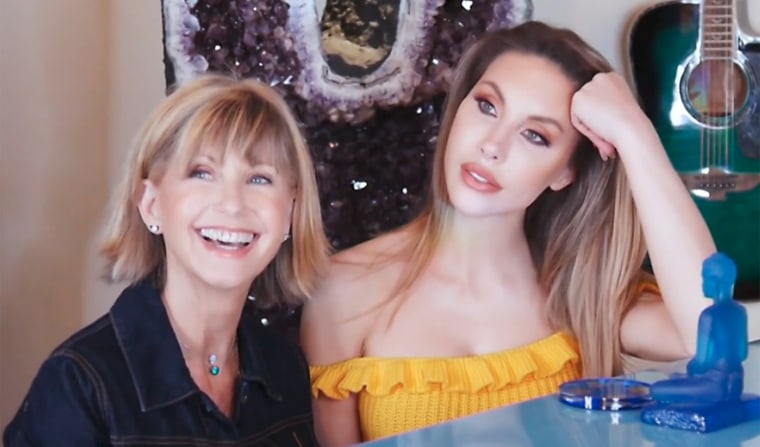 "My mom's a reminder of that, of just what we can manifest, of how many people we can help with this incredible light that we all have inside of us."
Newton-John was treated multiple times for breast cancer before she died in August 2022 at the age of 73. Lattanzi, who Newton-John had with ex-husband Matt Lattanzi, also opened up about her mother's final words to her in February on TODAY.
Lattanzi, 37, and her mother's widower, John Easterling, recently honored the Grammy winner during a state memorial service in Australia that featured tributes from such stars as Nicole Kidman, Dolly Parton and Elton John. The country is also the site of the Olivia Newton-John Cancer Wellness & Research Centre, which focuses on using plant-based medicine to help defeat cancer.
"My mom is a pioneer, a rebel in a good way. A healer," Lattanzi said in the March 3 segment.
Easterling says Newton-John will never stray far from his thoughts.
"I carry her in my heart, living life for both of us, doing the things that we enjoyed, doing the things that she enjoyed," he said. "And then carrying on with the kind of mission and the things that we were committed to, as well."
Lattanzi echoes that sentiment when pointing out the importance of doing the work her mother vowed to do.
"Knowing that my mom was a healer for so many people is incredibly inspiring, and it is my mission to carry on her legacy of love and light, and giving and caring for all creatures, great and small," she said.