Mariska Hargitay and husband Peter Hermann made a rare red carpet appearance together with all three of their children.
The "Law & Order: SVU" star, 59, and her family attended the 2023 Stuttering Association for the Young Benefit Gala in New York City on May 22. Hargitay wore a light-green dress while the "Younger" star opted for a dark suit and dress shirt.
The couple's kids — August, 16, Amaya, 12, and Andrew, 11 — were also dressed to the nines with Amaya wearing a pretty floral-patterned dress and Andrew emulating his dad by sporting a dark suit. Oldest son August also looked dapper in a dark shirt with a blue jacket over it.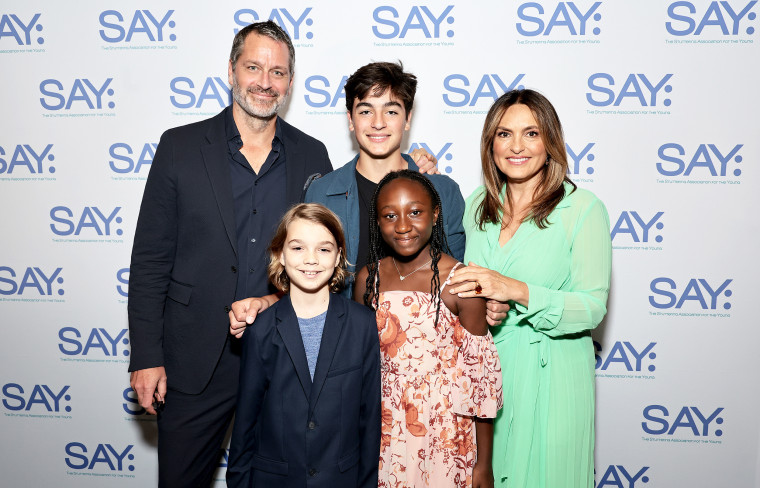 Hargitay and Hermann tied the knot in 2004 in Santa Barbara, California, after meeting on the set of "Law & Order: SVU" in 2001.
Hargitay opened up about her family in a March 2018 interview with People. "My husband is my North Star, and my kids are my teachers," she gushed.
"Our family is so perfect, or at least perfect for me," she added. "Together we're just this whole, happy, joyful, chaotic, crazy unit. I've never known anything that was more right."
The couple welcomed August in June 2006. They went on to adopt Amaya as a newborn in April 2011. Hargitay told People at the time that August loved being a big brother.
"He calls her his baby because he says the whole thing was his idea," she said then. "He always talks about how he's going to protect her. He's going to be a great big brother."
Just a few months after adopting Amaya, the couple expanded their family once again. After hearing of a premature baby in need of a family, the pair made the fast decision to bring baby Andrew into their home, Hargitay told Good Housekeeping at the time.
"It was like … a miracle. And I don't use that word lightly. I've never made a bigger decision so quickly. The whole thing happened in a total of two days," said the actor.
Hargitay also talked to People shortly after adopting Andrew. "We never in a million years thought it would happen this quickly, but something inside of us knew that this was right, and we said, 'Yes, yes, yes!'" she explained
"We knew this was our guy," she added. "Everything about it felt right. It felt divinely right."