The sextuplets behind "Jon & Kate Plus 8" have turned 19!
Jon Gosselin shared a throwback photo of his six youngest children, Alexis, Hannah, Aaden, Collin, Leah and Joel, on their birthday, May 10.
"HAPPY 19th BIRTHDAY to all my Kids!!" he wrote in an Instagram post. "I love you all so much!!"
He also shared additional photos on his Instagram story, including an adorable collage with the caption, "19!!!"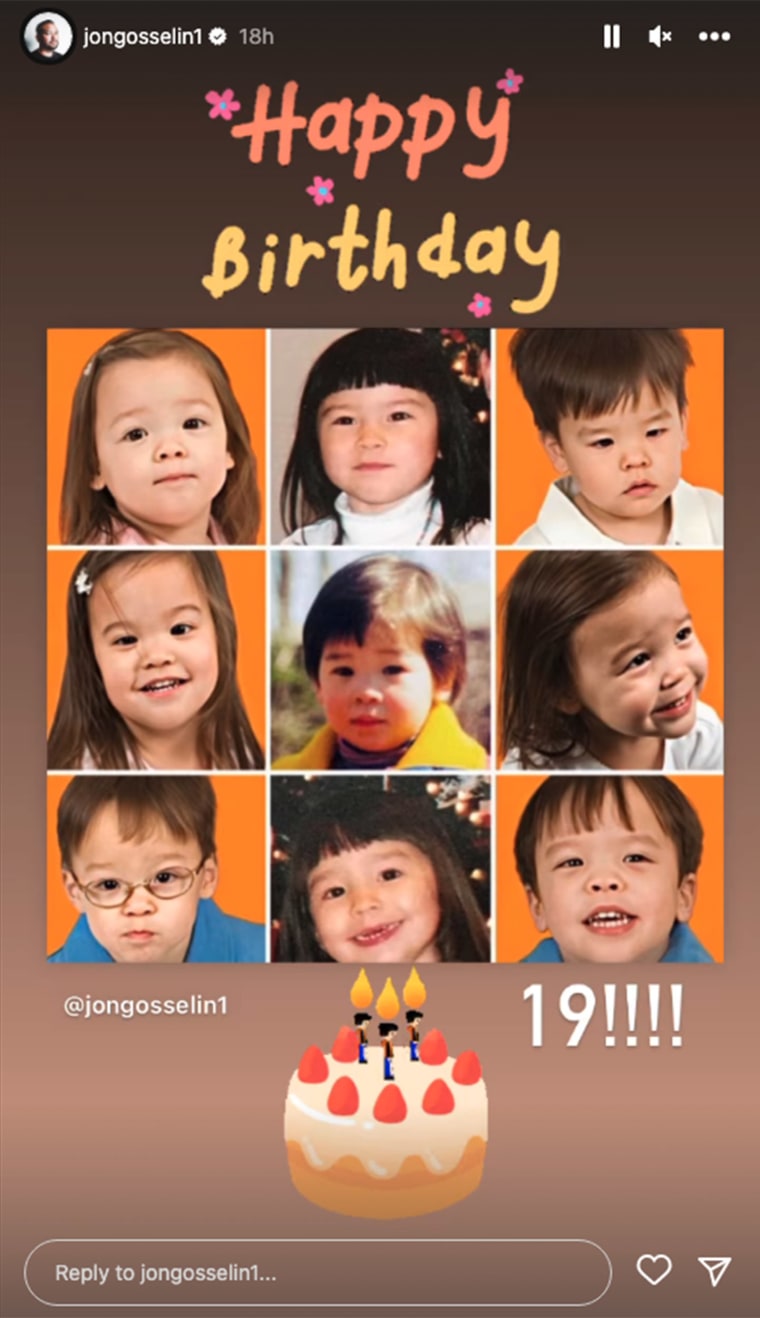 Gosselin has eight children in total — the sextuplets plus a set of twins, Cara and Mady, who are 22. He shares all eight kids with his ex-wife Kate Gosselin.
The Gosselins became a household name when their reality TV show, "Jon & Kate Plus 8," premiered in 2007. The show followed the family through the ups and downs of parenting eight children. The show eventually became "Kate Plus 8," which aired until 2017, after the couple divorced in 2009.
In 2018, Jon Gosselin was granted custody of his son Collin, and the pair lived together along with his daughter Hannah, according to ET. The rest of the siblings lived with their mother, while Mady and Cara attended college.
Collin Gosselin opened up about their family dynamic in an interview with ET in November.
"I have not spoken with my siblings in probably five or six years now," he said at the time. "It's tough."
He added he would love to one day be close with his siblings again, though none of them have reached out to each other.
"I would love for us to come together one day, have dinner together, talk, just have a relationship and catch up on the things that we lost, the time that we lost," he said.
"I haven't reached out to them, they haven't reached out to me," he added. "I want to respect their space and their time and respect how they feel about everything, so I'm kind of just waiting for the day that they reach out. I don't want to reach out. I don't want to invade their space. I'd rather just let them do it on their own terms."
He stressed he still loves his siblings as he became emotional during the interview.
"I love them very much," he said. "How I see it is, without parents involved, it's just me and them. I really hope that one day when I have kids that my kids will know their aunt and uncles."
In the wake of her brother's interview, Mady Gosselin opened up in a TikTok video about how online comments labeling her and her siblings as "crazy child stars" are particularly "harmful" as they age.
"As is the case with every other person in the entire world, it is not anybody else's business what they are dealing with behind closed doors if they don't want it to be your business," she said in a February video.
She gushed about her siblings and said, "They are all amazing people. They are all smart. They are all kind. They're driven students. They're working hard. They're funny. They're stylish." 
"Regardless of whatever narrative you've created in your head from what you've seen, my siblings are doing so well," she added.