TODAY fourth hour co-host Jenna Bush Hager finally reunited with one of her girls following a summer at a sleepaway camp for her little one.
On TODAY with Hoda & Jenna on July 31, Jenna shared a heartwarming video of her and daughter Poppy, 7, reuniting with Mila, 10, in Texas.
"My weekend was great," Jenna told her co-host, Hoda Kotb. "We went down to Texas, and we got our girl back!"
The clip shows the trio running toward each other outside the camp as Mila jumps into Jenna's arms, giving what Hoda calls a "koala bear wrap" type of hug.
"It was so fun. There's nothing like reuniting," Jenna said, adding that she made a point to bring her "large hat" on the trip, which stands out in the video.
"It was so happy," she continued, joking that "it's worth sending your kids to camp just so you can get them back."
After Jenna and Mila embrace, Mila and Poppy hold each other's hands for a moment before exchanging a big hug with ear-to-ear smiles.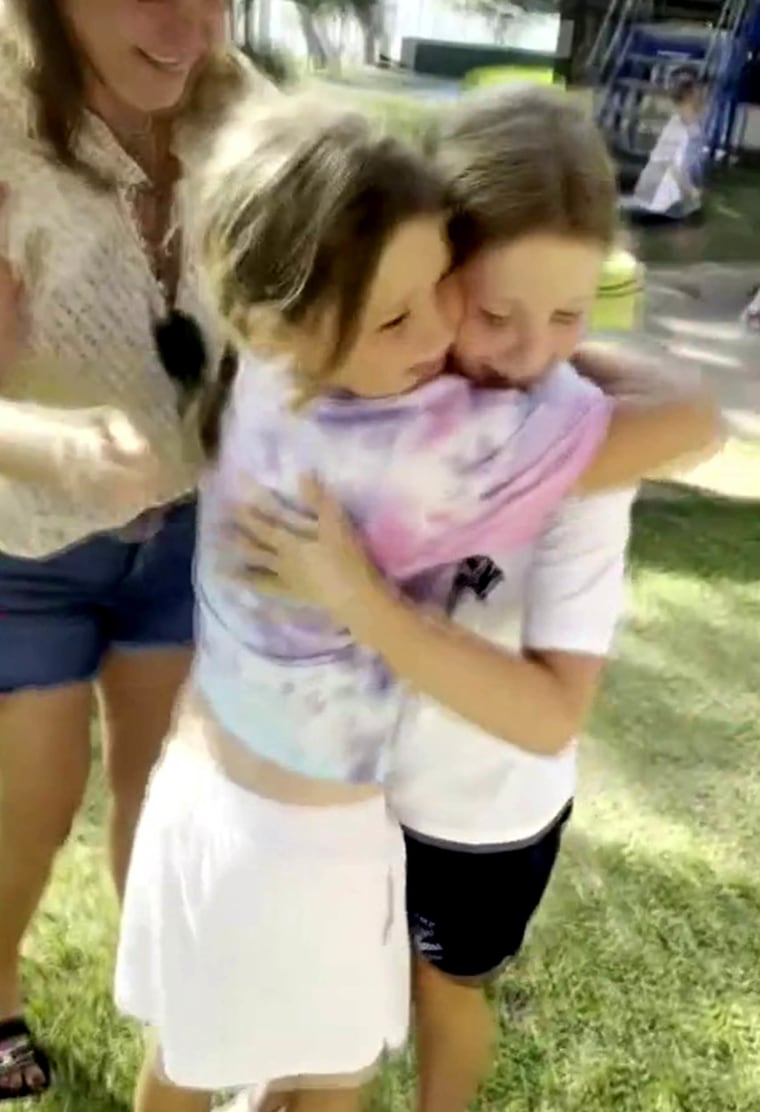 "There was something so, so sweet about seeing the sisters reunite," the co-host added.
Jenna's daughters then teamed up to choreograph a water ballet show later that night, she said, in a small pool.
"Poppy was Ken and Mila was Barbie, which is just like a birth order thing. You know how good it is to see the sisters together," Jenna said to Hoda, referring to the popular new movie.
When Hoda asked if Mila loves camp, Jenna told her that "she loves it."
"I mean, she's probably one of the only kids from the Northeast — a lot of Texans. It's really hot, no air conditioning, but she loves it! It's so fun to go see her and feel that independence," said Jenna, who is also mom to 3-year-old Hal.
Mila has grown from her earlier days at summer camp. In July 2021, she wrote a letter to her parents, which Jenna said at the time broke her heart "in a million pieces."
"Dear Mom and Dad, I miss you," Jenna read on the show. "I wish I could be with you."
But the line that really drove it home for Hoda read: "P.S. Daddy, how much longer 'til you pick me up? I miss you too much. I need to stop crying. So goodbye. I miss you terribly, Mom and Dad."
That summer, Jenna said she and Mila had both been fighting off tears as she dropped her off at camp.
"She was like, 'Don't cry, Mommy,' and I said, 'I'm not going to cry,'" Jenna said, tearing up at the time recalling the moment. "I had on my sunglasses. There was something about it because it's the camp I went to as a little girl, so there was this nostalgia. Also, I got out of the car and she said, 'Mommy, I have sunscreen in my eyes.' But I knew she didn't have sunscreen in her eyes. It was just this feeling of ... she's old! How is she old enough to go away from me for three weeks?"
Earlier this month, Jenna shared how Mila still writes her letters from camp. And this time around, one of the letters had both Jenna and her husband, Henry Hager, in tears.
"She wrote Poppy this letter, which made Henry and I weep, which was like, 'You're going to feel homesick. But the difference is, I got you. I got you, I'm there for you. I'll be there for you next year, and you can come into my cabin, and I've got you,'" Jenna said.
Last year, Jenna also shared videos of Mila reuniting with her family after camp.
"Hi! We missed you. Oh, my girl. I'm so proud of you," Henry tells Mila as she hugs him tightly in one of the clips.