In 2011, Ha Nguyen, then 13, left her remote village in the mountains of Vietnam to greet her identical twin sister, Isabella Solimene, at an airport in Cam Ranh. Isabella, who grew up in Chicago, had journeyed more than 18 hours to meet Ha for the first time since birth.
Ha's reaction was to shed tears — but not because she was overcome with emotion at the sight of Isabella. She was queasy after her first time in a car.
"I cried because I was tired and nauseous from the van ride," Ha tells TODAY.com, adding that in Vietnamese culture, it's a sign of respect to show emotion when welcoming a relative who has traveled a long distance.
"We hugged, but it was awkward," Isabella, now 24, says.
The girls had been raised nearly 9,000 miles apart.
"We were strangers," Ha says.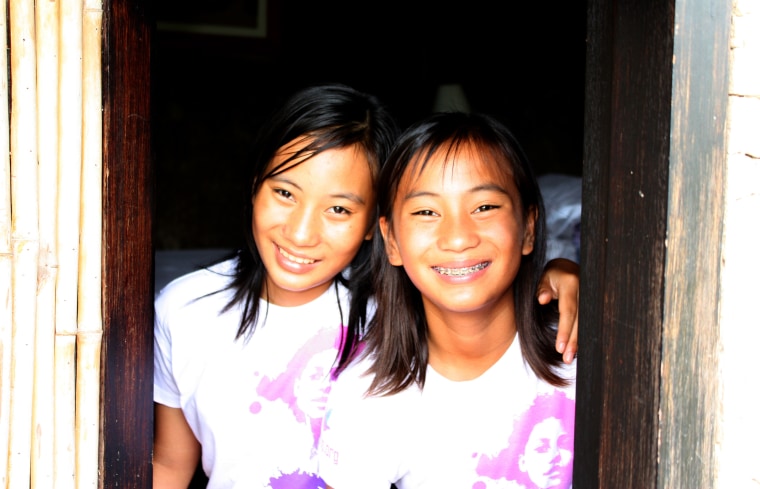 Isabella and Ha were born in Vietnam in 1998 to a single mom named Lien, who did not have the means or support to raise children. A local orphanage agreed to take Isabella, but wouldn't take Ha because of her health issues that prevented her from being admitted.
"The orphanage director thought I wouldn't make it," Ha explains. 
Ha was sent home with Lien, and was later adopted by Lien's sister Ro. Isabella was adopted at age 3, by Keely and Mick Solimene, an affluent couple in Illinois. Keely and Mick, who have four biological children, also adopted Isabella's best friend from the orphanage, Olivia, 3.
Ha was raised as an only child in a one-bedroom house in a rural village and got her milk from a cow tied up outside, while Isabella had a typical American childhood filled with soccer and pizza parties.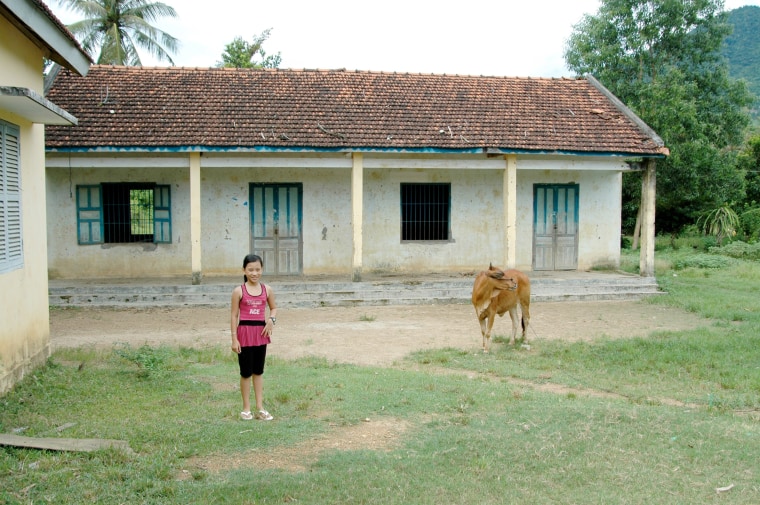 The twins knew of each other's existence, but neither felt the need to find the other. Isabella had Olivia, and Ha says she had a "beautiful childhood," and felt complete.
"I never wondered what Isabella was doing or what she looked like," Ha says.
"I didn't feel like there was anything missing from my life," Isabella says. "I already had five siblings."
Keely Solimene, however, was determined to locate Ha and tracked her down in 2008. Keely tells TODAY.com she "felt a deep connection" to Vietnam.
"It was that feeling of connection that inspired me to look for Ha. And it's also why I kept looking," Keely says. "I knew that while the girls were too young at the time to understand the feelings I had, I always knew they would mature into young women that would share the the same feelings."
On Sept. 26, 2011, a jet-lagged Isabella and an about-to-vomit Ha came face-to-face for the first time in 13 years. 
"We did not bond on that trip," Isabella declares.
"Not at all," Ha agrees. 
Isabella chalks it up to the "huge cultural differences" that they were both navigating. And then there was the language barrier. They couldn't communicate without the help of a third-party.
Isabella went back to Chicago, and the sisters stayed in touch with weekly Skype dates, which they both dreaded. But Keely was adamant that the girls remain in contact with each other.  
"There would be a translator on the call and it's hard to form a connection when you have to go through someone else," Isabella says.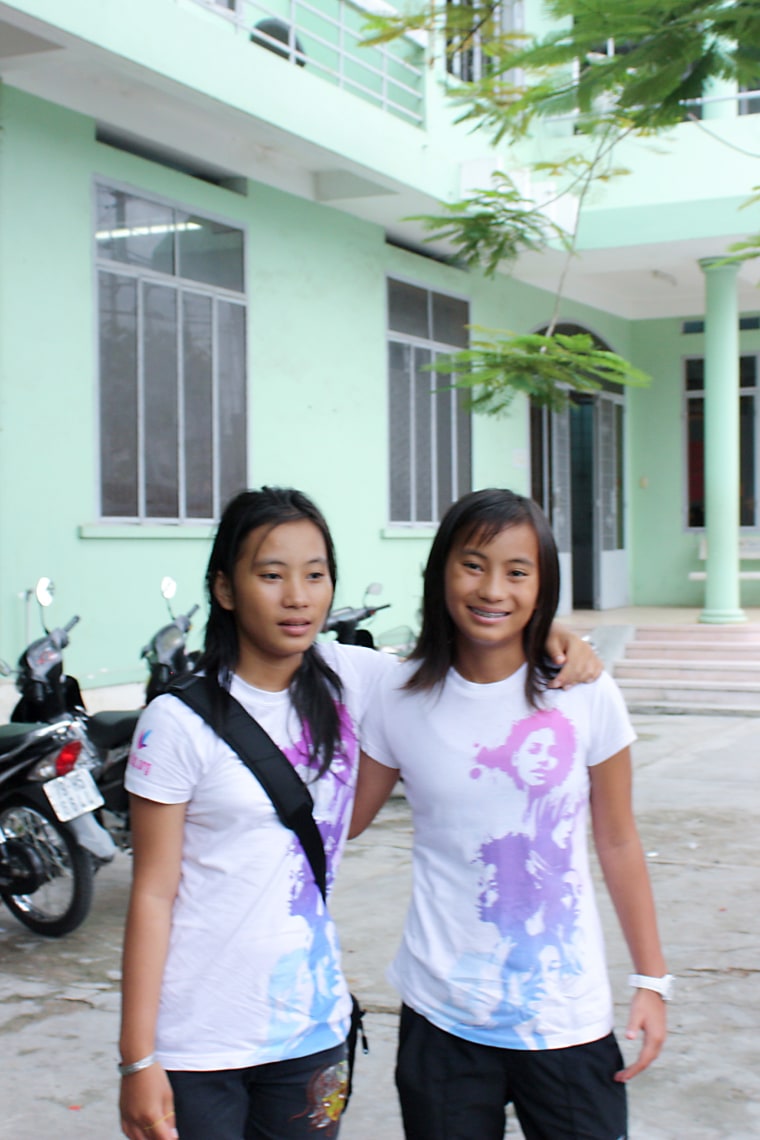 The walls didn't start to come down until Isabella and Ha began texting each other updates about their lives using Google Translate. That's when the conversations started to flow. They could be themselves.
In 2012, Isabella flew back to Vietnam to see Ha. This time, the hugs weren't stiff or forced, and the emotion wasn't for show. 
"You can't force a bond — even between identical twin sisters," Isabella says. "Our relationship had to progress naturally."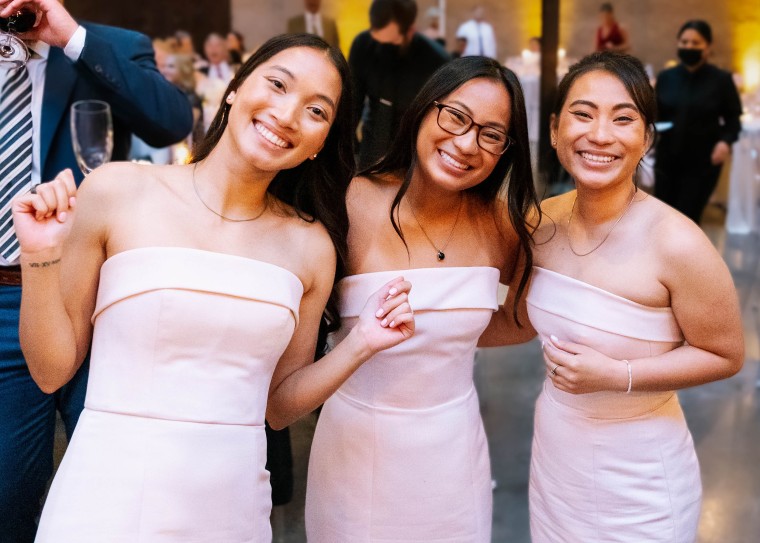 Isabella and Ha are now inseparable and live with Keely and Mick. Ha, now fluent in English, completed her high school education in Illinois, and both women are graduates of Lake Forest College. Isabella majored in public relations, and Ha has a bachelor's degree in sociology and anthropology. Ha remains close to her family in Vietnam.
When Isabella and Ha are asked if they are best friends, both respond in unison: "Yes!"
"We have a strong emotional understanding of each other that I don't have with my other brothers and sisters," Isabella reveals. "It's just this feeling of sameness. She'll understand what I'm feeling without me having to say a word." 
Isabella confesses that she was worried about what would happen to her relationship with Olivia when Ha moved into their home. Isabella and Olivia were adopted together as babies, and are just 10 months apart in age. Would Ha change their dynamic?
"To my surprise, when Ha came in, it was like she was completing a puzzle. We didn't have to find a spot for her," Isabella says. "It was like she was always supposed to be here."