It's taken Jonny Shyk more than eight decades to fully understand his childhood.
Born on July 25, 1939 in Berlin to a Jewish family, Jonny believed for years his dad had abandoned the family and died in the war.
Jonny and his mother, Vera Modufsky, were sent to Theresienstadt, called Terezín in Czech, a concentration camp in the Czech Republic, in 1943, after the death of his older brother, Manfred.
Terezín was used by the Nazis as a forced labor camp, and a transit camp where Jews and other victims were held before being shipped to concentration camps and death camps. The Nazis also used Terezín as a "model camp" to fool the world into believing this was the way all of their concentration camps were run. Though Terezín was not built to be an extermination camp, it is estimated that around 33,000 people died there.
"The whole thing was a ruse put on for the International Red Cross that visited the camp," Jonny's son, Todd Shyk, a history teacher, tells TODAY.com.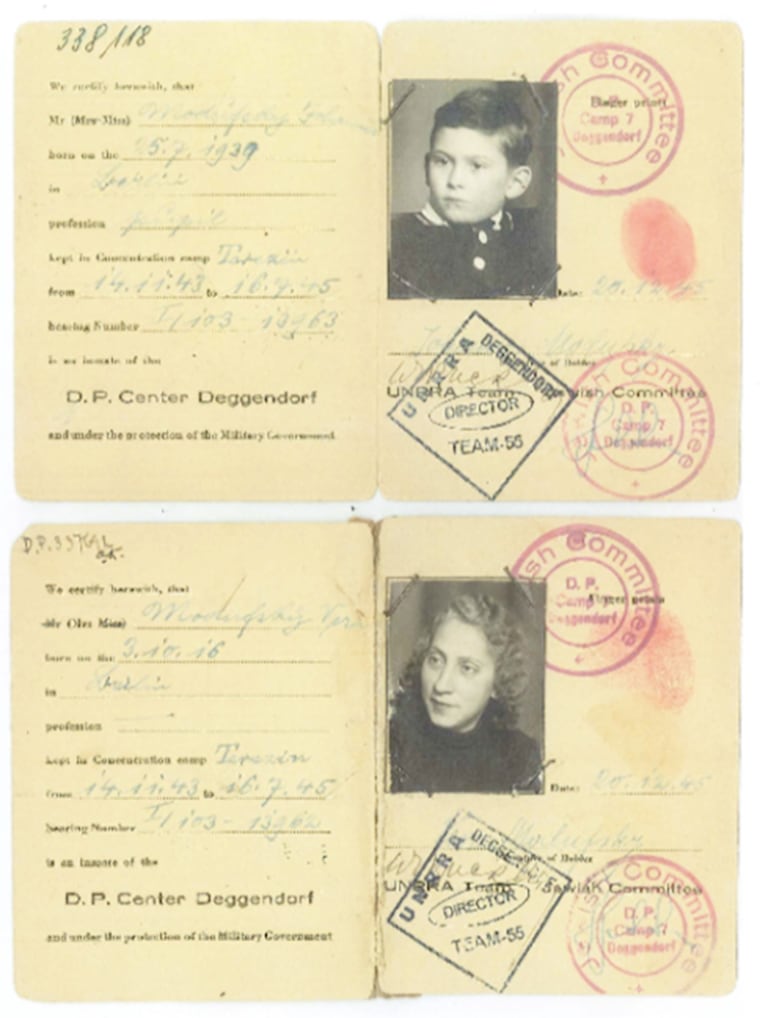 Todd, 54, tells TODAY.com that many prisoners who were sent to Terezín were artisans, scholars and musicians, as well as people whose parents, or maybe even themselves, had fought in World War I.
In 1945, Russian forces liberated Terezín.
"When I came out, I was only six years old," says Jonny, now 84. "You don't remember very much ... I had only very few recollections."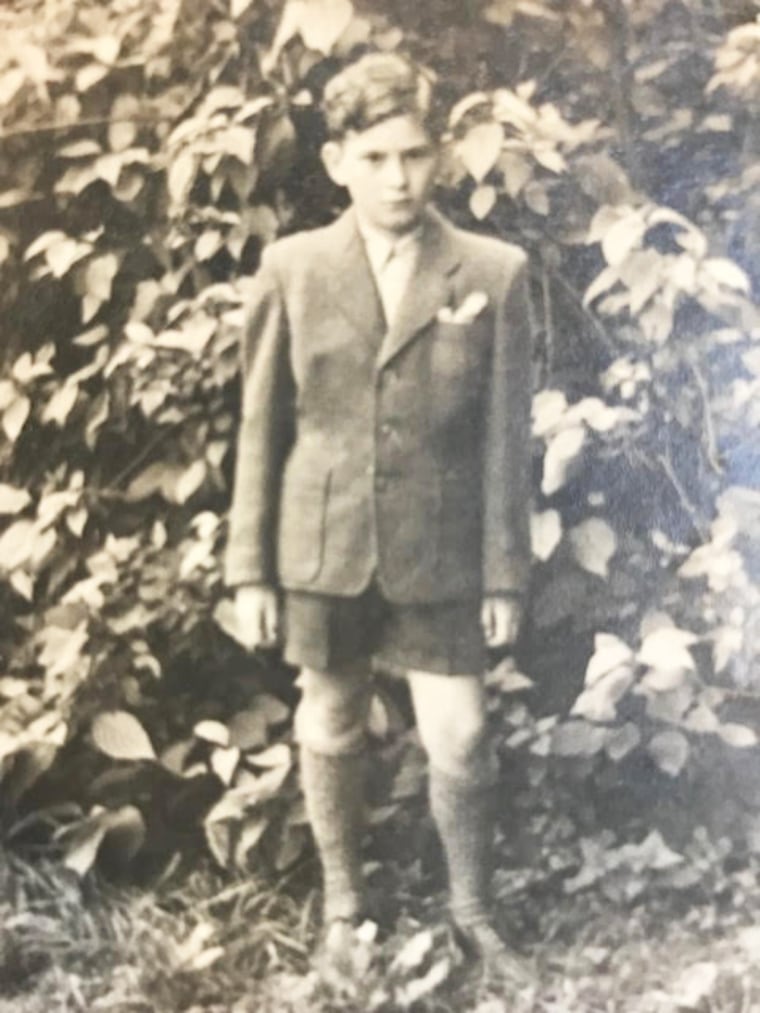 After being liberated, Jonny and his mother were sent to a Displaced Persons, or DP, camp. It was in a cattle car leaving the concentration camp that Jonny's mother met her second husband, David Itzyk.
"I have the recollection of meeting my stepfather," Jonny says. "What I remember is sitting in the cattle car, or laying in a cattle car, and his only possession at that time was an umbrella."
Jonny's stepfather had survived Auschwitz working as a tailor for the Nazis, but his first wife and all four of his children perished.
"I believe my stepfather stayed alive because he could use a needle and thread," Jonny tells TODAY.com. "I believe that saved his life. He was very good at it."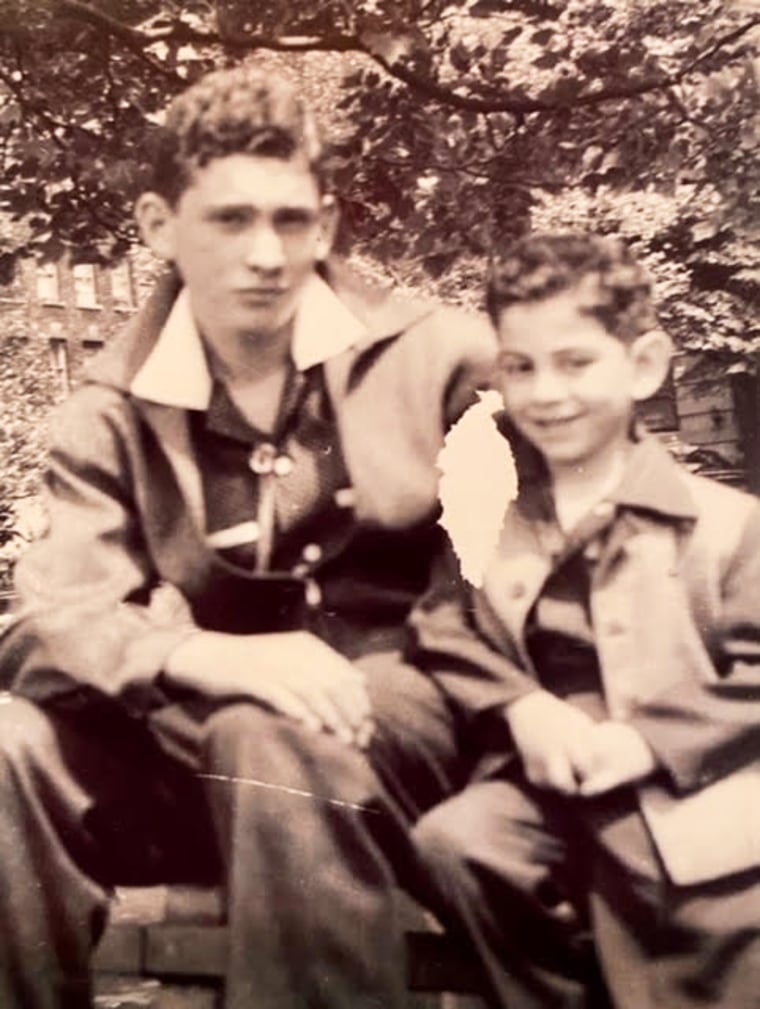 In 1950, the family immigrated to the United States and Jonny was enrolled in a New York public school, though he didn't know any English.
"That was when televisions were first being advertised, and one of the places they were being advertised was store windows, so I would travel around and watch some of the programs to learn to read," Jonny says, adding that later on, a neighbor allowed him to watch their television, and he learned English that way.
Because Jonny spent his primary years in camps, he says school was difficult.
"I wasn't a very good student, because I started started in fifth grade, and even to this day, my spelling is atrocious and my math was never very good," he explains. "So when I was 17, I dropped out. At that point, I had certain choices — getting in trouble or joining the service — and I joined the service."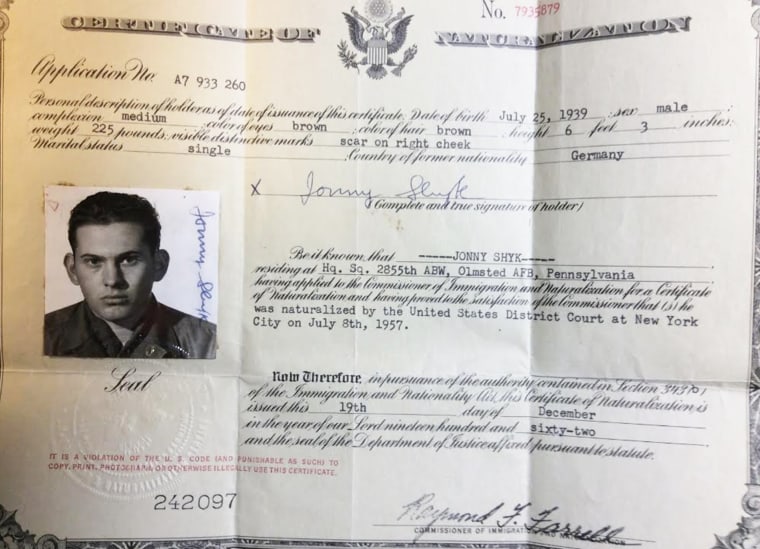 Shortly after Jonny joined the Air Force, his mother and stepfather returned to Germany.
Jonny met his wife, Patricia, in 1962, and they got married shortly after. The couple had four sons — John Michael, Jeff, Todd and Jeremy. The family followed Jonny's military career across the country, before eventually settling in central Pennsylvania in 1974.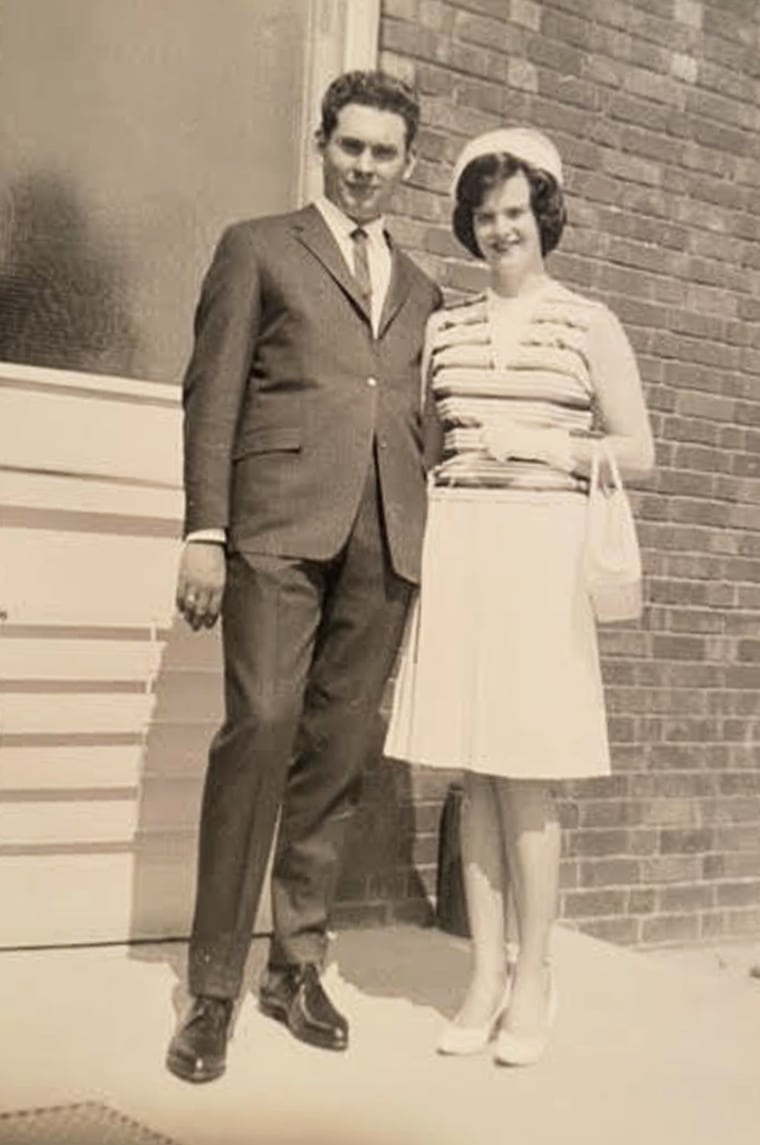 It wasn't until 2010 that Jonny would make a shocking discovery.
Thanks to meticulous records kept by the Nazis, Jonny and his half-brother Harry, the son of Vera and David, were able to discover that Jonny's dad did not die in the war, but survived. Jonny had a half-sister named Marlis who lived in Germany.
"That he was able to know his name, know that he actually survived the war and know that he then married after the war and had a child, is incredible," Todd says.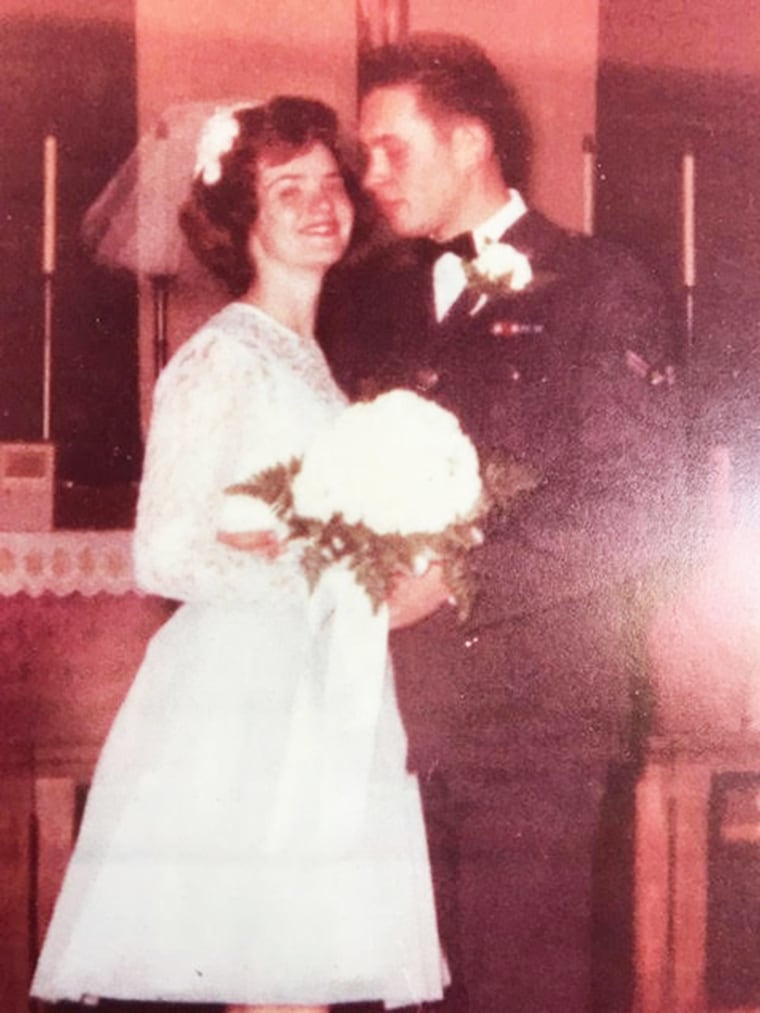 It's been a period of discovery for Jonny, who learned through Marlis that his mother knew his father had survived the war.
"She met up with my dad after the war, and never told me," Jonny says, adding that the covert meeting was to finalize divorce papers.
In 2015, Jonny traveled to Germany to meet Marlis, almost backing out at the last minute because he suffered a panic attack in his hotel room and thought he was having a heart attack.
"She knew about me, but I had no idea she even existed," Jonny recalls of the emotional moment.
"Most of my conversations with my mother about the war were very minimal," Jonny says. "There was only a few things that my mother ever told me about it.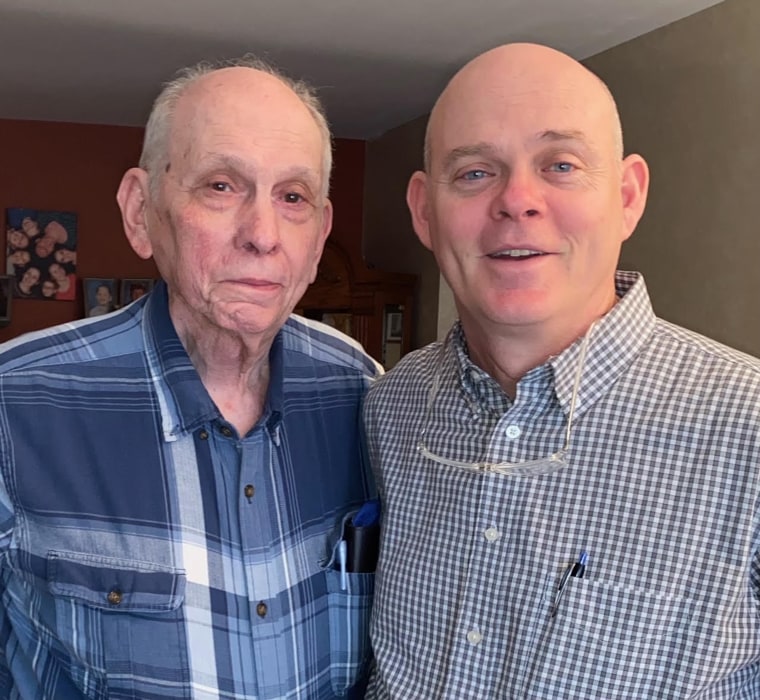 Todd says witnessing his father learn about his own family was "very emotional."
"It made you realize all the different things that parents did to shield their kids," he says. "Going from being a child, to then being a parent, and hearing what your (own) parent did for you ... it opens up a whole new area of empathy. (As a kid) he didn't understand the brutality of it."
Today, Jonny keeps in touch with both of his half siblings, and his cousin — whose parents made it out of Germany prior to the war — through modern technology, like FaceTime.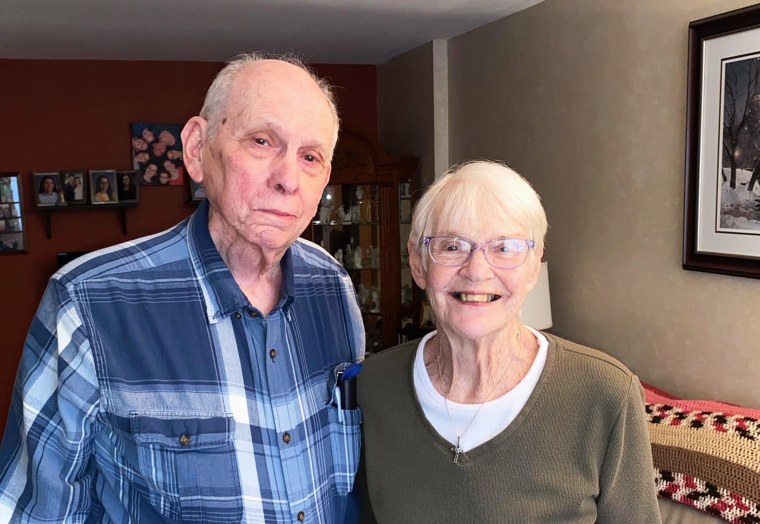 Despite his traumatic childhood and the revelation about his family, Jonny is optimistic about life.
"I think that I have actually won the lottery," he tells TODAY.com. "A lot of times I see people at different stores buying these raffle tickets and I think, 'You know what? I won.' I am not bitter."
Related video: