One Texas couple feels the need. The need for speed.
Air Force Major Lauren Olme, a B-1 fighter pilot, and her husband, Major Mark Olme, a bomb wing weapons officer, are about to embark on their toughest mission yet: parenthood.
Their unborn baby is already breaking (sound) barriers.
"Baby Olme, who is expected to arrive in April 2023, has become one of the first babies in the Department of Defense to clock 9.2 hours in a supersonic aircraft," according to a media release from Dyess Air Force Base, where the couple is stationed.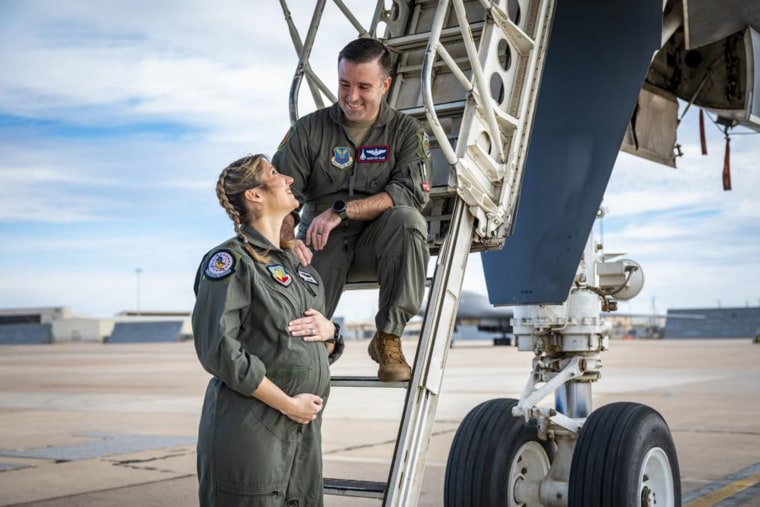 Lauren's aircraft, the B-1, is the only super-sonic bomber in the Air Force, reaching speeds up to 1.2 mach, or 900-plus miles per hour.
"Flying in formation with my husband, going super-sonic together while I carried our child, is something I'll never forget," Lauren told People.
Added Mark, "Looking over and knowing that I'm following my wife and baby around in that other airplane beside me was just…awesome. I was so proud of her."
The couple met at the Air Force Academy in November 2011 and got married seven months after graduation.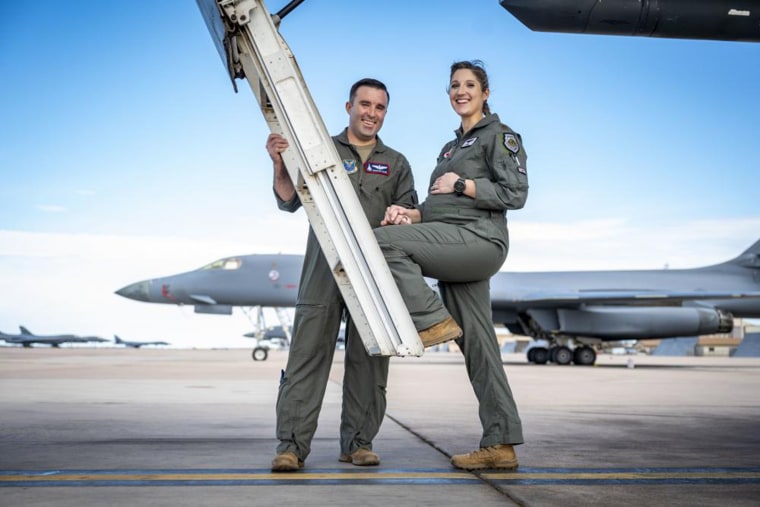 In 2020, the couple completed the Air Force's version of "Top Gun," the U.S. Air Force Weapons School course at Nellis Air Force Base in Nevada. They have been both deployed together and stationed at the same home base together, an opportunity not always granted to military couples.
"The aviation world is stressful enough, then add competing with your wife, who is better than you, for everything," Mark said in a statement the Air Force provided to TODAY.com. "However, we have got to share some special moments together because of it."
In August 2022, Lauren found out she was pregnant, calling it "a shock."
"We had been trying for a few months and I somewhat expected another negative test," she said in an Air Force news release. "I tested right before work and after finding out it was positive, holding that secret from Mark all day was torture but I wanted to tell him in person."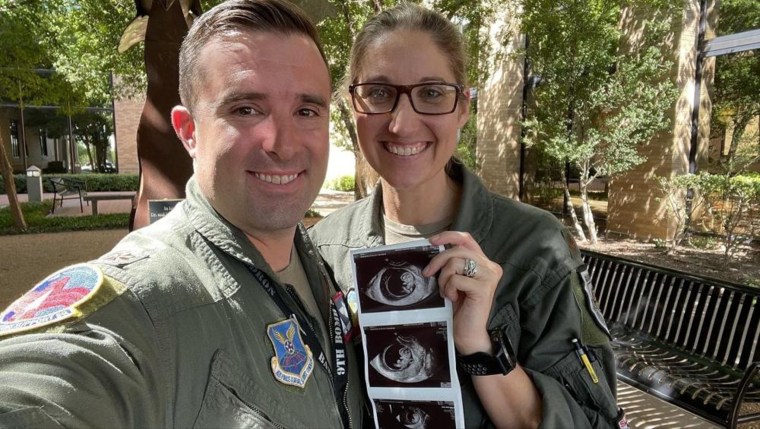 Old rules would have grounded Lauren immediately, but in 2022, the Air Force implemented a new policy for aircrew members, allowing voluntary requests to fly during pregnancy.
"Our fight to retain and recruit top talent demands that we're not needlessly grounding our aircrews," Under Secretary of the Air Force Gina Ortiz Jones told People.
While no waiver is required to fly in the second trimester with an uncomplicated pregnancy in a non-ejection seat aircraft if all flight safety criteria are met, all pregnant aircrew members are required to apply for a waiver regardless of trimester or aircraft.
"I can't over-express how amazing it is that pregnant women now have the opportunity to fly in all types of aircraft," Lauren said.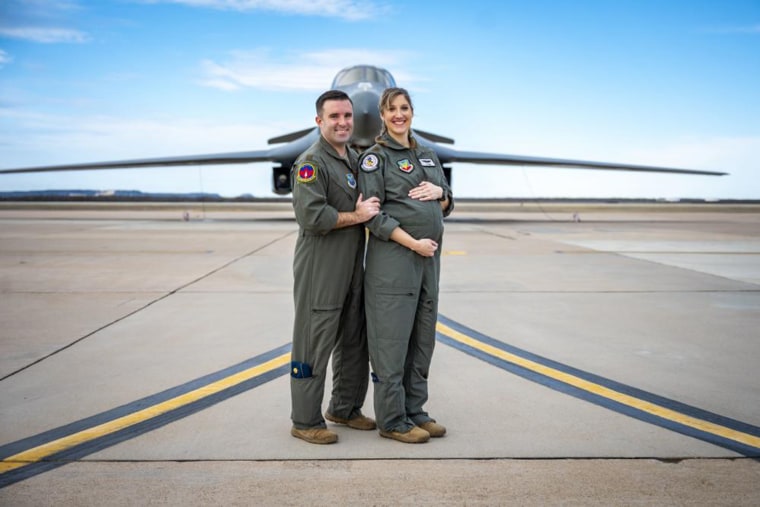 Despite loving what she does, Lauren recognizes her job doesn't come without risk.
"It's a very personal decision that Mark and I made together because there are risks involved in flying the B-1 while pregnant, but after conferring with Air Force and civilian medical doctors, we felt comfortable with me flying for a few weeks," Lauren said in the news release provided by the Air Force.
While the policy allows aviators to fly up to 28 weeks, Lauren said she will ground herself at 22 weeks "for various reasons."
"I wouldn't have been able to do it if women in the Air Force didn't advocate for these types of policy changes," Lauren said. "So to live out a policy change that other women worked so hard to enact is truly an honor."
Throughout the month of March, TODAY.com is celebrating women across generations who have made history and continue to move the conversation forward by breaking stigmas, sparking dialogue and inspiring the next generation.
Related video: