Off the screen, the Terminator is simply called "Opa."
Chris Pratt recently revealed what his kids call their grandfather in an interview with "Entertainment Tonight" at the New York premiere of "Guardians of the Galaxy: Vol. 3" on May 3.
"Isn't that so nice? Arnold. Opa," Arnold Schwarzenegger's son-in-law told "ET."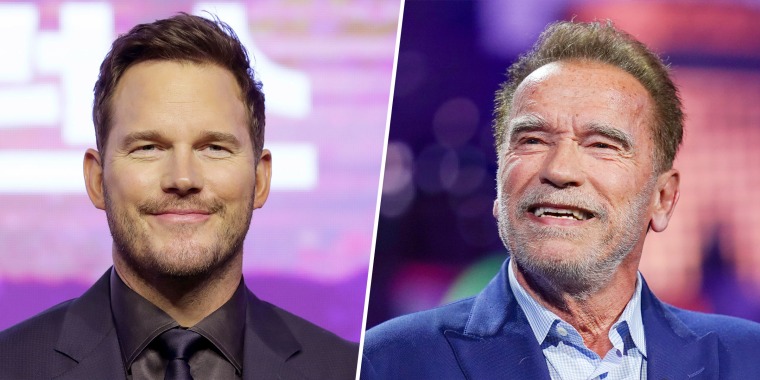 Schwarzenegger was born and raised in Austria, and Opa is a common German nickname for a grandfather.
Pratt is married to Schwarzenegger's eldest daughter, Katherine Schwarzenegger Pratt, and they share two children together, Lyla, 2, and Eloise, who turns 1 in May. Their daughters also have a sweet nickname for their grandmother, Schwarzenegger's ex-wife Maria Shriver: "Mama G."
Pratt has a 10-year-old son, Jack, with his former wife Anna Faris.
Schwarzenegger and Pratt regularly bond over their work. Just last month, "The Terminator" star attended the premiere of the latest "Guardians of the Galaxy" installment, which will be released May 5, and shared a glowing review of his son-in-law's work.
"I saw #GuardiansOfTheGalaxyVol3 last night and WOW," Schwarzenegger tweeted. "@prattprattpratt, you crushed it. A non-stop, perfect mix of comedy and action. I loved it and I'm very, very proud of you."
"He was so nice to give me love and support on his social media," Pratt told "ET" about the praise. "He really liked the movie... If he didn't like it, I don't think he would post it."
Pratt honored his father-in-law in the 2021 film "The Tomorrow War," a sci-fi flick in which Pratt delivers a derivative of Schwarzenegger's trademark line from "The Terminator," "I'll be back." (Pratt's line in the film is actually "I will be back.")
Pratt owned that it doesn't compare to all the times the iconic actor said the line in a 2021 interview with "New York Live." At the time, Pratt said Schwarzenegger had not seen the entire film, but he did watch the trailer. 
"I showed it in front of the whole family and I said, 'I do have a line. I say, 'I will be back,'" he recalled, later telling the Schwarzenegger, "'And you'll see it just pales in comparison to anytime you've ever delivered that iconic line.'"
"I'm just saying it like a guy who's going into the room," he said of the line's context. "There's nothing iconic about it."
Ironically, that's about how Schwarzenegger uses the line these days, Pratt noted in the interview.
"He does it all the time, too," Pratt said. "He'll say lines from his movies and stuff. He'll walk out and be like, 'I'll be back.'"