People on the internet are getting a serious rise out of Henley Czinner's valentine to her parents.
It all started when the 7-year-old in Jackson, Wisconsin created a Valentine's Day drawing for her parents."To Mom and Dad," the photo, featuring a colorful drawing of a woman walking a dog outside, read. "Love you sooooooo much."
Henley's mom, Melissa Czinner, tells TODAY.com the first thing she noticed was a special feature in her daughter's depiction of the woman's outfit.
"I noticed it right away and was thinking the worst," Czinner says of the shape protruding from the dog walker's yellow pants.
Czinner says she calmly asked Henley to explain the brown-colored detail on the drawing.
"She told us that it was just a dog treat in the girl's pocket," Czinner says.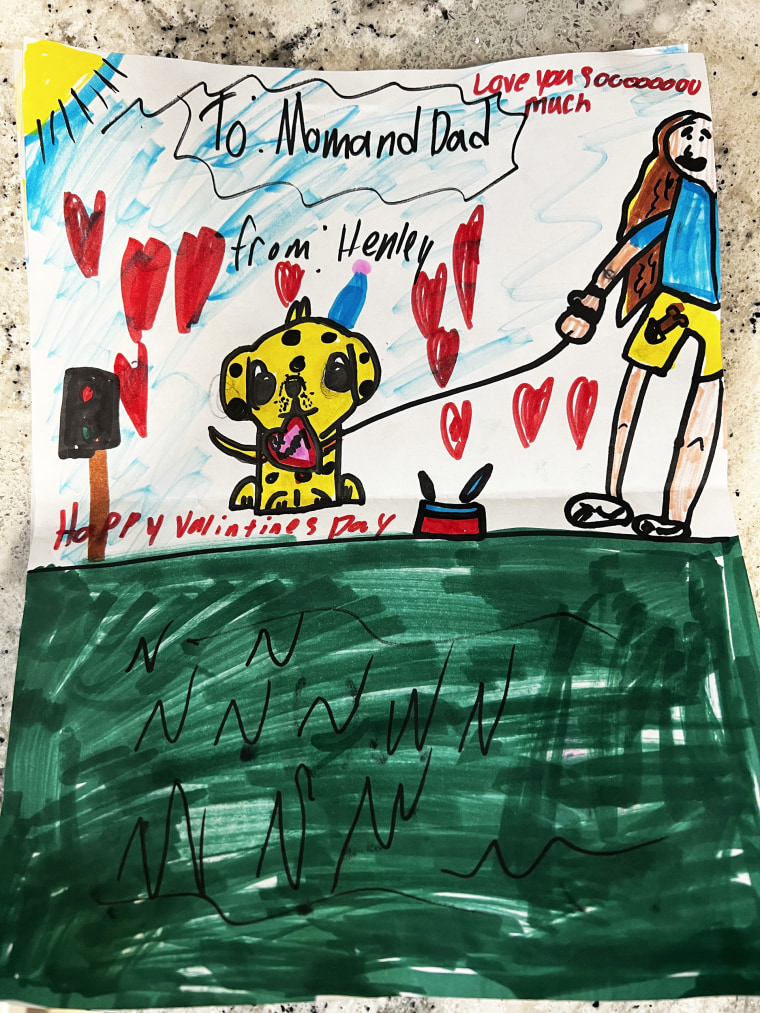 Of course. What else could it be?
Czinner tells TODAY.com she does not normally make TikTok videos, but could not resist sharing the moment online.
The video — which Czinner captioned "Just a dog treat in a pocket" — has racked up more than 175,000 views.
"That's a decent sized treat. Surprised it fit in the pocket!" one user wrote.
Another added, "That's a nice treat. I am not sure it is for the dog but it is going to make someone very happy."
Czinner says she did not think the video would "blow up like it did."
"At first there were just a few views and comments," she says. "Over the last few days it exploded."
As for her special Valentine, Czinner tells TODAY.com the drawing is proudly displayed.
"We have hung this masterpiece on the fridge for now," she says. "But it will go into her childhood bin where we keep things for her."
It's not the first time a child's drawing has gotten people talking.
Earlier this month, a Michigan mom went viral for her daughter's drawing of a pig wearing a bow tie that school administrators felt depicted something else.
Related video: